| | |
| --- | --- |
| Export Markets: | Eastern Europe, Southeast Asia, Africa, Mid East, Eastern Asia |
| Place of Origin: | Hebei in China |
| Packaging Details: | WOODER PACKING |
Quick Details
After-sales Service Provided: Engineers available to service machinery overseas
Specifications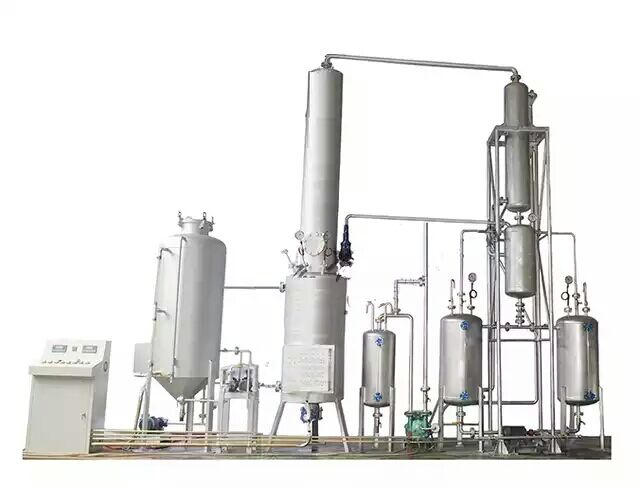 Equipment advantages

High technology, environmental protection, public, negative pressure cracking, fully-automatic sealed continuous production

Negative pressure, low temperature, micro catalysis, no acid and alkali treatment and gas receiving rate at 95%

No fuel pollution, no smoke or dust, no odor, small investment, small operation cost and remarkable economical benefit.

Advanced electric control adopted that comply with security monitoring standards

the refined oil product comply with the national standards


New negative pressure distillation device adopts four-phase method:

Phase 1: low-temperature catalyst, temperature 40-430℃;

Phase 2: gas phase catalysis and transmutation40-205℃,205-370℃,370-430℃

Phase 3: light oil, diesel and lubricating oil

Phase 4: filter

Send the disposed raw material oil and catalyst respectively to sealed melting furnace. Due to heatstroke and effect of special catalyst, raw material waste oil is changed to gas from pasty substance. Gas molecules incurring are increasing along with rising temperature in the furnace. As gas molecules are moving nonstop, mutual collision occurs between molecules, between molecule and wall, and molecule and catalysts in the reaction still at the entrance. A small portion of smaller molecules enter flown line via splitting of catalysts before becoming refined oil product via separation, cooling and filtering; and the other part of bigger molecules return to the gasifying melting pot for reaction till all are dissociated to qualifying petroleum products with the help of catalyst.
this technique mainly adopts low-temperature, negative pressure and micro catalyst system that is different from common thermal cracking. Thermal cracking is different from micro catalyst in that the former utilizes high-temperature to decompose big module hydrocarbon to small molecule hydrocarbon while the latter uses highly-absorptive porous catalyst with pt, pd and so on contained in it. It can absorb hydrocarbon and alters the structure of hydrocarbon. Fused ring arene, olefin and so on are most prone to be absorbed.
under the effect of catalyst, olefin can have cracking, isomerization and hydrogen transfer reaction before producing isoparaffin, saturated hydrocarbon and so on.