| | |
| --- | --- |
| Export Markets: | North America, South America, Eastern Europe, Southeast Asia, Africa, Oceania, Mid East, Eastern Asia, Western Europe |
| Place of Origin: | Jiangsu in China |
| Packaging Details: | Packed by solid wood pallet |
Quick Details
Model Number: 400x8
Brand Name: TOPOWER
Tyre size: 400x8
Type: pneumatic solid tire
Specifications
China factory pneumatic rim solid tire 400x8
The pneumatic solid tires meets the standards TRA in USA, ETRTO, PAHS in Europe, JATMA in Japan and ISO in China.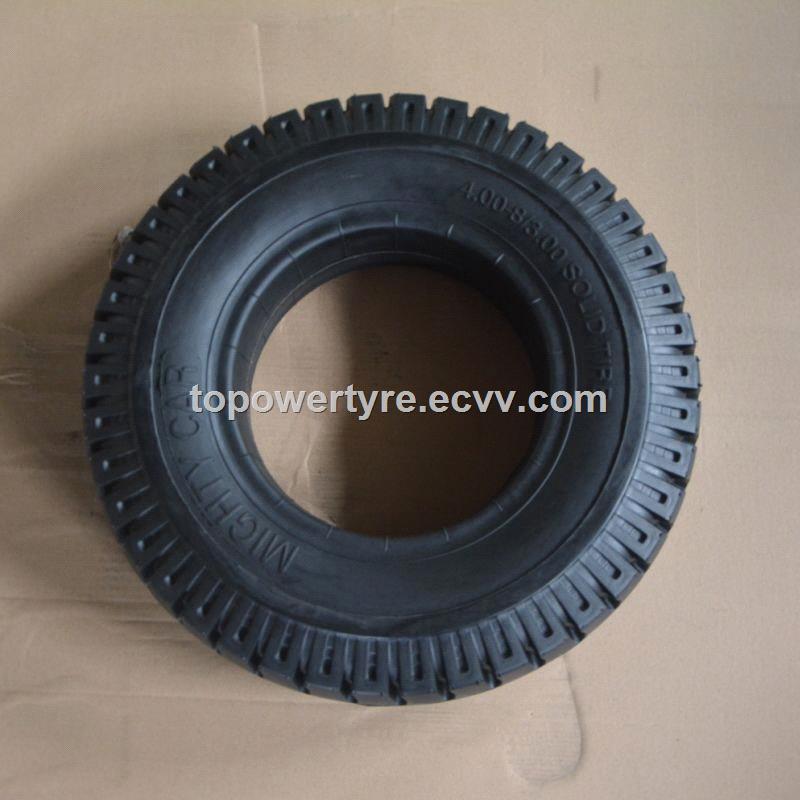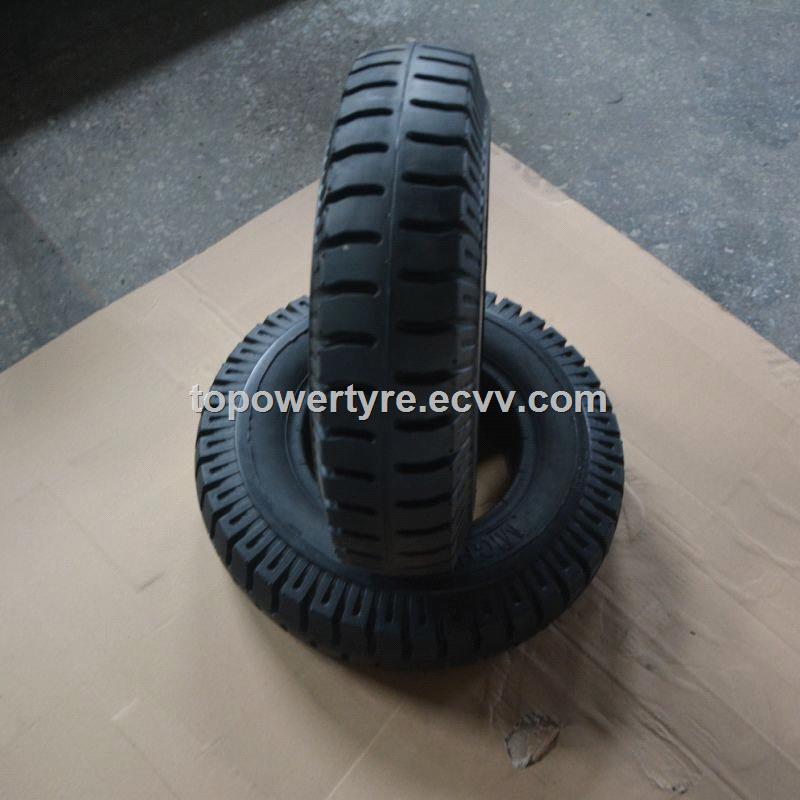 Our Pneumatic Solid Tire is suitable for various forklift trucks and other industrial vehicles :

1. Advanced tread compound based on top quality grades of natural rubber. Delivers reuduced rolling resistance, optimum tear strength and high abrasion resistance.

2. Resilient center compound encapsulated by tread rubber of total pretection. Provides strong absorption for increased driver comfort and reduced truck maintenance.

3. Super base compound with high tensile creel beads designed to reduce heat build up and increase torque resistance for secure and safe fitment to the rim. Maxmum hardness insuring exceptional stability and lower deflection.
4. The Following photo of pneumatic rim solid tire 400x8 :
| | |
| --- | --- |
| Size of solid tyre | Pattern |
| 3.00-5/2.15 non marking | TP302 |
| 3.50-5/3.00 non marking | TP302 |
| 3.00-5/2.15 black | TP302 |
| 3.50-5/3.00 black | TP302 |
| 2.00X8/2.50 | TP305 |
| 4.00-8/3.0 | TP303 |
| 4.00-8/3.75 | TP303 |
| 4.00-8/3.0 | TP301 |
| 4.00-8/3.75 | TP301 |
| 4.00-8/3.00 | TP303 |
| 4.00-8/3.75 | TP303 |
| 4.00-8/3.00 | TP302 |
| 5.00-8/3.00 | TP301 |
| 5.00-8/3.75 | TP301 |
| 6.00-9/4.00 | TP301 |
| 6.00-9/4.00 | TP304 |
| 7.00-9/5.00 | TP301 |
| 6.50-10/5.00 | TP301 |
| 6.50-10/5.00Ec | TP301 |
| 6.50-10/5.00 | TP304 |
| 6.50-10/5.00 | TP304 |
| 200/50-10 | TP301 |
| 7.00-12/5.00 | TP301 |
| 7.00-12/5.00 | TP304 |
| 7.00-12/5.00Ec | TP301 |
| 7.00-15/5.50 | TP301 |
| 7.50-10/5.00 | TP301 |
| 7.50-15/6.00 | TP301 |
| 7.50-16/5.50 | TP301 |
| 28*9-15(8.15-15)/7.00 | TP301 |
| 28*9-15(8.15-15)/7.00Ec | TP301 |
| 28*9-15/7.00 | TP304 |
| 28*9-15/7.00 | TP304 |
| 8.25-12/5.00 | TP301 |
| 8.25-15/6.5 | TP301 |
| 8.25-16 | TP310 |
| 250-15/7.0 | TP301 |
| 250-15/7.5 | TP301 |
| 300-15/8.0 | TP301 |
| 15*41/2*8/3.00 | TP302 |
| 16X5-9/3.50 | TP303 |
| 16X5-9/4.00 | TP303 |
| 16*6-8/4.33 | TP301 |
| 18*7-8/4.33 | TP301 |
| 18*9-8/7.00 | TP301 |
| 21*8-9/6.50 | TP301 |
| 23*9-10/6.50 | TP301 |
| 27*10-12/8.00 | TP301 |
| 28*12.5-15/9.75 | TP301 |
| 32*12.1-15/9.75 | TP301 |
| 31X10-16/6.00 | TP308A |
| 31X10-16/6.00 | TP308B |
| 31X5X10/10-16.5 | TP308B |
| 33X12-20/8.00 | TP308A |
| 33X12-20/8.00 | TP308B |
| 33X6X11/12-16.5 | TP308B |
| 35X12-20/8.00(20.5-20) | TP311 |
| 6.50-16/6.00 | TP301 |
| 9.00-16/6.50 | TP310 |
| 9.75-18/7.50 | TP310 |
| 6.50-20/5.50 | TP301 |
| 6.50-20/6.00 | TP301 |
| 8.25-20/7.00 | TP310 |
| 9.00-20/7.00ec | TP310 |
| 9.00-20/7.00 | TP310 |
| 10.00-20/7.5 | TP310 |
| 10.00-20/8.0 | TP310 |
| 10.00-20/7.0 | TP310 |
| 11.00-20/8.0 | TP310 |
| 11.00-20/7.5 | TP310 |
| 12.00-20/8.5 | TP310 |
| 12.00-20/8.0 | TP310 |
| 12.00-24/8.5 | TP310 |
| 12.00-24/10.00 | TP310 |
| 14.00-24/10.00 | TP310 |
| 14.00-20/10.00 | TP310 |
| 15.00-20/11.00 | TP308 |
| 16.00-25 | TP306 |
| 18.00-25 | TP306 |
| 17.5-25/14.00Ec | TP306 |
| 17.5-25/14.00 | TP306 |
| 20.5-25/17.00 | TP306 |
| 23.5-25/19.50Ec | TP306 |
| 23.5-25/19.50 | TP306 |
| 26.5-25/22.00 | TP306 |
| 29.5-25/25.00 | TP306 |
| 335/50-20/10.00 | SM |
| 355/65-15/9.75 | TP301 |
| 385/65-24/10.00Ec | TP308B |
| 385/65-24/10.00 | TP308B |
| 445/65-24/12.00Ec | TP308A |
| 880X280-20/8.5 | TP308B |
| 880X280-24/8.5 | TP308B |
| 850X240-20/8.0 | TP308B |
| 850X240-24/8.5 | TP308B |
| 810X182-20/6.5 | TP308B |
| 35X12-20/8.00(20.5-20) | TP311 |