Quick Details
Model Number: TH
Brand Name: LIRI
Specifications
Company Information

Liri Tent Technology (Zhuhai) Co., Ltd. was established in 1997. Our company is the first professional manufacturer who introduced European advanced tents technology into our own design. Our main products include Modular Aluminium Alloy Structure Tents, Clear Span Tent Structure and Aluminium Alloy Square Pagoda & Summer Gazebo.

To form an integrated management system,Liri Tent introduced advanced ERP system in 2008 and barcode management system in 2013. Liri Tent is also the pioneer to apply CNC machines that achieved the automatic processing of aluminum.

1. Application:

The tent, canopy and marquee tent can be widely used as the weddings tents, parties marquee tent, exhibition tents, conferences marquee tents, festivals celebrations canoy, corporate events tents or other outdoor events canopy, etc...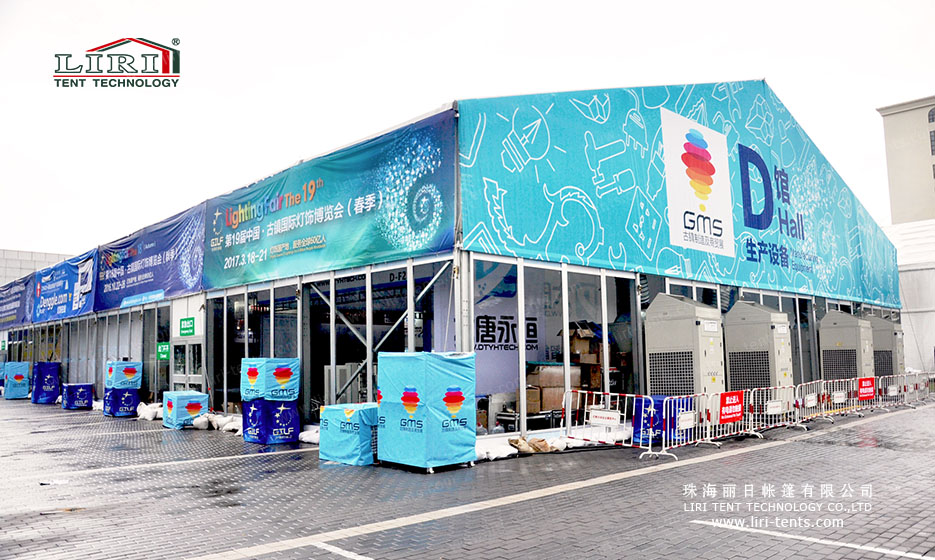 2. Size:

The clear-span of tent is from 3m to 60m, the length could be 6m, 9m, 12m, +3m more or 10m, 15m, 20m, and +5m more

3. Specification:

Fabric: Double PVC coated polyester fabric, 750-900g/sq. M, water proof, UV resistance, fire retardant according to standard NFPA701, CFM & DIN4102 B1/M2.
Frame: Hard pressed extruded aluminum 6061/T6, anodized surface finishing.
Connections: Hot-DIP galvanized.
Wind load: 100km/h.

4. Life span:

Fabric (cover & sidewalls): 10years if well maintained.
Aluminum frame and galvanized connectors: 20years if well maintained.

5. Color available:

White, red, yellow, blue, green, black, grey, transparent etc...

6. Optional Accessories:

1)Sidewall-White PVC wall, transparent PVC wall, colorful PVC sidall, ABS wall, Glass wall, Sandwich wall, Steel wall.
2)Windows-Clear PVC window, breathable glass window.
3)Floor-Normal cassett floor system, VIP cassett floor system.
4)Door-Double-swings glass door, Double-swings fire glass door, Double-swings aluminun door, Automatic rooling door, one man door.
5)Decoration curtain and linning-Flat or pleating.
6)Furniture-Round tables, chairs, stages and ect...
7)Electric equipment-Air conditioner, lighting system.
8)Others-printing Ads, artificial grass, ramp, transport rack etc.

Please be free to contact us for more information.

Terry Yuan - Zhuhai Liri Tent Technology Co., Ltd.