| | |
| --- | --- |
| Export Markets: | North America, South America, Eastern Europe, Southeast Asia, Africa, Oceania, Mid East, Eastern Asia, Western Europe |
| Place of Origin: | Henan in China |
| Packaging Details: | Plywood case |
Quick Details
Model Number: GJQ
Brand Name: LANPHAN
Rubber: EPDM
Flange: carbon steel, painting
Working pressure: PN16
Usage: Firefighting
Specifications
Characteristics of rubber reducer
With high pressure, good elasticity, large displacement, balancing pipe deviation, absorption vibration and good noise reduction effect, convenient installation and other characteristics, eccentric reducing rubber expansion joint can be widely used in water supply and drainage, circulating water, hvac, fire protection, papermaking, pharmaceutical, petrochemical, ship piping system, water pump, compressor, fan, etc.
An economic and space saving way to combine a reducing pipe fitting with an expansion joint
Available in custom offset arrangements and sizes not shown
Versatile hand-built construction. Made in the U.S.A.
Standard or custom face to face dimensions
Excellent all directional movement capability
Absorbs noise, vibration and shock
250oF continuous service standard, 400oF available
Integral flange design, no gaskets required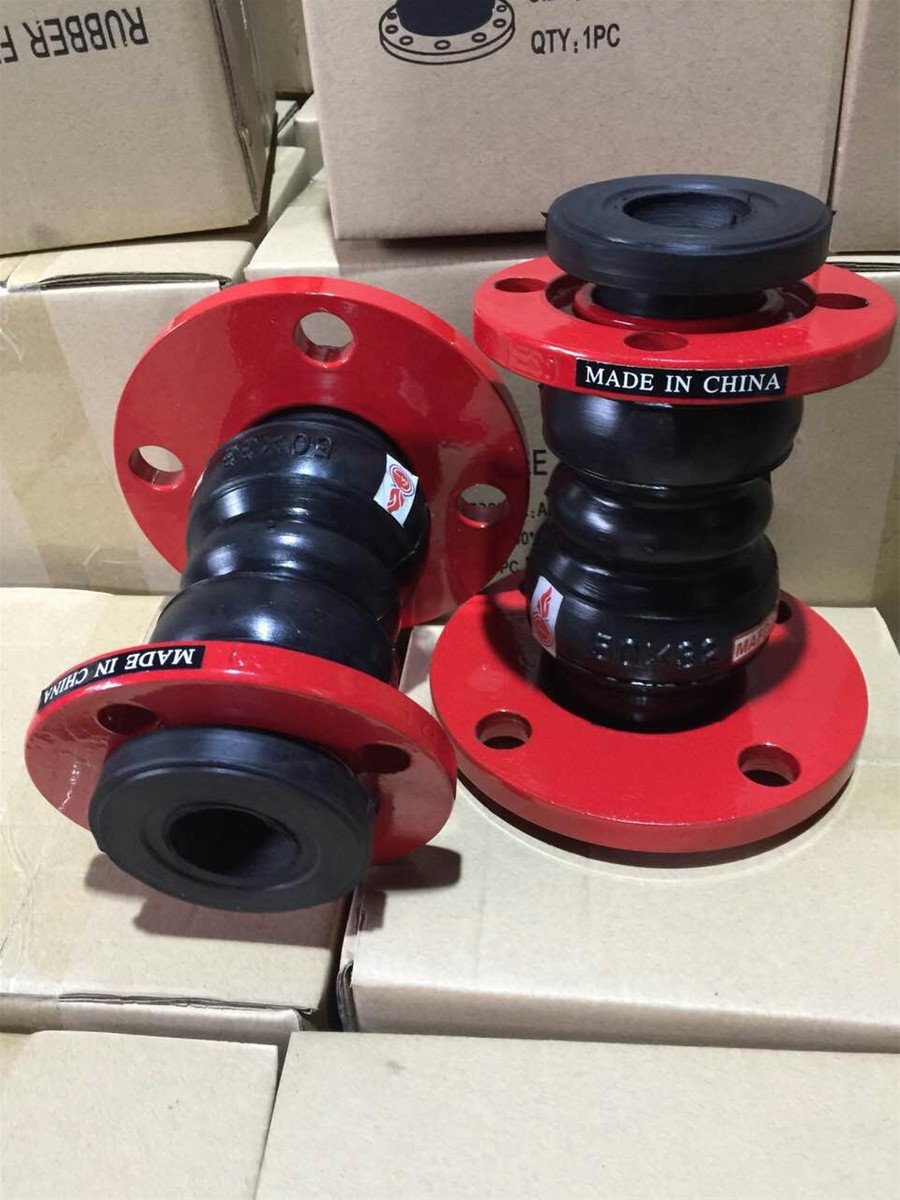 | | | | | | | | |
| --- | --- | --- | --- | --- | --- | --- | --- |
| DN | LENGTH | D | D0 | n- ф | D1 | D01 | n1-ф1 |
| 50×40 | 180 | 165 | 125 | 4-ф18 | 150 | 110 | 4-ф18 |
| 65×40 | 180 | 185 | 145 | 4-ф18 | 150 | 110 | 4-ф18 |
| 65×50 | 180 | 185 | 145 | 4-ф18 | 165 | 125 | 4-ф18 |
| 80×50 | 180 | 200 | 160 | 8-ф18 | 165 | 125 | 4-ф18 |
| 80×65 | 180 | 200 | 160 | 8-ф18 | 185 | 145 | 4-ф18 |
| 100×50 | 180 | 220 | 180 | 8-ф18 | 165 | 125 | 4-ф18 |
| 100×65 | 180 | 220 | 180 | 8-ф18 | 185 | 145 | 4-ф18 |
| 100×80 | 180 | 220 | 180 | 8-ф18 | 200 | 160 | 8-ф18 |
| 125×65 | 180 | 250 | 210 | 8-ф18 | 185 | 145 | 4-ф18 |
| 125×80 | 180 | 250 | 210 | 8-ф18 | 200 | 160 | 8-ф18 |
| 125×100 | 180 | 250 | 210 | 8-ф18 | 220 | 180 | 8-ф18 |
| 150×80 | 200 | 285 | 240 | 8-ф22 | 200 | 160 | 8-ф18 |
| 150×100 | | 285 | 240 | 8-ф22 | 220 | 180 | 8-ф18 |
| 150×125 | 200 | 285 | 240 | 8-ф22 | 250 | 210 | 8-ф18 |
| 200×100 | 220 | 340 | 295 | 8-ф22 | 220 | 180 | 8-ф18 |
| 200×150 | 220 | 340 | 295 | 8-ф22 | 285 | 240 | 8-ф22 |
| 250×100 | | 395 | 350 | 12-ф22 | 220 | 180 | 8-ф18 |
| 250×125 | 220 | 395 | 350 | 12-ф22 | 250 | 210 | 8-ф18 |
| 250×150 | 220 | 395 | 350 | 12-ф22 | 285 | 240 | 8-ф22 |
| 250×200 | 220 | 395 | 350 | 12-ф22 | 340 | 295 | 8-ф22 |
| 300×125 | | 445 | 400 | 12-ф22 | 250 | 210 | 8-ф18 |
| 300×150 | 220 | 445 | 400 | 12-ф22 | 285 | 240 | 8-ф22 |
| 300×200 | 220 | 445 | 400 | 12-ф22 | 340 | 295 | 8-ф22 |
| 300×250 | 220 | 445 | 400 | 12-ф22 | 395 | 350 | 12-ф22 |
| 350×125 | | 505 | 460 | 16-ф22 | 250 | 210 | 8-ф18 |
| 350×200 | 230 | 505 | 460 | 16-ф22 | 340 | 295 | 8-ф22 |
| 350×250 | 230 | 505 | 460 | 16-ф22 | 395 | 350 | 12-ф22 |
| 350×300 | 230 | 505 | 460 | 16-ф22 | 445 | 400 | 12-ф22 |
| 400×200 | | 565 | 515 | 16-ф26 | 340 | 295 | 8-ф22 |
| 400×250 | 240 | 565 | 515 | 16-ф26 | 395 | 350 | 12-ф22 |
| 400×300 | 240 | 565 | 515 | 16-ф26 | 445 | 400 | 12-ф22 |
| 400×350 | 240 | 565 | 515 | 16-ф26 | 505 | 460 | 16-ф22 |
| 450×200 | | 615 | 565 | 20-ф26 | 340 | 295 | 8-ф22 |
| 450×250 | | 615 | 565 | 20-ф26 | 395 | 350 | 12-ф22 |
| 500×300 | | 670 | 620 | 20-ф26 | 445 | 400 | 12-ф22 |