| | |
| --- | --- |
| Export Markets: | North America, South America, Eastern Europe, Southeast Asia, Africa, Oceania, Mid East, Eastern Asia, Western Europe |
| Place of Origin: | Jiangsu in China |
Specifications
The following example is for you reference.


1.Brief Introduction:
Automatic Granite/Quartz/Microcrystalline Stone Polishing Machine (Upgraded Version)
CB/CBG2-2M-20/16
Feature:
1. Quality Management System complies with ISO 9001.
2. Machine passed CE International Certification.
3. The new upgraded 20heads marble polishing machine, compared with existing polishing machines, it provides stronger advantages, to get higher efficiency, faster speed, convenient operation, higher automation, lower production costs, good stability, etc. This product can provide a powerful competition for customers in future.
4. The electric control cabinet is fixed in front of the machine, which can get bigger space and better heat dissipation. It can improve the function of waterproof and dust resistance. The reasonable circuit system makes operator maintenance easier and prolongs the lifespan of electric component longer.
5. Choose laborsaving and automatic loader and unloader to improve productivity, with safety and reliability. It is easy to adjust and maintain the machine.
6. Use the ultrasonic to detect the thickness of each slab automatically. With high detecting, which is fitting for each spindle unit, when machine runs, it displays message on touch panel. Before abrasives are consumed, alarm will be on.
7. Add automatic lubrication system, it can save time for operator to control lubrication and reduce waste.
8. Use air pressure to control waterproof covers up and down, which are fixed on the crossbeam. It is convenient to replace abrasive and improves security. Touch panel is redesigned, which makes operation more convenient, fast and maintenance easier.
9. Pressure adjusting knobs are put in front of each head, convenient for operator to adjust. It can also prevent eroding the knob from powder in the machine.
10. Use helical gear for crossbeam sliding. Compared with linear gear wheel, it transmits stronger, with small friction, low noise, stable rotation, uniform force, and without axial force. It can reduce the machinery abrasion and prolong its lifespan.
11. There are 4 pieces of side beams, with 8 groups of linear sliding rails, to bear 2 pieces of crossbeam. It can reduce friction, improve precision, and make machine running fast and smoothly.
12. The table is thicker, to improve the strength of table structure and make table more stable. It can reduce vibration while machine runs.
13. Spindle unit is a whole cast-iron, with high reliability, good stability and safety. It can make mechanical maintenance separately.
14. Use two servo drive systems to control each crossbeam, with advantage of high precision, stable speed, timely response, low heat, low noise, etc.
15. Use 2 pieces of crossbeams for polishing. One is for rough grinding. The swing speed of two crossbeams can be adjusted separately. This can make swing more flexible and increase capacity.
16. Please link to company website for details & video: .
2.Techincal parameters: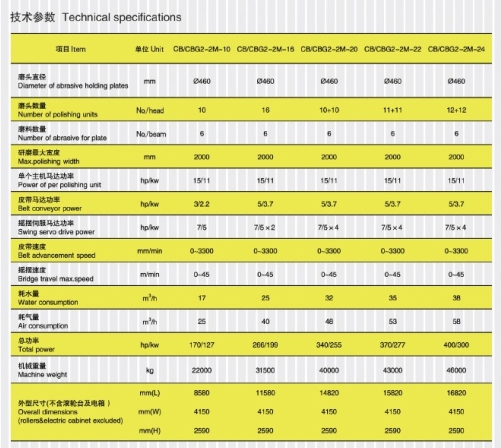 3.Performance features:

Please link to company website for details & video: .