Quick Details
Model Number: OBWC520
Brand Name: Obinder
Power: Electricity
Type: Wire Binding Machine
Specifications
OBWC520 Heavy Duty Calendar Binding Machine
Special for automatic calendar hanger & wire insert!
Improved following point:
New improved automatic calendar hanger insert for 60mm to 450mm size;

Automatic finished calendar and book collection with conveyor belt;

Adopt automatic fault alarm design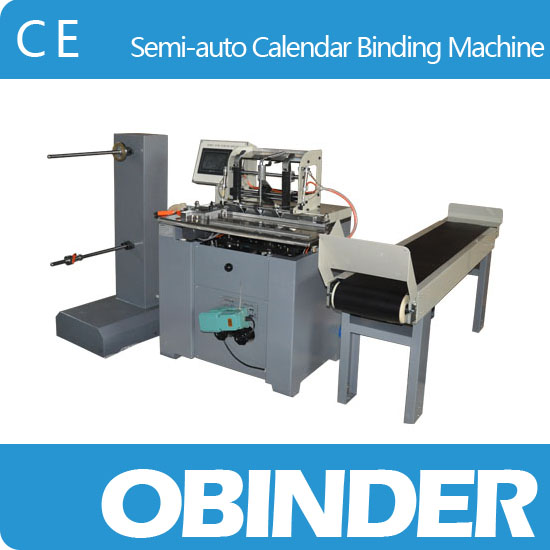 Features:
Automatic double wire inserting, cutting and closing, high binding output.

For easy and precise binding of double wire from the spool in variable length from 8 to 61 loops, available up to five sub-binding.

Comfortable change of diameters due to exchangeable closing bars (optionally available).

Short and easy set-up for diameter change.

Higher performance due to improved drive technology.

The main control panel uses touch-screen technology; LED displays all current machine data, menus for adjustment and operation.

The machine is designed for heavy-duty and continuous working.

Working in sitting position possible, this guarantees longer working without fatigue.

The closing part special design with magnet to keep wire straight.

LED display control have one unique function, a key remember action and a key recovery.

Different diameter spool core can use on this machine.

Also you can use spool calendar or few pcs calendar hanger on this machine.
Technical Data:
Binding width

Max.520 mm, min.75mm

Max binding thickness

23 mm

Binding capacity

up to 1500 calendars/h

Paper feed

Horizontal/manual

Twin ring wire size

3:1 and 2:1 Possible wire diameters: 1/4" to 3/4"

Calendar hanger size

60 to 450mm (17" )

Time for diameter change 30min

Compressed air:

5-8 bar

Power

220v/50hz/1ph/1.5kwother voltage on request!

Work table size

800 x 310mm

Machine dimension(LWH)

1100 x 750 x 1200mm

Wire feeder

600 x 500 x 1320mm

Conveyor

1700 x 370 x 90mm(height adjustable)

Package pallet1

2000 x 1150 x 1500mm

N.W./G.W.

300kgs / 350kgs