| | |
| --- | --- |
| Export Markets: | North America, South America, Eastern Europe, Southeast Asia, Africa, Oceania, Mid East, Eastern Asia, Western Europe |
| Place of Origin: | Henan in China |
| Packaging Details: | 2~80 pcs per carton, then 12 cartons per pallet Wooden case for bearings with unit weight more than 20kg |
Quick Details
Type: Roller
Structure: Cylindrical
Number of Row: Double Row
Seals Type: open
Precision Rating: P4/P2
Model Number: NN3011ASK.M.SP
Outside Diameter: 60-100 mm
Bore Size: 40-55 mm
Brand Name: BEART
material: 100Cr6
cage: brass
precision: P2
structure: double row cylindrical
Specifications
A double row bearingsAre typically used in combination with double direction angular contact thrust bearings in applications where radial stiffness, high radial capacity and high precision support is required. They represent the ideal solution for a floating bearing location, since they are internally adjusting (floating).


Double rowCylindrical roller bearings from Beart Enterprise Co., Limited have a high load carrying capacity because of the high number of cylindrical rollers in each row, and the exclusive optimized roller crown profile which results in the best load distribution. the cage is of solid machined brass construction, making this bearing suitable for rugged applications.
the bearing bore is tapered (taper =1: 12). the desired radial preload or radial clearance can be set by an axial adjustment on the conical shaft. Generally, the bearings should be mounted with zero clearance to a very slight preload.
Cylindrical rollers generally have lower limiting speed than ball bearings. They are the limiting factor when used in conjunction with spindle bearings on the work end of a spindle.


Cylindrical rollerBearings can be lubricated with either grease or oil.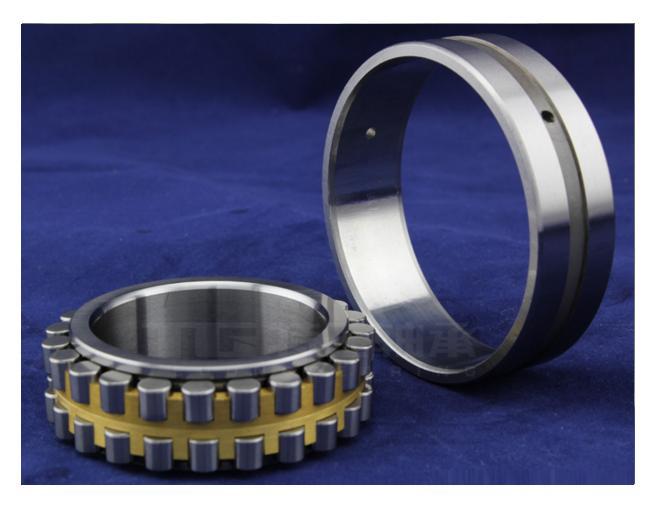 Bearing number

Boundary dimensions mm

Load rating kN

Weight kg

d

D

B

C

C0

NN3006ASK.M.SP

30

55

19

29

34

0.19

NN3007ASK.M.SP

35

62

20

36

44

0.25

NN3008ASK.M.SP

40

68

21

45

59

0.30

NN3009ASK.M.SP

45

75

23

54

72

0.39

NN3010ASK.M.SP

50

80

23

57

80

0.73

NN3011ASK.M.SP

55

90

26

72

100

0.63

NN3012ASK.M.SP

60

95

26

75

110

0.67

NN3013ASK.M.SP

65

100

26

77

116

0.72

NNU4914SK.M.SP

70

100

30

60

104

0.73

NN3014ASK.M.SP

70

110

30

98

150

1.04

NNU4915SK.M.SP

75

105

30

63

114

0.77

NN3015ASK.M.SP

75

115

30

100

156

1.09

NNU4916SK.M.SP

80

110

30

66

122

0.81

NN3016ASK.M.SP

80

125

34

120

186

1.51

NNU4917SK.M.SP

85

120

35

90

166

1.20

NN3017ASK.M.SP

85

130

34

125

200

1.58

NNU4918SK.M.SP

90

125

35

93

176

1.26

NN3018ASK.M.SP

90

140

37

140

224

2.05

NNU4919SK.M.SP

95

130

35

95

186

1.32

NN3019ASK.M.SP

95

145

37

143

236

2.14

NNU4920SK.M.SP

100

140

40

129

255

1.86

NN3020ASK.M.SP

100

150

37

146

245

2.23

NNU4921SK.M.SP

105

145

40

129

260

1.93

NN3021ASK.M.SP

105

160

41

190

310

2.84

NNU4922SK.M.SP

110

150

40

132

270

2.01

NN3022ASK.M.SP

110

170

45

220

360

3.61

NNU4924SK.M.SP

120

165

45

176

340

2.71

NN3024ASK.M.SP

120

180

46

232

390

3.94

NNU4926SK.M.SP

130

180

50

190

390

3.73

NN3026ASK.M.SP

130

200

52

290

500

5.79

NNU4928SK.M.SP

140

190

50

190

400

4.04

NN3028ASK.M.SP

140

210

53

300

520

6.22

NNU4930SK.M.SP

150

210

60

325

655

6.10

NN3030ASK.M.SP

150

225

56

335

585

7.58

NNU4932SK.M.SP

160

220

60

335

680

6.41

NN3032ASK.M.SP

160

240

60

375

670

9.23