Specifications
CT-DDT200 Series Digital Clock receives time signal from a master clock, supports NTP,IRIG-B and Serial input, provides highly visible time displaying in public places like hospital, school, train station, airport and bank etc.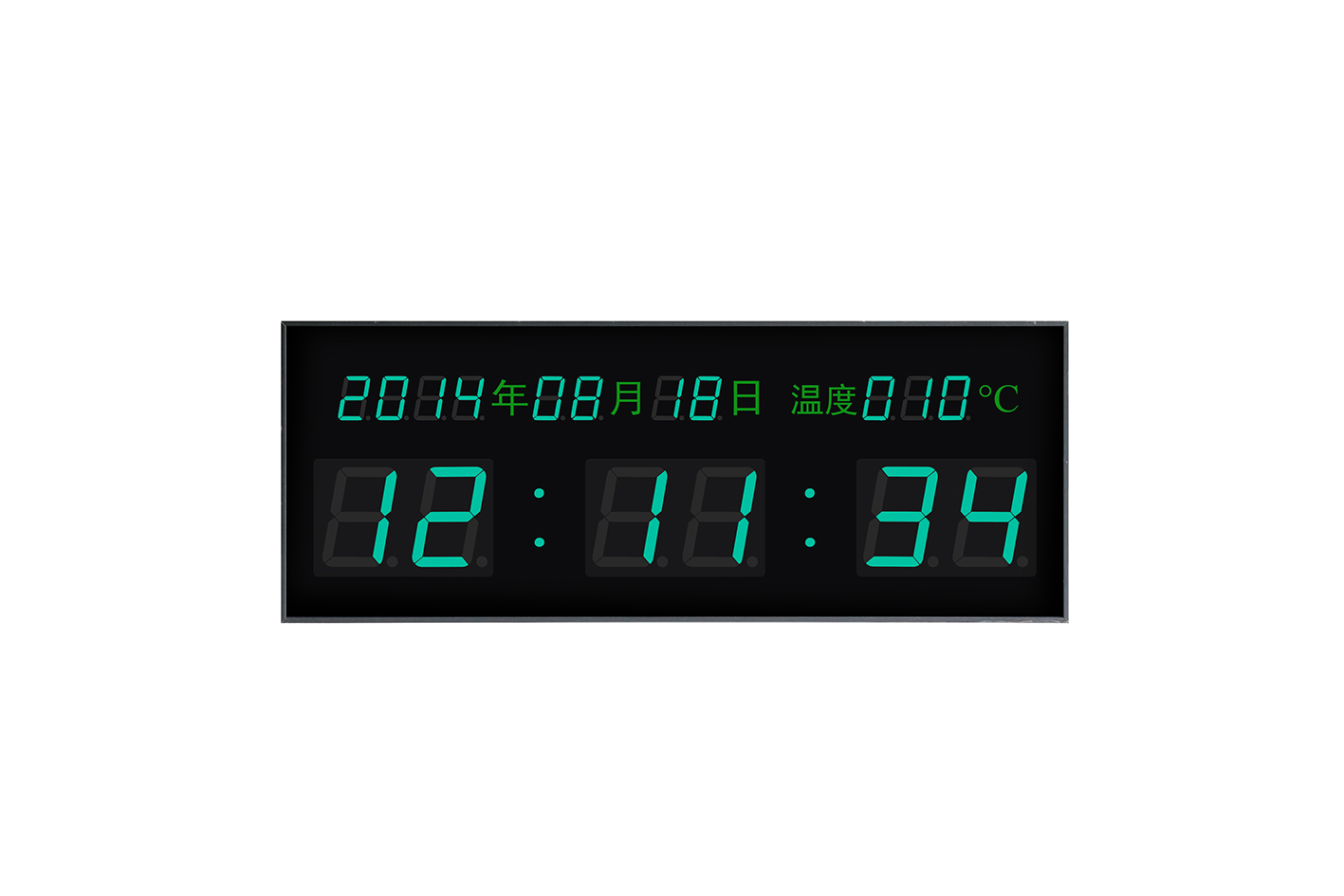 KEY FEATURES
Multiple time signal inputs: NTP / IRIG-B / Serial
Time synchronization accuracy ≤ 10ms
High internal holdover accuracy when loss of time signal
High-brightness digital tube with bright and uniform color
Adjustable of light brightness, to satisfy different situation demands
Support ceiling suspending, wall hanging and embedded installation
Support YY:MM:DD, HH:MM:SS, Week / Temperature / Humidity display
Display content, single or double screen, light color, size are all customizable
SPECIFICATIONS
Specifications

Mechanical;

Power Supply;

Size:

Weight:

790 *200*88 (mm)

2.5Kg

Voltage:

12V/2A DC

Frequency:

47 to 63 Hz

Power consumption:

≤24 Watts

Performances;

Environmental Conditions;

Timing Accuracy:

<80ms

Operating Temperature:

-30 to 55 °C

Holdover Accuracy:

≤0.5s/h

Storage Temperature:

-35 to 70°C

Refresh rate:

200Hz

Humidity:

to 95% non-condensing
1×digital clock (Could be customized)(the color, content and size could be customized)
2×hanger or 2×hook (Could be customized)(It could be customized)
1×Power cable
1×Operating instruction handbook
Other types you may be interested
Type

CT-DDT200A

CT-DDT200B

CT-DDT200C

CT-DDT200D

Size

(L×W×H,mm)

790×304×88

790×304×88

790×200×88

790×200×88

Screen

Single Side

Double Sides

Single Side

Double Sides

LED Color

Red/Green

Red/Green

Red/Green

Red/Green

Display content

Date,Time,Temperature

Date,Time,

Temperature

Time

Time
Note that, if all the CDMA wireless digital display couldn't satisfy please feel free to contact us. We are very pleased to provide custom-made ones especially for you.
Lifetime support, either by email or phone.
Key Words
NTP digital display
IRIG-B digital clock
LED digital clock
Time provider
Time server
Time synchronization system
Timing product
Time instruments