| | |
| --- | --- |
| Export Markets: | North America, South America, Eastern Europe, Southeast Asia, Africa, Oceania, Mid East, Eastern Asia, Western Europe |
| Place of Origin: | Jiangsu in China |
Quick Details
After-sales Service Provided: Engineers available to service machinery overseas
Warranty: 2
Certification: CE,UL
Model Number: JYG
Brand Name: JXX
Type: Drying Oven
Condition: New
Specifications
DESCRIPTION
this machine can indirectly heat or cool the materials in paste, granules, powders and slurries. It can also complete the unit process of drying, cooling, heating, sterilization, reaction and low temperature combustion. the special heat-transfer stirring blade wedge type in the equipment has high heat-transfer efficiency and its heat-transfer surface has self-cleaning function.

WORKING PRINCIPLE
A hollow shaft is densely arranged with hollow wedge-shaped blade; heat medium flow to the hollow blades through hollow shaft. the heat transfer area per unit effective volume is large. Temperature of heat medium is from -40 ℃ to 320 ℃, may be in the form of water vapor or liquid, such as hot water or heat transfer oil. Indirect conduction heating has no air to carry away the heat, so the heat is all used to heat the material, and the only heat loss is the heat dissipated around from the heat insulation layer. Heat-transfer surface of wedge-shaped blade has self-cleaning function. Relative movements between particles and the wedge-shaped surfaces produce wash effect, which can wash away the adhered material on the surface of the blade, so that a clean heat transfer surface is maintained in the operation. the shell of blade dryer is Ω-type, generally two to four hollow stirring shafts installed in the shell. the shell is equipped with end cover and top to prevent dust escaping.Heat transfer medium flows through the rotary joint, shell jacket and hollow stirring shaft. Depending on the type of heat medium, hollow stirring shafts have different internal structures to ensure optimal heat transfer effect.

FEATURES
1. Blade dryer is low energy-consumption: due to the indirect heating, there is not a lot of air carrying away the heat; the outer wall of the dryer set the insulation layer. for slurry material, it takes only 1.2kg water vapor to evaporate 1kg water.
2. System of blade dryer is low cost; the heat transfer area is large in unit effective volume, which makes shorter the processing time and the smaller device size, greatly reducing its covering area and building space.
It can handle wide ranges of materials: Using different heat medium, it can not only deal with heat-sensitive materials, but also materials requiring high temperature treatment. Common media are: steam, heat transfer oil, hot water and cooling water.
3. It supports both continuous operation and intermittent operation; it can be applied in many fields.
Environmental friendly: it does not use carry air and carries very little dust material. Material solvent evaporation is little so it is easy to handle. for materials which may cause pollution or requiring solvent recovery, closed circulation can be applied.
4. Low operating costs: little abrasion, low maintenance cost.
Stable operation: due to the special compression - expansion stirring of wedge-shaped blade, material particles have sufficient contact with the heat transfer surface. In the axial zone, materials have low temperature, low humidity and small mixing gradient so as to ensure the stability of the process.

APPLICABLE MATERIALS
Blade dryer has been successfully applied in the fields of food, chemical, petrochemical, dyes, industrial sludge and so on. Its characteristics of heat transfer, cooling and stirring enable its following unit operation: Combustion (low-temperature), cooling, drying (solvent recovery), heating (melting), reaction and sterilization. Stirring blades also act as the heat transfer surface, so that the heat transfer area per unit effective volume is increased and the processing time is shortened. Wedge-shaped blade heat transfer surface has self-cleaning function and compression - expansion mixing function which makes the material mixed evenly. Materials move into "plug flow" axially. In the axial zone, material has low temperature, low humidity and small mixing gradient. If the heat transfer oil is used to do heat medium, the dryer can accomplish low-temperature combustion. for example: calcium sulfate dihydrate (Ca2SO4 · 2H2O) is combusted into calcium sulfate hemihydrate (Ca2SO4 · 1 / 22H2O); Sodium bicarbonate (NaHCO3) is calcined into sodium carbonate (Na2HCO3). If pumped into cooling medium, such as water, salt water, it can be used for cooling. for example, the blade-type soda ash cooler used in sodium carbonate industry replaces the old air-cooling cooler, saving energy and exhaust treatment equipment so that reducing operating costs. Drying—the main function of the device—do not use hot air, making the solvent recycling, energy consumption and environmental control in a tractable ideal state. It is particularly suitable for materials requiring recovering solvents, flammable, easily oxidized and heat-sensitive materials. It has been widely used in chemical, petrochemical and dye industries. In the axial zone, uniformity of temperature, humidity and degree of mixing makes the device can be used to heat or melt, or do some reaction of solid material. It has been successfully used in the industries of fertilizer and modified starch. Blade dryer can be used for sterilization of food and flour. with large heating area in unit effective volume, the materials will soon be heated to the sterilization temperature, avoiding that long heating may change the quality of materials.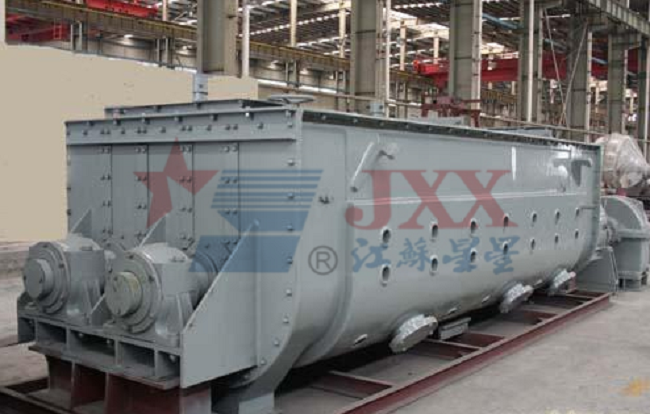 TECHNICAL PARAMETERS