| | |
| --- | --- |
| Export Markets: | North America, South America, Eastern Europe, Southeast Asia, Africa, Oceania, Mid East, Eastern Asia, Western Europe |
| Place of Origin: | Guangdong in China |
| Packaging Details: | super heart package |
Quick Details
Model Number: DLX-SHDVOP-H
Brand Name: DLX
Material: Aluminum
fiber: LC single fiber single mode
Distance: 0-60km
resolution: 3840x2160
Specifications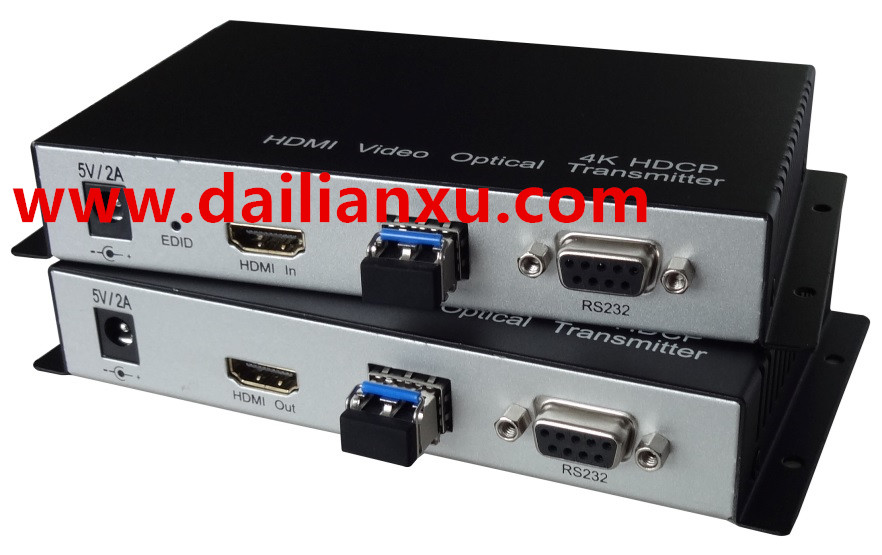 BRIEF INTRODUCTION
DLX-SHDVOP-H series UHD super high-definition HDMI fiber optical transmitter and receiver is support Max.3840x2160 broadcast grade 4K video long distance transmission. Special chip changes HDMI signal to 10G differential signal, using high-speed TDM and Gigabit CWDM technology to provide uncompressed high quality transmission systems for 1channel HDMI video,1channel audio signal and one bi-directional RS232 over multi-mode fiber or single-mode fiber. Support HDMI 1.4, EDID, HDCP and 3D video. Support 720p/60Hz,1080i/60Hz,1080p/30Hz,1080p/60Hz,1080p/120Hz, 3840×2160@30Hz etc. resolution. Support 7.1channel PCM voice and compressed audio, compatible with DVI. Support HDMI port hot plug, Low consumption, uncompressed, real-time, plug and play, strong compatibility etc.
The RS232 can support SONY standard(optional), Support 24bit CD HI-FI audio and high-speed data. Auto-adapt to various HD or standard video. Compared with the same kind of analog transmission systems that employ accidental amplitude or frequency modulation, DLX-SHDVOP-H products provide better transmission in quality. Support point to point transmission. DLX-SHDVOP-H adopts Modularized design, support function expanded.
In the HD video application system, if use common copper cable for long distance transmission, it will always show the poor output signal, be liable for the interference, the image displayed appears the phenomenon of the vague, the tailing and color separation etc. At the same time, the distance of transmission is short, it can not meet the requirement of long distance transmission for the multimedia information issuing etc. using the DLX-SHDVOP-H optical transmitter and receiver for transmitting HDMI signals, this kind of problem has been completely solved, the distance of transmission is from 1km to 60km. In the mean while, the optical transmitter and receiver has the outstanding points with a little attenuation, frequency bandwidth, strong anti-interference, high safety performance, small volume and light in weight etc., therefore, it has incomparable advantages in the respect of the special environment and the long distance transmission.
APPLICATIONS
1.High Way & Toll Station Surveillance
2.Subway PS System
3. Visual command of military bases
4. Visual Intelligent Outdoor Surveillance System
5.Telemedicine systems
6.Digital video display
7.Industry control
8.Custom's Security control
9.Intelligent traffic monitoring system
10.High Quality Video Conference
11.Live Broadcast and TV program transmission
12.Long-distance multimedia teaching
13.Industrial Closed Circuit Television Surveillance
FEATURES
1.Max. resolution
2.Advanced Audio, HDMI, Data adaptive technique
3.Full digital, uncompressed, real-time, loseless, the transmission speed up to 10G
4.Support HDMI 1.4,HDMI 1.2, EDID, HDCP, 3D etc.
5.RS232 compatible with SONY standard is optional
6.Standalone,19inch 4U rack mounted type optional, up to 16pieces HDMI fiber converters be installed in 19inch 4U chassis.
7.Modularized and industrialized design ensuring reliability and flexibility
8.Fiber connector is LC
9.Industry grade components, ESD protection design, Aluminum-alloy case
10.Unique Power Polarity protection, Power wrong connection protection, Auto-recover after fault been remove
11.No EMI, no RFI etc.
12.Indicators for Power Supply, Video, Optic-link and Data-loop
13.Free from In-field Adjustment
14.Flexible and Easy Mount
15.Protection against lightening strike and surge
16.Transmission distance: 500m(Multi-mode),20km,40km,60km (Single-mode)
SPECIFICATIONS
Optical index
| | |
| --- | --- |
| Wavelength | Multi-mode:850/1310nm,Single-mode:1310/1550nm,DFB:1260~1610nm |
| Optical power | 0 dBm ~ -3dBm/-5dBm ~ -10dBm |
| Number of fiber | One |
| Receiving Sensitivity | ≤-26dBm |
| Connector | LC |
| Max. power budget | 15dbm/20dbm/25dbm/30dbm |
| Distance | 0-60km |
HDMI
| | |
| --- | --- |
| Video format | HDMI1.4, support EDID and HDCP 1.2 function |
| TMDS input/output | 0.5-1.5Vp-p(TMDS) |
| DDC input/output | 5Vp-p(TTL) |
| Video color format | 24bit/30bit/36bit |
| Audio format | DTS-HD/Dolby-true HD/LPCM7.1/DTS/Dolby-AC3/DSD |
| HDMI Resolution | 4K/1080p/1080i/720p/576p/576i/480p/480i etc. |
| Cable distance | ≤5m(AWG26 HDMI1.3 standard cable) |
| Connector | HDMI |
Data interface
| | |
| --- | --- |
| Interface Type | RS-232 |
| Operation Mode | Full-duplex/Half-duplex |
| Data Rate | DC-115.2Kbps/DC-2Mbps |
| BER | <10E-12 |
| Connector | DB-9 |
Environment
| | |
| --- | --- |
| Operation temperature | -20℃~+60℃ |
| Storage temperature | -30℃~+70℃ |
| Relative humidity | 0-95% Non-Condensing |
| MTBF | ≥10e5 hours |
| Power Supply | AC 100V~260V or DC 48V, DC24V,DC12V |
Dimensions
| | |
| --- | --- |
| Standalone type | 165(L) x 85(W) x 30(H)mm |
| 19inch,1U type | 480(L) x 290(W) x 45(H)mm |
| 19inch,4U chassis | 480(L) x 290(W) x 180(H)mm |