Specifications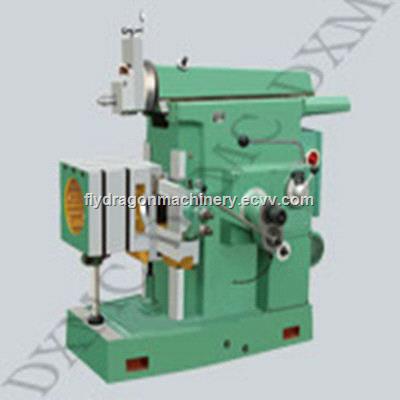 SHAPING MACHINE for METAL
1.Shaping machine price can turning angle of the table with horizontal and lift moving
Mechanism; for the planning the inclined plane, thereby expanding the scope of use.
2.Planer feed system uses a cam mechanism to adjust the feed rate. It is very convenient to
Change the feeding rate.
3.Shaping machine price equipped with cutting system overload safety agencies.
Once occur careless operation, external influences or cutting overload,it will shift to self-skid, and non-destructive the machine.
4.Gap between the RAM and the bed rail, the speed gear and the main sliding guide surface,
Will be lubricated by the pump shot oil.
SPECIFICATIONS:
MODEL
B635A
Max.Shaping length
350mm
Max.Distance from,lower edge of RAM to table
330mm
Max Travel of table Horizontal
400mm
Vertical
270mm
Max.Length between cutter and front bed end
500mm
Max.RAM travel
170mm
Max.Swivel angle of table without vice
±90o
with vice
±55o
Max.vErtical travel of tool head
110mm
Frequency of RAM strokes
32,50,80,125times/min
Table feed amount
Per reciprocating motion of RAM
Wheeled round a tooth(V)
0.18mm
Wheeled round a tooth(H)
0.21mm
Wheel rotation 4 tooth(V)
0.73mm
Wheel rotation 4 tooth(H)
0.84mm
Motor
1.5kw 1400r/min
Vice measurement (Width * Depth * Max.Opening)
180*55*150mm
Overall dimensions(L * W * H)
1390*860*1455mm
Packing size(L * W * H)
1530*930*1370mm
Net weight
1000kgs
Gross weight
1200kgs
Mechanical Shaping Machine for metal shaper planer tools (BC6050)
Main features:
the tool post can rotate with more angle in the vertical plane,
Manual feeding is available. for tool post.
for slotting shaping more economic machining equipment.
Worktable feeding on cross and vertical specially for swallow tail machining and channel machining.
Suitable for single piece or small match production.
Specification
of our shaping machine BC6050:
Model
BC 6050
BC 6063
BC 6066
Maximum cutting length(mm)
500
630
660
Max.Range of the horizontal movement of the table
500
630
630
Max.Distance between the RAM bottom and table
370
385
385
Max.Length of the vertical movement of table
270
360
360
Dimensions of table top(L×W)
440×360
630X400
660X400
Max.Stroke length of the toolhead
120
120
120
Max.Swivel angle of the toolhead
±60°
±60°
±60°
Max.Section of tool(W×T)(mm)
20×30
20×30
20×30
Number of RAM reciprocation per minute
14-80
14-80
14-80
Range of table feed:
Horizontal
0.2-0.25 0.08-1.00
0.4-5.0
0.4-5.0
Vertical
0.08-1.00
0.08-1.00
Width of the T-slot for center positioning(mm)
18
18
18
Power of the main motor
3
3
3
N.W/G.W(kg)
1650/1760
1750/1870
1800/1920
Overall dimensions(L×W×H)(mm)
2160×1070×1194
2342×1225×1480
2357×1225×1480