Specifications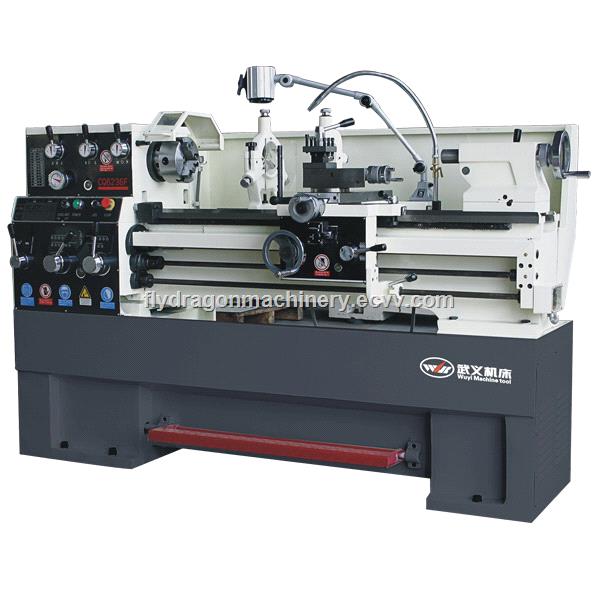 Product Description
CE High Precision Lathe machine
1.Features:
1).
Precision ground and supersonic frequency hardened bed ways,designed in double wall structure with super rigidity.
2
).the spindle system is high in rigidity and accuracy.
3).
the design of the main drive is optimized and the gears in silent noise.
4).
There is no need for change gears.
5).
the machine can turn about 200 kinds of metric,module and D.P Threads.
2.Our machine CQ6236/1000 and CQ6240/1000 and 2000 Detailed specification as following:
SERIES
Model
CQ6236×1000
CQ6240×1000
Swing over bed
Φ360mm(14 11/64")
Φ400mm(15 3/4")
Swing over cross slide
Φ210mm(8 1/4")
Φ250mm(10")
Swing in gap(D×W)
480mm×100mm
520mm×100mm
Height of center
180mm(7 3/32")
200mm(7 7/8")
Distance between centers
1015mm
1015mm
Width of bed
218mm(8 9/16")
218mm(8 9/16")
Max. Section of cutting tool
20mm×20mm
20mm×20mm
Total travel of cross slide
230mm
230mm
Total travel of top slide
120mm
120mm
Spindle bore
Φ52mm(2 3/64")
Φ52mm(2 3/64")
Spindle nose
D5
D5
Spindle morse taper in nose,in sleeve
M.T.#6/M.T.#4
M.T.#6/M.T.#4
Spindle speeds number
2×9 (18)
2×9 (18)
Spindle speeds range
65-1800 R.P.M
65-1800 R.P.M
Leadscrew diameter&thread
24mm×4 T.P.I or pitch 6mm
24mm×4 T.P.I or pitch 6mm
Threads imperial pithches
4-60 T.P.I
4-60 T.P.I
Threads metric pithches
0.4-7mm
0.4-7mm
Longitudinal feeds(imperial/metric)
0.0021"-0.0508"/0.0527mm-1.2912mm
0.0021"-0.0508"/0.0527mm-1.2912mm
Cross feeds(imperial/metric)
0.00043"-0.0109"/0.011mm-0.276mm
0.00043"-0.0109"/0.011mm-0.276mm
Total travel of tailstock quill
110mm
110mm
Tails stock quill
Φ52mm(2 1/64")
Φ52mm(2 1/64")
Taper tailstock quill
M.T.#4
M.T.#4
Spindle drive motor
2.0HP
2.0HP
Coolant pump motor
4/75HP(40W)
4/75HP(40W)
Machine dimension
Overall package 1830mm×770mm×1280mm split package 1830mm×770mm×680mm
Overall package 1830mm×770mm×1300mm split package 1830mm×770mm×700mm
Packing dimension
Overall package 1940mm×890mm×1545mm split package 1940mm×890mm×1045mm
Overall package 1940mm×890mm×1545mm split package 1940mm×890mm×1045mm