| | |
| --- | --- |
| Export Markets: | North America, South America, Eastern Europe, Southeast Asia, Africa, Oceania, Mid East, Eastern Asia, Western Europe |
| Packaging Details: | Standard Export Plywood Case |
Quick Details
Usage: Reliability Test Chambers
Power: Electronic
Brand Name: Lmet Test
Warranty: 12 Months
weight: 1000kg
Model Number: LTHW-Series
Name: Walk in Constant Temperature Humidity Test Chamber
Model: LTHW-Series
Usage: Reliability Testing
Temperature range: -70~150 degree C
Humidity Range: 20%~98%R.H.
Uniformity: 2.0 degree C; 3.5% R.H.
Control Accuracy: 0.5 degree C; 2.5% R.H.
Cooling System: Air cooling/water cooling
Compressor: French Tecumseh Brand, Germany Bizer Brand
Power: AC380V
Specifications
WALK-in CONSTANT TEMPERATURE HUMIDITY TEST CHAMBER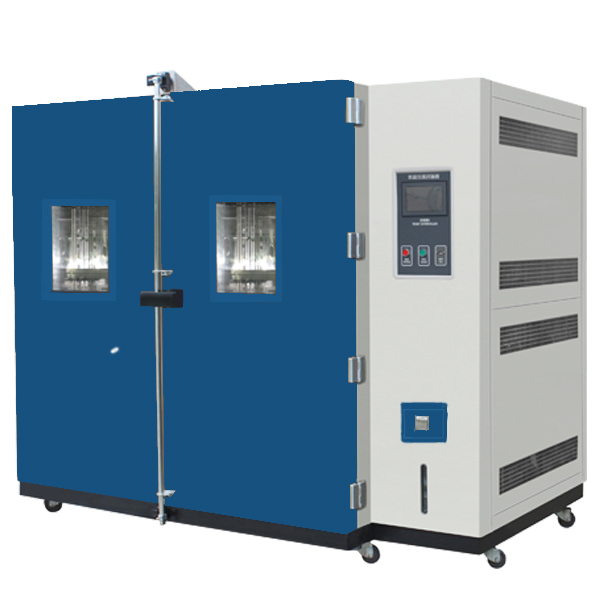 FUNCTIONAL FEATURES--WALK-in CONSTANT TEMPERATURE HUMIDITY TEST CHAMBER
Internal Test Chamber is designed and made of SUS 304 high-low temperature resistance stainless steel;
Insulation material is introduced frame retardant strength PU Polyurethane foam insulation material;
Observation Window is designed and made with vacuum glass observation window on door, and door frame with electric heat
Resistant, anti-frosting, anti-condensing devices to enable test technician can observe testing specimen in testing in an easy way.
Cable Port with its diameter at 50mm is designed on left of testing chamber, and processed with silicon filling and sealing as well as
Designed with stainless steel cover for safety purpose.
Walk-in environmental test, to guarantee safety testing operation, is designed with Explosion-proof pressure releasing function with
1 ventilation hole on left or right side of test chamber for pressure releasing purpose.
Sealing process for test chamber is introduced with silicone sealing strip to provide an excellent sealing performance. while push-in
Testing holder with good loading bear is made for internal environmental test.
A close-type mechanical pressure balance & regulation device is introduced to balance difference between inside and outside of test
Chamber to protect testing chamber.
4 arrays of explosion-proof and energy-save lamp is installed inside of test chamber for observation while steel base frame for test
Chamber with loading bear no less than 2000kg/square meters
Air Supply System with constant air flow as well as uniform air distribution is driven by branded asynchronous motor, multi-blades
Centrifugal circulating blower as well as high-performance sensors.
Refrigeration System is introduced with French Tecumseh compressor for dehumification while Germany Bitzer compresor for
Refrigeration system, while uses environmental friendly refrigerant HFC R404A, R23A.
Heating System is designed with SSR,Solid-State Relay & controller to provide high accurate non-contact switch control, and
the heating tube introduced with Naked Wire Nickel Chromium Alloy Electric Heating Tube.
Control Method for walk-in Test Chamber is introduced with Programmable high accuracy micro computer controller, use cold
Mirror dew point instrument control temp. Humidity system. Cold mirror dew point instrument control temp. Humidity system.
P.I.D., BTC balance temperature control method thermal compensation function+DDC digital cold control +DEC digital electric
Control Temperature change test program setting
TECHNICAL PARAMETERSWALK-in CONSTANT TEMPERATURE HUMIDITY TEST CHAMBER
Chamber Model

LTHW-6M

LTHW-8M

LTHW-10M

LTHW-15M

LTHW-30M

LTHW-80M

Temp. Range:

Low Temperature: A: 25 degree C ;B: 0 25 degree C;C: -20 25 degree C; D: -40 25 degree C E:-70 25 degree C High Temperature: 80 25 degree C 80~150 25 degree C Optional

Humidity Range

20%~98%R.H. 10%~98%R.H./5%~98%R.H. Customize available

Analytic Accuracy

0.1 25 degree C; 0.1% R.H

Uniformity

2.0 25 degree C; 3.5% R.H.

Control Accuracy

0.5 25 degree C; 2.5% R.H.

Temperature Rising/Falling Speed Rate

Temp. Rising Approx 1.0~3.0 25 degree C/min; Temp. Cooling Rate Approx. 0.5~1 25 degree C/min.

Cooling System

Air cooling/water cooling

Protection Devices

Fuse-free switch, overloading protection switch for compressor,high and low voltage coolant protection switch, over-humidity & over-temperature protection switch, fuses, fault warning system, water short storage warning protection

Optional Accessories

Slope for cart, Recorder, Water Purifier, Dehumidifier

Compressor

French Tecumseh Brand, Germany Bizer Brand

Power Source

AC 380 V,50/60HZ,3 phase 5 Wires
STANDARD COMPLIANCEWALK-in CONSTANT TEMPERATURE HUMIDITY TEST CHAMBER
| | |
| --- | --- |
| GB/T 2423.1-2001 | Environmental testing - Part 2: Test methods - Tests A: Cold |
| GB/T 2423.2-2001 | Environmental testing - Part 2: Test methods - Tests B: Dry heat |
| GB/T 2423.3-1993 | Basic environmental testing procedures for electric and electronic products. Test Ca:Damp heat,steady state |
| GB/T 2423.4-1993 | Environmental testing for electric and electronic products - Part 2: Test method - Test Db: Damp heat,Cyclic |
| GB/T 2423.9-2001 | Environmental testing for electric and electronic products - Part 2: Testing method test Cab: Damp heat Steady state |
| GB/T 2423.50-1999 | Environmental testing for electric and electronic products Part 2: Tests--Test Cy:Damp heat,steady state,accelerated test primarily intended |
| IEC 60068-2-14 | Environmental testing -- Part 2-14: Tests -- Test N: Change of temperature |
| IEC60068-2-78 | Environmental Testing - Part 2-78: Tests-Test ca B: Damp Heat, Steady State |
| IEC 60068-3-4:2001 | Environment Tests for Electric and Electronic Products-Guidance for Damp Heat Tests |
| GB/T2423.34-2005 | Environmental testing for electric and electronic products Part 2:Test Methods Test Z/AD:Composite temperature/humidity cyclic test |
| GB/T 14092.1-1993 | Environmental condition for machinery products-Warm-damp |
| MIL-STD-810 | Environmental Engineering Considerations and Laboratory Tests |