| | |
| --- | --- |
| Export Markets: | North America, South America, Eastern Europe, Southeast Asia, Africa, Oceania, Mid East, Eastern Asia, Western Europe |
| Place of Origin: | Guangdong in China |
| Packaging Details: | Standard Export Plywood Cases |
Quick Details
Usage: Video Measuring Machine
Power: Electronic
Brand Name: Lmet Test
Warranty: 12 Months
weight: 460kg
Model Number: QVH Series
Name: Long Travel Vision Measure Machine
Model: QVH Series
Measuring speed: Max. 600mm/s
CCD: USA TEO Colored High Resolution Camera 800TVA
Zoom Lens: Fully Automatic Magnification:0.7-4.5X
Vision Magnification Ratio: 30~230x
Field view: 10.6~1.6mm
Working Distance: 82mm
Resolution: 0.00001
Repeatability: 1.5
Specifications
LONG-TRAVEL VISION MEASURE MACHINE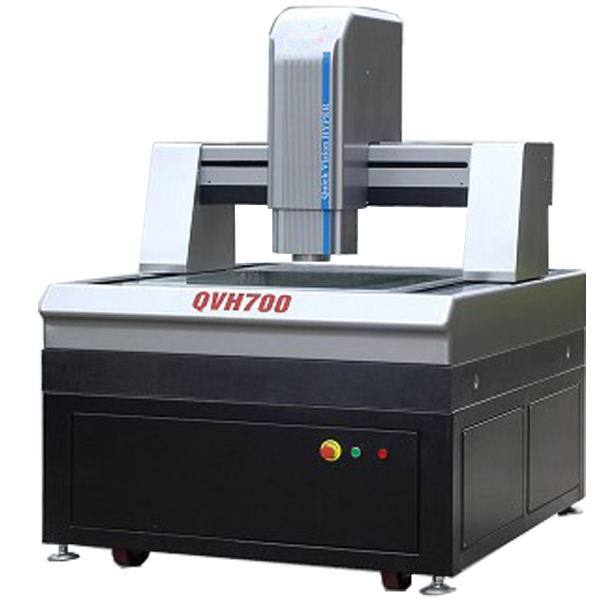 GENERAL INTRODUCTION---LONG-TRAVEL VISION MEASURE MACHINE
this vision measuring machine is advanced length measuring equipment that integrates the technologies such as precise mechanics,
Optic technology, electronic technology etc.
this vision measuring system is designed, manufactured & widely applied for products metal, electronics, molding, PCB, pressing
Piece, connector, machinery, meter, watch, cell phone, LCD, LED, light industry and users such as university, college, research
Institution.
this vision machine with high efficiency in measuring various complex & irregular parts regarding to contour size, surface shape of
Tools, parts, components like sample plate, pressing piece, cams, screw, gear, profile cutter, tapping, molding, cell phone parts.
this vision system mainly applied for 2D &3D image measuring purposes with good performance to achieve the comparison finding
from actual measuring finds with designed target and realize the purposes to measure, inspect, calibrate as well as perform reverse
Engineering.
FUNCTIONAL FEATURES---LONG-TRAVEL VISION MEASURE MACHINE
Fully-Automatic Gantry Long-Travel Compounded Vision Measuring machine is designed here to provide user with a full 3D
Multi-functional testing space;
00 Grade Marble material made machine base, firmed work bench design ensure reliability and stability for entire vision measuring
System;
Japan imported THK ball screw as well as precise linear slider rail is introduced to match high-performance AC servo motor-driven
in close-loop control so as to achieve a high precision, high accuracy, high speed & high reliability;
Thanks to USA imported TEO high-resolution industrial grade 800TVA CCD here provided to ensure high-quality image and fastest
Measuring speed;
Fully-automatic magnification Zoom lens is mounted and no re-calibration is necessary if magnification ratio changed;
Programmable 4-Loop 8-Zone LED surface cold light source & direct-axis rim lighting source are provided when coaxial cold light
Source as an optional;
Germany heidenhain Open-chipped optic scale with its accuracy up to 0.005mm
UK Renishaw contact testing probe group optional as automatic probe SCR system as well as Japan KEYENCE laser probe group
Are provided;
Independently-Developed powerful fully-automatic 3D Vision measuring software can achieve automatic measuring;
Coaxial measuring method for vision, probe, laser while automatic measuring can be achieved by programming;
Z Axis available testing range: 300-500mm;
TECHNICAL PARAMETERS--LONG-TRAVEL VISION MEASURE MACHINE
H: laser probe group optional T: contact probe group optional U: ultra-precise
Motion System: 4-Axis fully closed-loop control, 3-Axis AC servo motor-driven pre-loading linear slider rail & ball screw, stepper
motor coaxial control lens groups.
Model

QVH300

QVH400

QVH500

QVH600

MEASURE TRAVEL RANGE

X,Y,Z Travel

300300200

400400200

500400200

600500200

TEST WORKBENCH

Aluminum Alloy bench

500500mm

600600mm

700600mm

900600mm

Glass Bench

480480mm

580580mm

670580mm

870580mm

Load Bearing

50kg

50kg

50kg

50kg

VISION MEASURE SYSTEM

Measuring speed

Max. 600mm/s

CCD

USA TEO Colored High Resolution Camera 800TVA

Zoom Lens

Fully Automatic Magnification:0.7-4.5X

Vision Magnification Ratio

30230X

Field view

10.6-1.6mm

Working Distance

82mm

Resolution

0.0001 mm

Repeatability

1.5

Measuring Accuracy

X,Y,Z Axis less 1.5+L/150,Z Axis Vision measuring 5+L/200 ; U: XYZ Axis less than 0.75+L/200

Overall Dimension mm

120010001780

130011001780

140011001780

150012001780

Gross Weight

700kg

800kg

900kg

1100kg

Illumination system

Programmable 4-Loop 8-Zone Surface Cold Lighting Source Rim cold Lighting source coaxial cold lighting source optional with brightness;

Power Input

AC 200V 10%,50/60Hz, amp larger thanb 20A
Machine Model

QVH700

QVH800

QVH1000

QVH1200

MEASURE TRAVEL RANGE

X-Axis mm

600

800

800

1200

Y-Axis mm

700

600

1000

1000

Z-Axis mm

200

200

200

200

TEST WORKBENCH

Aluminum Alloy Bench

900 800 mm

940 840 mm

1193 1010 mm

1540 1240 mm

Glass Bench

870 780 mm

89 790 mm

1168 968 mm

1500 1200 mm

Load-Bearing

50kg

50kg

50kg

50kg

VISION MEASURE SYSTEM

Measuring Velocity

MAX:800mm/s

CCD

USA TEO Colored high Resolution Camera 800TVA

Zoom Lens

Fully-Automatic magnification:0.7-4.5X

Image Magnification Ratio

30-230X

Field View

10.6-1.6mm

Working Distance

82mm

Resolution

0.0001mm

Repeatability

1.5

Measuring Accuracy

X,Y,Z-Axis Less than 2+L/200Z-Axis on Vision Measuring less than5 L/200

Overall Dimension

1600 1300 1780 mm

1600 1300 1780 mm

1900 1450 1780 mm

1900 1900 1780 mm

Gross Weight

1800kg

1800kg

2600kg

3200kg

Illumination System

Programmable 4-Loop 8-Zone Surface Cold Lighting Source & Rim cold Lighting source coaxial cold lighting source optional with brightness;

Power Input

AC 200C,50/60Hz, amp 20A