Specifications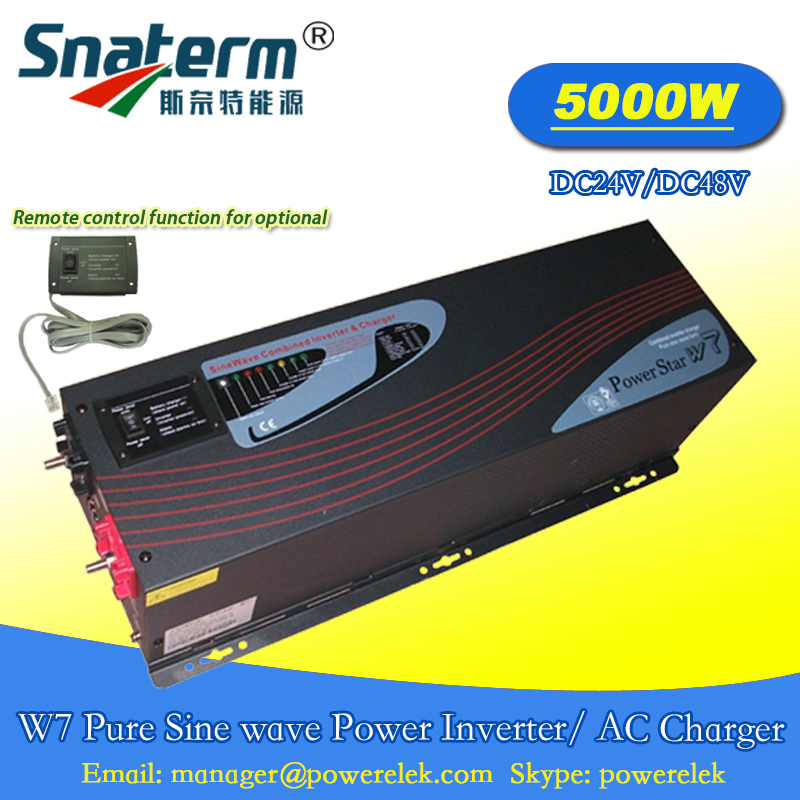 Features of W7 Pure Sine Wave Inverter with AC Charger:
1. High overload ability of our W7 charger is up to 300% rated power(20 sec.).

2. Snat W7 Series pure sine wave inverter adopts full copper transformer / low quiescent current, and power saver mode to reduce power consumption to 10W(3s sensing cycle)/3W(30s sensing cycle) It can extract max. Power from various batteries with different protections, and low voltage trip can be selected (10V/10.5V)

3,Pure sine wave output, available for sensitive load
4,4-step progressive charging, 7 battery type selector
5,Fast and powerful charger with 30A and 70A
6,Accept generator's energy output
7,High power factor
8,Automatically transfer between battery and line modes
9,Microprocessor control guarantees high reliability
10,Bypass without battery connected
11,Remote control function

Protection against:
1,over load, over temperature, over charging, low battery
2,Reverse connection(optional by hard connector)
3,blackouts

Electrical Specification:

Model

W7-1000

W7-2000

W7-3000

W7-4000

W7-5000

W7-6000

Inverter Output

Continuous Output Power

1000W

2000W

3000W

4000W

5000W

6000W

Surge Rating(20s)

3000W

6000W

9000W

12000W

15000W

18000W

Capable of Starting Electric Motor

1HP

2HP

3HP

4HP

5HP

6HP

Output Waveform

Pure Sine wave/Same as input(Bypass mode)

Nominal Efficiency

>88%(Peak)

Line Mode Efficiency

>95%

Power Factor

0.9-1.0

Nominal Output Voltage rms

100-110-120Vac / 220-230-240Vac

Output Voltage Regulation

±10% RMS

Output Frequency

50/60Hz ± 0.3Hz

Short Circuit Protection

Yes, Current Limit Function (Fault after 1sec)

Typical transfer Time

10ms(Max)

THD

< 10%

DC Input

Nominal Input Voltage

12.0Vdc

( *2 for 24Vdc, *4 for 48Vdc)

Minimum Start Voltage

10.0Vdc

Low Battery Alarm

10.5Vdc / 11.0Vdc

Low Battery Trip

10.0Vdc / 10.5Vdc

High Voltage Alarm & Fault

16.0Vdc

High DC Input Recovery

15.5Vdc

Low Battery voltage recover

13.0Vdc

Idle Consumption-Search Mode

< 25 W when Power Saver on

Charge

Input Voltage Range

Wide: 90~135VAC / 164~243VAC;
Narraw: 100~135VAC / 194~243VAC;

Output Voltage

Depends on battery type

Charger Breaker Rating

10A

10A

20A

20A

30A

30A

Max Charge Rate

35A / 70-90A Max (Charger Current Control)

over Charge Protection Shutdown

15.7V for 12Vdc ( *2 for 24Vdc, *4 for 48Vdc)

Charger curve(4 stage constant current)
4 step digital controlled progressive charge

Battery types ( *2 for 24Vdc, *4 for 48Vdc)

Battery type

Fast Vdc

Float Vdc

Gel U.S.A

14.0

13.7

A.G.M 1

14.1

13.4

A.G.M 2

14.6

13.7

Sealed Lead Acid

14.4

13.6

Gel Euro

14.4

13.8

Open Lead Acid

14.8

13.3

Calcium

15.1

13.6

De-sulphation

15.5 for 4hrs

Remote Control

Yes. Optional

Bypass & Protection

Input Voltage Waveform

Sine wave (Grid or Generator)

Nominal Voltage

120Vac

230Vac

Low Voltage Trip

80V/90V±4%

184V/154V±4%

Low Voltage re engage

90V/100V±4%

194V/164V±4%

High Voltage Trip

140V±4%

253V±4%

High Voltage re engage

135V±4%

243V±4%

Max Input AC Voltage

150VAC

270VAC

Nominal Input Frequency

50Hz or 60Hz (Auto detect)

Low Freq Trip

47±0.3Hz for 50Hz, 57±0.3Hz for 60Hz

High Freq Trip

55±0.3Hz for 50Hz, 65±0.3Hz for 60Hz

Overload protection

Circuit breaker

Output Short circuit protection

Circuit breaker

Bypass breaker rating

10A

20A

30A

30A

40A

40A

Transfer switch rating

30amp for UL & TUV

40amp for UL

Max bypass current

30amp

40amp

Mechanical Specification

Mounting

Wall mount

Inverter Dimensions(L*W*H)

382*218*179mm

442*218*179mm

598*218*179mm

Inverter Weight

16KG

20KG

24KG

35KG

45KG

45KG

Shipping Dimensions(L*W*H)

520*315*300mm

580*315*300mm

740*315*300mm

Shipping Weight

18KG

22KG

26KG

37KG

47KG

47KG

Display

Status LEDs / Status LEDs+LCD

Standard Warranty

1 Year
1,Battery power priority: When battery power is lower, inverter will automatically use bypass function to take the load, do not charge to battery...If need charge the batteries from city power,try to change the inverter operating mode as city power priority.(Battery power priority or city power priority is Selectable).
2,the city power priority, when it has no city power, inverter will automatically switch to battery power to supply the load,and charging the batteries (UPS function)
Need More Info? Feel free to contact us!