| | |
| --- | --- |
| Export Markets: | North America, South America, Eastern Europe, Southeast Asia, Africa, Mid East |
| Place of Origin: | Hubei in China |
| Packaging Details: | Standard Export Packing in Color Box and Carton. |
Quick Details
Model Number: LCAP154
Brand Name: ZJZK
Product name: laser cap hair growth
Laser Type: GaAlAs Diode Laser
Number of Laser: 164pcs
Max power: 820mW (164pcs x5mW)
Laser Wavelength: 650nm
Life Time: 20000hours
Warranty: 2 free years warranty
Application: hair loss treatment
Min Order: 1Piece
Lead Time: 4-7workdays
Specifications
Specifications
Product Description:

Laser Cap is a portable,hands-free,cordless and rechargeable low level laser therapy device for men and women designed to deliver laser therapy to the scalp in a convenient and discreet way.
Consistent use of low level laser therapy has been reported to improve the appearance of hair quality, hair strength and hair thickness.
Laser Cap is the original and first device to offer the power of a clinical laser therapy unit in a 100% cordless, rechargeable, discreet treatment device that literally 'fits under your favorite baseball hat.
Nearly 40x the power of cap-lasers and infinitely easier to use. Walk, jog, bike, drive or sit. Laser Cap is a non-chemical, non-invasive, pain-free treatment that can be applied anytime you can wear a hat or scarf. Note: Laser Cap is available only through physicians.
Specifications:
| | |
| --- | --- |
| Model Number: | LCAP154 |
| Output Power: | 770mW (Adjustable) 154pcs *5mW |
| Laser Type: | GaAlAs Diode Laser |
| Laser Wavelength: | 650nm±5nm |
| Operation Modulation: | CW, Power adjustable & Pulse |
| Pulse Duration: | 0.1s-1s |
| Repetition Rate: | 5Hz / 12Hz (2 Grades optional) |
| Time Setting: | 1-60 minutes |
| Treatment Area: | 238 (L)* 183 (W)* 148 (H) mm |
| Control Mode: | Liquid crystal Screen and Button control |
| Work Voltage: | DC 6V |
| Input Voltage: | 110V / 220VAC, 50 / 60Hz or DC12V |
| Dimensions: | 267 (L)* 211 (W)* 160 (H) mm |
| Weight: | G.W: 0.8Kg N.W:0.5Kg |
Hair Growth Laser Cap Comes with:
1.LCAP154 Laser Cap
2.Rechargeable Lithium Power Pack
3.LCD (Liquid Crystal Display) Remote Controller
4.Charger

Detail image: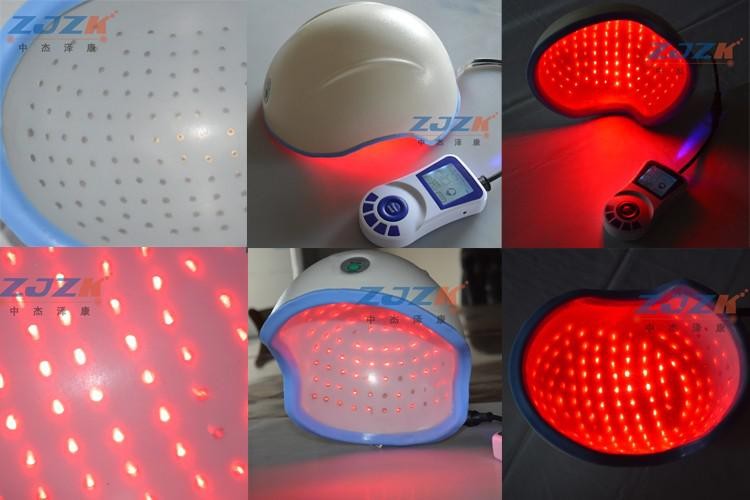 Features and advantages:
1.Laser cap is a non-chemical, non-invasive, pain-free treatment that can be applied almost anywhere, anytime.
2. Laser Cap is a portable, hands-free, cordless and rechargeable low level laser therapy device.
3. Deep penetration by the LLL (low level laser) for hair restoration. treatment
4. Micro current probe (hand held) and comb for hair regrowth therapy
5. Applicable for all skin type and hair type, comfortable and painless for clients
6. No downtime.
7. Specific 650nm red Alma laser light can penetrate deeply into hair root,without hurting hair or skin due to cold laser technology.
8. Suitable for all skin/hair types,clinical hair treatment.
Please to get more information about your interested products.
Applications:
1. Energize hair follicles, increase hair growth, decrease hair loss.
2. Further care after hair transplanting;
3. Improve hair quality and hair health.
4. Increases cell activities & Increases blood flow in the scalp.
5. Promotes follicle cell growth.
6. Reduces hair loss and promotes hair growth.
Works Principle:
1. how does LLLT work?
Multiple clinical studies have shown the effectiveness of Low—Level Light Therapy in promoting hair growth in men and women with androgenetic alopecia. The exact mechanism is not fully understood, but the most recent research has identified that LLLT is absorbed into the cells, triggering enhanced cellular activity. In other words, the theory is that LLLT makes aging cells more active, thereby increasing their effectiveness in hair growth.

2. Do physicians advise the use of LLLT for hair growth?
Yes, Medical Doctors, including dermatologists, in the United States, Europe and Asia prescribe the laser cap/helmet for use with male&female patients suffering from androgenetic alopecia.

3. how does wavelength affect LLLT for hair loss treatment?
It is important to use light within the recommended wavelength for laser hair treatment. Research studies suggest the most effective wavelength for hair growth is between 650—670nm. this wavelength has the most efficient and effective absorption that is essential for hair growth.
Laser Cap/Helmet FAQ:
1. Is it fully automated?
Yes. It requires no manual movement. Simply, place our laser cap/helmet on your head and then sit back and relax.

2. Is it with the battery pack?
No. It'll come with a USB cable and a USB power adapter/plug. We recommend that you plug it into your USB devices like power bank, PC or laptop.

3. how often do I need to use it?
We recommend that it can be used 3-4 times per week, 20-25 minutes per treatment for optimal results. We have found that four times a week seems to be the optimal amount of usage. Using it more than four times a week has not been shown to accelerate the benefits.

4. When will I know if it is working for me?
Every person is different. however, within 12 to 16 weeks of using our laser cap/helmet, most users report that they can see a positive change. The appearance of thicker, fuller, and healthier—looking hair is typical within 24 weeks, or 6 months of LLLT.