| | |
| --- | --- |
| Export Markets: | North America, South America, Eastern Europe, Southeast Asia, Africa, Oceania, Mid East, Eastern Asia, Western Europe |
| Place of Origin: | Guangdong in China |
| Packaging Details: | carton |
Quick Details
Model Number: SF-5040G-W
Brand Name: SF-Tech
Size: 270*270*80(mm)
Weight: 2.2kg
Specifications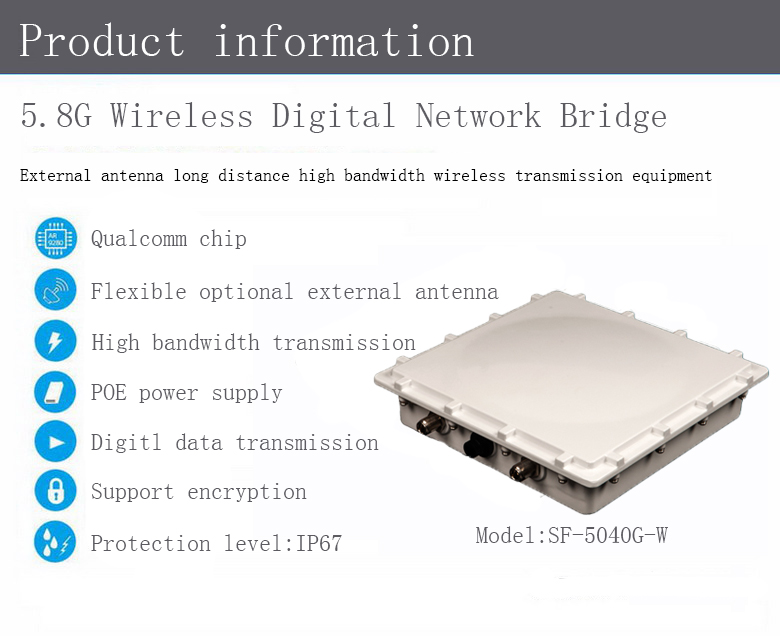 SF-5040G-W high power outdoor wireless bridge is very suitable for the wireless internet connection under the wild environment,it satisfies the needs of high bandwidth network connection and the transmission of multimedia IP data.It's suitable for not only network transmission but also large IP monitoring.SF-5040G-W high-power outdoor wireless bridge equipment can use the built-in 18dBi gain antenna or external antenna to link two long-distance nodes effectively, transmission distance can reach 15km, can provide no less than the quality of wired network.
SF-5040G-W high-power outdoor wireless bridging equipment supports AP mode, WDS mode, ClientBridge + Repeater AP mode, the cooperation between different modes can achieve different effects, you can do point-to-point transmission, point to multipoint transmission. In WDS mode, you can achieve 1 to 8 (fill in 8 different MAC address) link form, in AP mode, can support 32 clients in theory.The device supports Chinese and English interface, simple operation, remove the cumbersome mode of operation, so you can debug more quickly and easily, is conducive to rapid deployment, very suitable for engineering and technical personnel to get started quickly.Power supplies DC12 ~ 24V wide voltage input design, and the actual power consumption of the device is less than 5W, in the absence of electricity in the case of the city can be flexible with batteries, solar energy, wind and other power supply work.
Key features:
L Operation mode: support AP mode, WDS mode, ClientBridge + Repeater AP mode
L Support IEEE 802.11 an mode, transmission rate: 2TX (300Mbps) / 2RX (300Mbps)
L Support 29dBm wireless output power
L Support wide voltage input, voltage input range:DC12 ~ 24V
L Support the load current protection mechanism, built-in 4kV ESD (Electro Static Discharge) load and discharge lightning protection design, for frequent lightning zone indoor or special balcony roof use, as long as the ground wire can be connected to prevent from the lighting damage.
L Support 8 groups of Multiple-BSSID functions and IAPP wireless network roaming
L Support wireless IGMP v1 / v2 / v3 function, can transfer online real-time video package
L Support WDS (Wireless Distribution Service),Supports 8 groups of bridging functions and Multiple Tag VLANs
L Set intelligent wireless distance parameter automatically, according to the input distance the system can automatically fine-tune the corresponding advanced parameters to achieve the best wireless transmission rate effect
L Support wired and wireless interface IEEE802.1d Spanning Tree extension tree function, when using multiple WDS wireless connection at the same time wired line connection to reach the cable and wireless network mutual support, can effectively prevent of infinite loop of network Loop.
L Support SNMP v2c,SNMP v3,SNMP Trap
Wireless features:
L Support IEEE802.11an, up to 300Mbps (Tx), 300Mbps (Rx) transmission rate
L Transmission power control (Transmission power control) controllable, according to environmental preferences to adjust the power size
L Support channel selection: manual setting or automatic setting
L Support wireless base station scan, you can quickly scan around the same type of wireless devices, easy to quickly deploy wireless network
L Each group of SSIDs supports up to 32 connected users, supports up to seven SSIDs (virtual APs)
L with WDS (Wireless Distribution Service) can support 8-cell bridging function
L Support DFS (dynamic frequency selection), IEEE 802.1d -Multi country roaming and other standard of authentication / encryption (wireless security)
L Stop user to find another specific VLAN group user,assign VLAN functions by SSID
L Support data transmission encryption EAP-TLS + Dynamic WEP, EAP-TTLS + Dynamic WEP PEAP / MSPEAP + DynamicWEP, support user authentication WPA-PSK / TKIP, WPA-802.1x / TKIP, 802.11iWPA2-PSK / CCMP / AES, WPA2 (802.1x / CCMP / AES)
L Support hidden SSID to prevent unauthorized users from accessing the wireless network
L Support Access Control list (ACL),operated by MAC and IP address filtering
Details:
Network standard

IEEE 802.11a/n;IEEE802.3; IEEE802.3u

Chipset

Atheros AR7240+ AR9280

SDRAM

32 M Byte

Flash

8 M Byte

Ethernet interface

2 x 10/100 Base - TRJ45 connector

Radio frequency

OFDM

Data transfer rate

802.11a:54, 48, 36, 24, 18, 12, 9, 6Mbps

802.11n:20-MHz bandwidth: MCS 0~15 for sUpported data rate

40-MHzbandwidth: MCS 0~15forsUpported data rate

WOrking frequency

5.15~5.35 GHz

5.47~5.7 GHz

5.745~5.825 GHz

Transmit power

up to 29±2 dBm

Sensitivity

-92dBm@ 11Mbps, -73dBm @ 54Mbps, -73/-69dBm @ HT20/HT40 MCS15

Security

64-bit/128-bit/152-bitWEP encryption

WPA/ WPA2(-PSK using TKIP or AES) WPA/ WPA2 (-EAP using TKIP)

802.1xa aUthentication;Hidden SSID

Antenna port

2 x MCXports

Antenna gain

Built-inor external 25DBi dual polarized flat panel antenna

Operation mode

Information selection mode–AP/ Client Bridge/ WDS Bridge PtP andPtMP (up to 8 links)

Channel selection (Setting varies by Country)

Stepping power 1dBm step

WOrking environment

Environment 30~+70℃,Humidity10~90%

Power supply

POE power:12~24V±5%

Size

270*270*80mm

Weight

2.2Kg(without packing);3Kg(packing)