| | |
| --- | --- |
| Export Markets: | North America, South America, Eastern Europe, Southeast Asia, Africa, Oceania, Mid East, Eastern Asia, Western Europe |
| Place of Origin: | Beijing in China |
| Packaging Details: | Those flexible duct connector loaded a wooden case for shipping |
Quick Details
Type: Ventilation
Brand Name: DEC
Certification: ISO9001:2015
Size: 30mm-1000mm
color: red black grey white
Model Number: DEC-DC
Shape: Flexible canvas duct connector
Color: Optional
Size: As required
Air Velocity: Max.30m/s
Certification: ISO9001:2015
Length: 25m
Packing: Wooden case
Material: Optional
Connection: Flange
Specifications
Fast Install HVAC Flexible Duct Connector Insulated Rectangular Flexible canvas Duct Connector


Flexible Duct connector:
All air duct installations for heating, Cooling or ventilation are attached to mechanical equipment containing a fan or Blower. Vibrations, noises and rattles resulting from the operation of the fan Or blower are transmitted into the metal ducts which carry the noises Throughout the system. In order to isolate the vibration and noises to the Source, an air-tight flexible joint, consisting of a fabric which is secured to Sheet metal on both sides, must be inserted between the equipment and the Ductwork. this flexible joint is called a "Flexible Duct Connector." To meet every type of installation requirement, whether it be for factory, Institution, office or home; DEC offers the widest variety of flexible duct connector Fabrics and sizes; preassembled with the sheet metal permanently secured to the Fabric by means of exclusive seam locks. DEC Flexible Duct Connectors are Dispensed from the carton, ready to complete fabrication faster, more Efficiently, and more economically than any conventional method.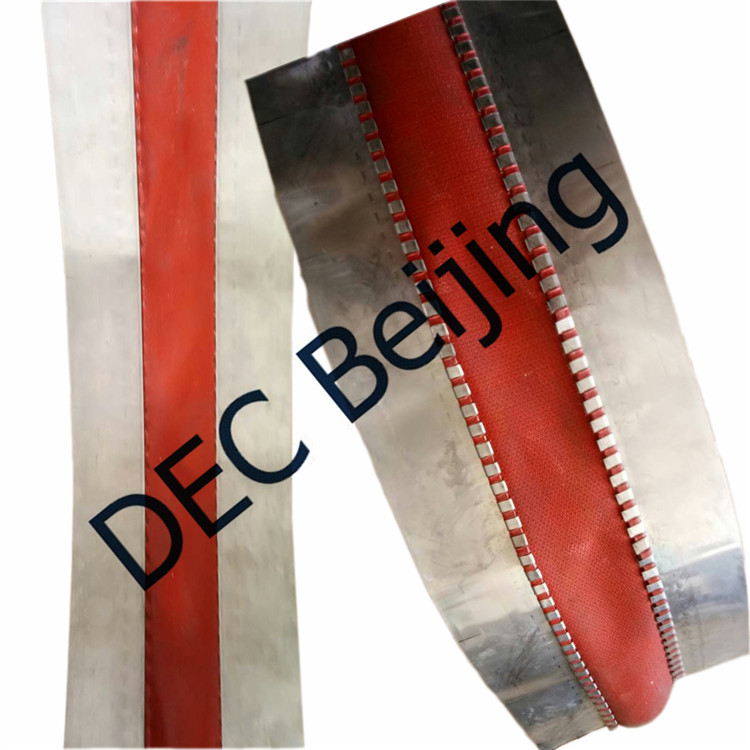 Features:
1. Easy to be installed, only 4 bold connections;
2. Spot welding and frame assembly are eliminated;
3. Less labor required;
4. Fast and economical.
Material:
Central fabric: silicone fabric / Neoprene fabric / PVC fabric/Hypalon
Metal: galvanized iron plate/stainless Steel

Applications:
to meet every type of installation Requirement, apply for industrial, commercial and Residential, ventilation systerms to eliminate vibrations caused by air Handling units, fans and other equipment connected to air ducts.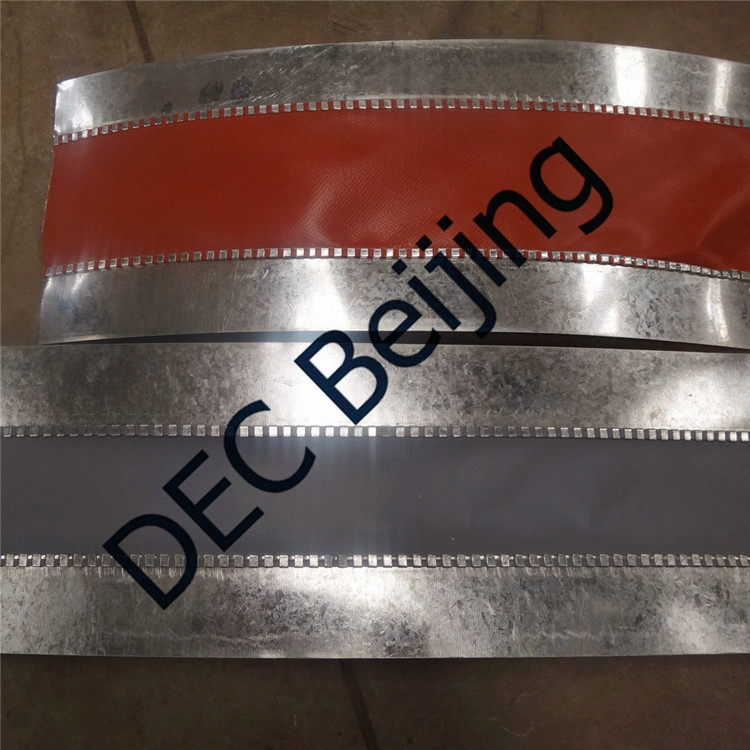 Following fabric varieties are available,
1) Vinyl
Vinyl is the most commonly used fabric for all air duct installations due to Its high tear strength, and its high abrasion resistance. Vinyl is recommended for low to medium pressure duct work system.
2) Neoprene BS
Neoprene is recommended for use in application where high mechanical strength Is required. Neoprene is extremely resistant to most alkalies, gasoline and Toxic fumes.
3) Silicon
Silicon fabric has a special silicon rubber coating that has excellent Resistance to high and low temperatures. It is recommended for application Where high temperature is of main concern in both indoor and outdoor Installations.
4) Hypalon
Hypalon coated fabric has the best resistance to ozone layer, and is the first Choice for outdoor applications. It has excellent resistance to weathering, Acids and highly recommended for roof top applications.
5) Polyurethane
Polyurethane fabric are fragile in construction but have a longer resistance Period to high temperatures.
6) Canvas
Traditional canvas cloth used for air conditioning and ventilating Applications, indoors and outdoors.


Soft-flange flexible duct connector(known as soft airtight connector)
Construction:
It Is made of high quality silicon by pressing equipment under high temperature and pressure environment, a One-time pressing, walls lined with high elastic rim support.
Specification: as required (circular or rectangular shape)
Temperature range: -70 ~ + 280 ℃
End face side width: 3-6cm
Thickness: 0.45-3mm
Fire rating: A grade
Radiation resistance: 6.0 * 105GY
Color: orange, red, black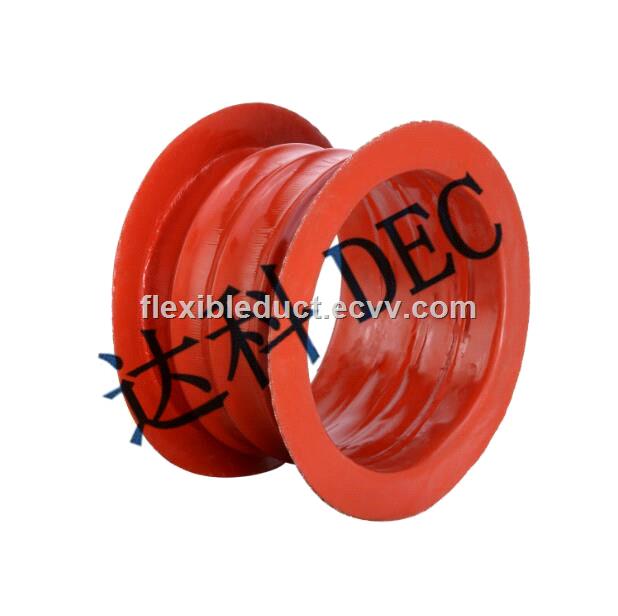 Specification
Combustibility Grade A2
Pressure Resistance ≥8000Pa
Air Velocity ≥30m/s
Radiation Resistance 6.0×105
Working Temperature -70℃~+280℃
Size: as per customer's requirements.
Leakage Rate: in compliance with standards II, it can Used in poisonous or inert gas transportation or exhaust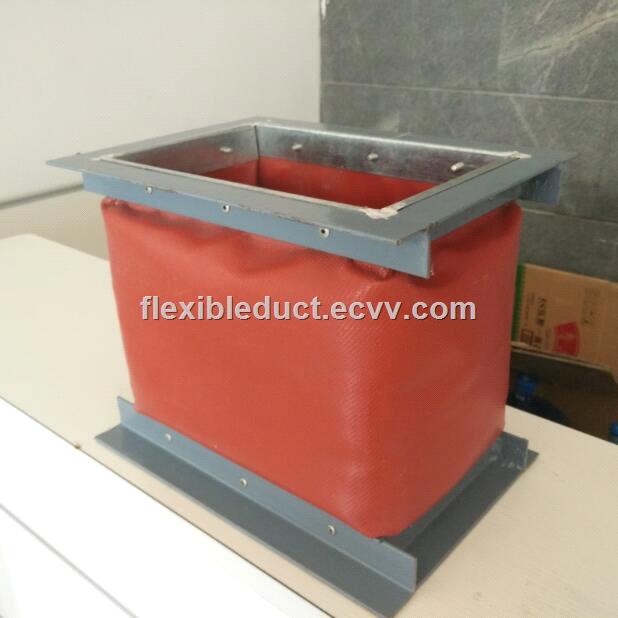 Application:
High-temperature and High-pressure ventilating and exhausting system or those places of either grade A fire protection requirement where, for example, flexible connection of smoke Extraction fan or wall expansion joint) or high vibration Strength.