| | |
| --- | --- |
| Export Markets: | North America, South America, Eastern Europe, Southeast Asia, Africa, Oceania, Mid East, Eastern Asia, Western Europe |
| Place of Origin: | Guangdong in China |
| Packaging Details: | Factory Sealed Retail box / OEM |
Quick Details
Model Number: Brand new
Brand Name: Brand new
Version Type: Home
Operating Systems Supported: Windows
Type: PC Game
Brand new: COA sticker
Specifications
COA License Sticker Windows 8.1 Pro Pack windows 10 product key code OEM version
Wholesale
| | |
| --- | --- |
| Windows computer system: | Microsoft Office Application: |
| Windows 10 pro OEM 64 bit English / French / Arabic / Spanish / Other | Office 2016 Professional Retail Version / PKC / USB / OEM / COA Sticker |
| Windows 10 pro Retail 64 bit English / French / Arabic / Spanish / Other | Office 2016 Home and Business Version / PKC / USB / OEM / COA Sticker |
| Windows 8.1 pro OEM 64 bit English / French / Arabic / Spanish / Other | Office 365 Retail Version / PKC / USB / OEM / COA Sticker |
| Windows 8.1 pro Retail 64 bit English / French / Arabic / Spanish / Other | Office 2013 Professional Retail Version / PKC / USB / OEM / COA Sticker |
| Windows 8.0 pro OEM 64 bit English / French / Arabic / Spanish / Other | Office 2013 Home and Business Version / PKC / USB / OEM / COA Sticker |
| Windows 8.0 pro Retail 64 bit English / French / Arabic / Spanish / Other | Office 2013 Home and Student Version / PKC / USB / OEM / COA Sticker |
| Windows 7 pro OEM 64 bit English / French / Arabic / Spanish / Other | Office 2010 Professional Retail Version / PKC / USB / OEM / COA Sticker |
| Windows 7 pro Retail 64 bit English / French / Arabic / Spanish / Other | Office 2010 Home and Business Version / PKC / USB / OEM / COA Sticker |
| Windows 7 Ultra OEM 64 bit English / French / Arabic / Spanish / Other | Office 2010 Home and Student Version / PKC / USB / OEM / COA Sticker |
| Windows 7 Ultra Retail 64 bit English / French / Arabic / Spanish / Other | Office 2007 Professional Retail Version / PKC / USB / OEM / COA Sticker |
| Windows Server Operating system: | Adobe Grahic Application: |
| Windows Server 2012 Std Retail Version / Arabic / Spanish / Other | Adobe Photoshop CS6 Standard Retail Version / PKC / USB / OEM / COA Sticker |
| Windows Server 2012 Database Retail Version / Arabic / Spanish / Other | Adobe Photoshop CS6 Extended Retail Version / PKC / USB / OEM / COA Sticker |
| Windows Server 2012 R2 OEM Version / Arabic / Spanish / Other | Adobe Photoshop CC Retail Version / PKC / USB / OEM / COA Sticker |
| Windows Server 2008 Std Retail Version / Arabic / Spanish / Other | Adobe Photoshop CS6 Standard Retail Version / PKC / USB / OEM / COA Sticker |
| Windows Server 2008 R2 OEM Version / Arabic / Spanish / Other | Adobe Photoshop CS6 Standard Retail Version / PKC / USB / OEM / COA Sticker |
| Windows Server 2008 R2 Retail Version / Arabic / Spanish / Other | Adobe Photoshop CS6 Standard Retail Version / PKC / USB / OEM / COA Sticker |
| SQL Server 2008 R2 Retail Version / Arabic / Spanish / Other | Adobe Photoshop CS6 Standard Retail Version / PKC / USB / OEM / COA Sticker |
| Windows Server 2008 Enterprise Retail Version / Arabic / Spanish / Other | Adobe Photoshop CS6 Standard Retail Version / PKC / USB / OEM / COA Sticker |
| Windows Server 2012 Std Retail Version / Arabic / Spanish / Other | Adobe Photoshop CS6 Standard Retail Version / PKC / USB / OEM / COA Sticker |
| Windows Server 2012 Std Retail Version / Arabic / Spanish / Other | Adobe Photoshop CS6 Standard Retail Version / PKC / USB / OEM / COA Sticker |
Specifications
Here's an overview of requirements, editions, and languages available for Windows 10.
System requirements
F you want to upgrade to Windows 10 on your PC or tablet, here's the minimum hardware you'll need. Read further below to learn about the additional factors that impact upgradeability. for more information about the free upgrade offer1, please visit the Windows 10 Upgrade page for details.
Latest OS:

Make sure you are running the latest version of either Windows 7 SP1 or Windows 8.1 Update.

Don't know which version you are running? Check here to find out. Need to download the latest version? Click here for Windows 7 SP1 or Windows 8.1 Update.

Processor:

1 gigahertz (GHz) or faster processor or SoC

RAM:

1 gigabyte (GB) for 32-bit or 2 GB for 64-bit

Hard disk space:

16 GB for 32-bit OS 20 GB for 64-bit OS

Graphics card:

DirectX 9 or later with WDDM 1.0 driver

Display:

800x600
Important notes:
Windows 10 Home users will receive updates from Windows Update automatically when it's available. Windows 10 Pro and Windows 10 Enterprise users will have the ability to postpone updates. the amount of time that Windows 10 Pro users can postpone updates is limited.

Small storage devices, like devices with 32GB hard drives or older devices with full hard drives, may need additional storage to complete the upgrade. You'll see instructions during the upgrade telling you what to do. You may need to either remove unneeded files from your device, or insert a USB flash drive to complete the upgrade.

Some devices with either little free space available or smaller hard drives, like 32 GB storage PCs, may have little free space available after upgrading. You may free up disk space and easily delete files like temporary files or your previous version of Windows within the Storage system setting. Files for the previous version of Windows give you the option to remove Windows 10 and go back to your previous version of Windows. these files are automatically deleted a month after you upgrade. To free up space, you can delete them now.

An internet connection is required to perform the upgrade. Windows 10 is a large file -- about 3 GB -- and Internet access (ISP) fees might apply.

to check for device compatibility and other important installation information, visit your device manufacturer's website. Manufacturer contact information can be found on the Contact Information page.

the upgradeability of a device includes factors beyond the system specification. this includes driver and firmware support, application compatibility, and feature support, regardless of whether or not the device meets the minimum system specification for Windows 10.

Support may vary by device. Find more information on the Windows Lifecycle page.

If your PC or tablet is currently running Windows 7 SP1 or Windows 8.1 Update, you can check to see if it meets the requirements by using 'Check my PC' in the Get Windows 10 app. to open the Get Windows 10 app, click on the small Windows icon found at the right end of the taskbar. If you don't see it, visit our Windows 10 Q&A page for more info.

Many applications, files, and settings will migrate as part of the upgrade. however, some applications or settings may not migrate.

for anti-malware applications, Windows will check to see if your anti-malware subscription is current (not expired) and compatible during the upgrade.

If the anti-malware application is compatible and current, your application will be preserved during the upgrade to Windows 10.

If the anti-malware application is incompatible, Windows will uninstall your application while preserving your settings. after upgrade is complete, if your anti-malware provider has informed Microsoft that it has made a compatible version available for your active subscription, Windows will notify you to install the latest version available with the settings that were set prior to upgrade.

If your anti-malware subscription is not current (expired), Windows will uninstall your application and enable Windows Defender.

Some applications that came from your OEM may be removed prior to upgrade.

for certain third party applications, the "Get Windows 10" app will scan for application compatibility. If there is a known issue that will prevent the upgrade, you will be notified of the list of applications with known issues. You can choose to accept and the applications will be removed from the system prior to upgrade. Please be sure to copy the list before you accept the removal of the application.

Microsoft Family Safety child users with local accounts (accounts tied to the machine) will not have their safety settings migrated to Windows 10 during the upgrade. this means that after the upgrade to Windows 10 is complete, parents would need to setup safety settings for the child user along with a Microsoft account if they do not have one. to find out more about the changes, visit the FAQ page.
Feature deprecation
If you have Windows 7 Home Premium, Windows 7 Professional, Windows 7 Ultimate, Windows 8 Pro with Media Center, or Windows 8.1 Pro with Media Center and you install Windows 10, Windows Media Center will be removed. for a limited time (the " eligible period" ), on systems upgraded to Windows 10 from one of these older versions of Windows (a " qualified system" ), a DVD playback app (" Windows DVD Player" ) will be installed. Note: the Windows DVD Player may not be installed immediately; it will be installed after the first successful Windows Update. The Windows DVD Player will be available for purchase from the Window Store for systems that (i) are qualified systems but the eligible period lapsed; (ii) are non-qualified systems; or (iii) were qualified systems but Windows 10 was subsequently clean installed (in this case, Windows Update cannot detect that it was previously a qualified system).

MDM functionality will not be available in Windows 10 Home edition when Windows 10 is released.

Windows 7 desktop gadgets will be removed as part of installing Windows 10.

Solitaire, Minesweeper, and Hearts Games that come pre-installed on Windows 7 will be removed as part of installing the Windows 10 upgrade. Microsoft has released our version of Solitaire and Minesweeper called the " Microsoft Solitaire Collection" and " Microsoft Minesweeper."

If you have a floppy drive, you will need to download the latest driver from Windows Update or from the manufacturer's website.

If you have Windows Live Essentials installed on your system, the OneDrive application is removed and replaced with the inbox version of OneDrive.

OneDrive does not support placeholder files in Windows 10. Windows 8.1 displayed placeholders for files available in OneDrive but not locally on the device. In Windows 10, users can choose which folders to sync from OneDrive settings.

Snap is limited to 2 apps in Tablet Mode.
COA License Sticker, Windows 8.1 Pro Pack 32bit / 64bit Retail Box
Quick Details:
Microsoft Windows 8.1 Pro Pack 32-BIT or 64-BIT Retail Box Genuine KEY Warranty
Windows8 Pro Retailbox,32bitx64bit,2DVDs plus KEY card inside 100% register and activation available
Other Choice:
Win 8 pro.OEM 32bit/64bit Original OEM version
Win 8.1 pro Retail box 32bit x 64bit
Win 8.1 pro OEM 32bit / 64bit
Win 8 pro.OEM Original KEY COA sticker
Win 8.1 pro.OEM Original KEY COA Sticker
Everything you already love. and a lot more.Mouse, keyboard, and
Familiar programs
Get a new touchscreen PC and you can still work with a mouse, keyboard, and the Windows desktop the
Way you always have. Use virtually any printer. Programs that work on Windows 7 work on Windows 8.1.
All the basics, from startup times to security, are better than ever.
Multitasking, a swipe away
Windows 8.1 gives you a world of touchscreen entertainment with apps from the Windows Store, and new
Ways to tap, swipe, and navigate seamlessly. Multitask with up to four separate apps at the same time on
Windows tablets and PCs, so you can work and play at the same time. and OneDrive—free online storage
that's built into Windows 8.1—means your files are always with you, from any of your PCs or devices.
Compare Windows 7 to Windows 8.1
| | | |
| --- | --- | --- |
| | Windows 7 | Windows 8.1 |
| the familiar desktop | Windows 7 | Windows 8.1 |
| Works with a mouse and keyboard | Windows 7 | Windows 8.1 |
| Works with Word, Excel, Outlook, and other familiar programs | Windows 7 | Windows 8.1 |
| Built for touch PCs and tablets | Windows 7 | Windows 8.1 |
| Apps from the Windows Store | Windows 7 | Windows 8.1 |
| Mail, People, and other built-in apps | Windows 7 | Windows 8.1 |
| Keep your settings and apps on all your PCs and devices | Windows 7 | Windows 8.1 |
| Bing smart search to find things across the web, apps, and your PC | Windows 7 | Windows 8.1 |
| Start screen with live updates | Windows 7 | Windows 8.1 |
| Faster startup times | Windows 7 | Windows 8.1 |
Product Tags: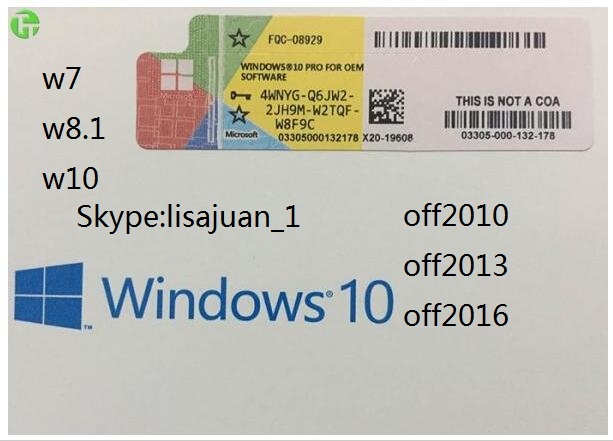 Windows Server Software Win 8.1 Professional OEM Original Key COA Sticker Images