| | |
| --- | --- |
| Export Markets: | North America, South America |
| Place of Origin: | Zhejiang in China |
| Packaging Details: | Packaging in wooden box |
Quick Details
Type: Sealing Machine
Brand Name: Tomai
Packaging Material: Paper,Plastic
Packaging Type: Bottles,Cans,Capsule
Application: Beverage,Chemical,Commodity,Food,Machinery & Hardware,Medical
Type: filling and sealing
After-sales Service Provided: Engineers available to service machinery overseas
Certification: CE/ISO
Dimension(L*W*H): 3600*900*2100mm
Model Number: TM-F400L
Power: 5.5KW
Voltage: 220V/380V
Driven Type: Electric
Automatic Grade: Automatic
Condition: New
Specifications

1.Brief Introduction: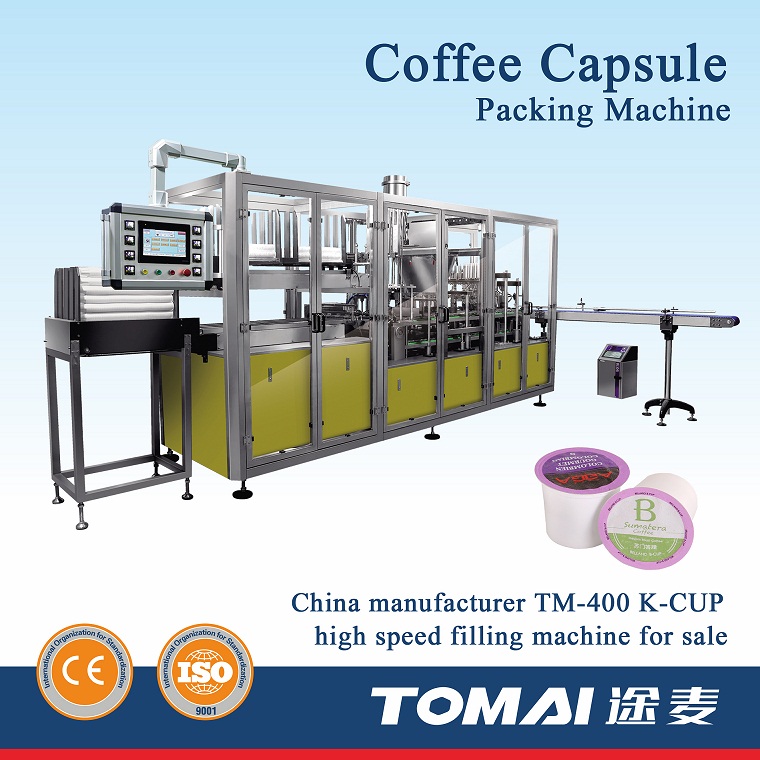 TM-F400L is a high-speed automatic filling and sealing machine,and is done 4-across at an impressive 10800 cups/hour.the biggest advantage is the high speed,and independent control system which could realize normal outputting of 1-across to 4-across.It is the most advanced option on the market to fulfill desire to produce high-quality cups at high speed,and keep labor cost in check.
this machine is driven by motor,and the whole system is ganged,which guarantees stable performance and high speed.We values on reliable performance,so all electrical components and pneumatic components are purchased from high-quality company like Panasonic, Airtac, Schneider, Omron and etc. the rack,charging barrel and parts that directly contacting the material is made of stainless steel 304,and doors are made of organic glass, making it more healthy and safe.the molds that support cups is made of anodized aluminum,which resists acid, base and deformation.the machine equips with a 10.2 inch PLC touch screen,operators can debug the machine in the screen,making it more intuitive and real-time monitoring.the machine will stop when someone opening the door to protect operator,the professional can turn it off in touch screen.There are many photoelectric sensors that giving feedback to alarm and removing the waste.
2.Techincal parameters:

Function:Filling and Sealing
Application:Food,Cosmetic,Pharmacy,Hardware
Automatic Grade:Automatic
Driven Type: Servo motor driven
Capacity:10800 capsule/hour
Voltage:220V/380V
Power:5.5KW
Packaging Type:Capsule,cups
Packaging Material:aluminum foil, Plastic
Dimension(L*W*H):3600*900*2100mm
Certification: ISO/CE
3.Performance features:

Big cup storage
TM-F400K is a high-speed filling and sealing machine, the operating frequency is about 35-40times/minute.as it done 4-across, the production efficiency is 140-160cups/minute. the conveyors only contain about 300 cups,so the cups need to be loaded every 2 minutes. Taking labor cost into consideration, the machine is equipped with a big cup storage, so the break of loading cups is increased into 30-60minutes.As the distance of filters is twice of cups', every column of cups corresponding two columns of filters. There are photoelectric sensors in the storage, therefore, it will load cups automatically when the quantity is less than the setting.
Mechanical gripper
Cups and filters are all grabbed by mechanical gripper, they move to the top of mold in certain motion trail. Every cup and filter enter the mold correctly as the mechanical gripper loosing after the cup and filter get to the mold. The angle of the grabbing movement is about 120°,so it's trail is shorter and the speed is faster than the 90°'s.There is a photoelectric sensor before the filter grabbing device, and it will not grab the filter unless there is a cup.
3,the stickingModule
the module is a conical mold with a rectify guide pillar.and there is a cylinder in the middle of guide bar, which sticks the filter into the cup and makes them tightly bound.
Filter detecting module
There is a photoelectric sensor used for detecting whether the filter is stuck in the cup correctly by measuring the distance of guide pillar to the bottom.
Feeding system
the machine is equipped with an accuracy auger feeding module drove by servo motor imported from Japan, and an electric motor drove stirring device, making material flowing better and the deviation can be less than 0.1g.the main part is made of stainless steel 304 with visual organic glass window, so the process can be observed by eyes. There is also a photoelectric sensor used for detecting the quantity of material and vacuum loading material automatically when it is less than the setting.
Rim-cleaning module
There is a rim-cleaning module after filling module, which is designed according to the structure of cup's rim, using vacuum to clean the rim of each cup to eliminate any chance that coffee or some other foreign object might compromise a tight seal.
Lidding module
this module has an original designed lids shelf, which locates the horizontal position of lids with four guide pillars. and there is a conical flapper with four protrudent aluminum in the bottom to hold lids, making it vertical and easy to be added.
Lidding module is drove by cylinder and it's movement is vertical.the whole sucking and placing movement is accomplished by motion trail and magnetic valve.
Heat sealing module
this module is original designed with rectify function, which exerts pressure evenly and seals perfectly. the cylinders controlling the heating heads are independent, therefore, they can be controlled separately,and won't seal if there is fault in the above steps. Sealing one time is enough, but we reserve another sealing device for line sealing, which makes the seal more pretty and tight.
9,Unqualified products removing module
the machine is equipped with an unqualified products removing module, the unqualified products won't be discharged, on the contrary, they will be blew to the waste bin and wait to be recycled.
10,Discharging conveyor
the conveyor is driven by adjustable-speed motor, so it's speed is adjustable and it looks great. It can be connected with ink-jet printer,Counting Device,Cartoning machine,Vertical bag packaging machine,etc.