| | |
| --- | --- |
| Export Markets: | North America, South America, Eastern Europe, Southeast Asia, Africa, Oceania, Mid East, Eastern Asia, Western Europe |
| Place of Origin: | Fujian in China |
| Packaging Details: | carton |
Quick Details
Brand Name: Teacher Lin Wen
Material: plastic, metal
FOB: ex-works
Catch cover: ex-works cost only
Certificate: ZL201420075787.3
Specifications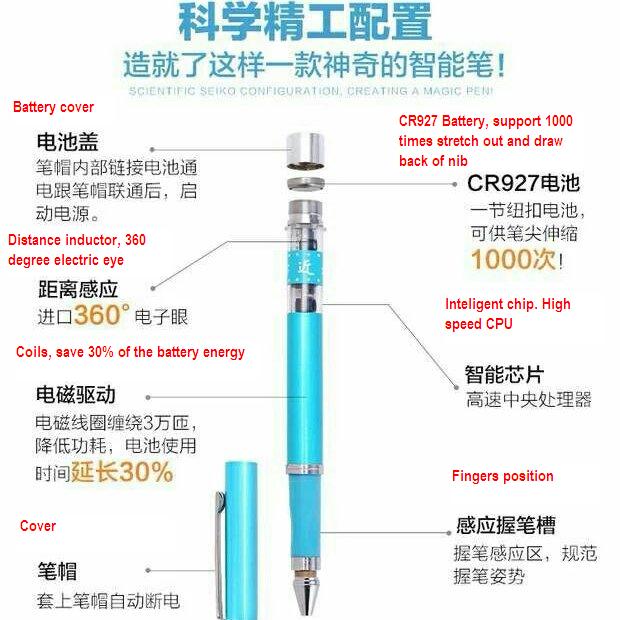 Please be noticed: this pen supports right hand users only.

If the user is sitting with head too close to paper or whose body is too close to table when writting, the nib will draw back, the pen can't be used, when the user sits back with head up, the nib will stretch out for use.

the anti-myopia pen is especially suitable for those who are studying at kindergartens, junior schools and middle schools without a good writing posture and those who are shortsighted and hunchback as well.

Anti-myopia pen is a high-tech intelligent production incorporated with photo logy, electricity, machinery and engineering mechanics as a whole, which can prevent students from myopia and hunchback by correcting their pen-holding posture and sitting position.

as the pioneered Production, the anti-myopia pen is a student-oriented high-tech intelligent Pen, aiming to correct students' inappropriate pen-holding posture and sitting Position.
There are three pen-holding Slots so that the students can have a right posture when they pick up the pen. while writing, if the user is not in the right sitting position or their Distance between eyes and desk, the electronic eye will send the message to Central processing unit and then the pen point will shrink until the students Regain the right position.
the wrong Pen-holding posture and sitting position can be the important reason for Teenagers' hunchback. Holding the pen around fingers or at a low site, the Students will write with their head drooped. Furthermore, shortsighted and Hunchback will appear. so if they can Write with anti-myopia pen, it can keep them away far away from shortsighted and hunchback.

the right sitting Position is the first step to have a good writing and the anti-myopia can make Sure of it, which can rotate with pencil, fountain pen and ball-point pen, Satisfying different needs for students at different stages.
One anti-myopia with three purposes
Ball-point pen Refill, neutral water ink, automatic pencil.


Attention
1. It's recommended that the children can use this anti-myopia pen when they just begin to learn writting or get to school for the first time to help them develop a good habit of keep right Distance when studying to prevent shortsightedness and hunchback.
2. Don't paste the Paper on the electronic eye or scratch it by hard things.
3. Realized the Anti-myopia is a writing tool. Don't regard it as a toy and strike, bake or Throw it on the floor.
4.Install and change the Refills and battery according to the instruction.
5. When used the Pencil refill to only 1cm left, the pen point will shrink and can't write Normally. so you should abandon the left
Refill and renewal One so that it won't be blocked.
6. in order to Prevent eyesight, don't write under the sunshine.
7. Do not draw a line when testing, please write words.