| | |
| --- | --- |
| Export Markets: | North America, South America, Eastern Europe, Southeast Asia, Africa, Oceania, Mid East, Eastern Asia, Western Europe |
| Place of Origin: | Jiangsu in China |
Quick Details
Rated Power: 375kva/300kw
Frequency: 50hz
Speed: 1500rpm
Output Type: AC Three Phase
Brand Name: godlike power
Rated Current: 570A
Rated Voltage: 380/220v
Model Number: GDC375*S
Specifications
Brand new 300kw/375KVA cummins diesel generator set with fuel tank in stock for sale (GDC375)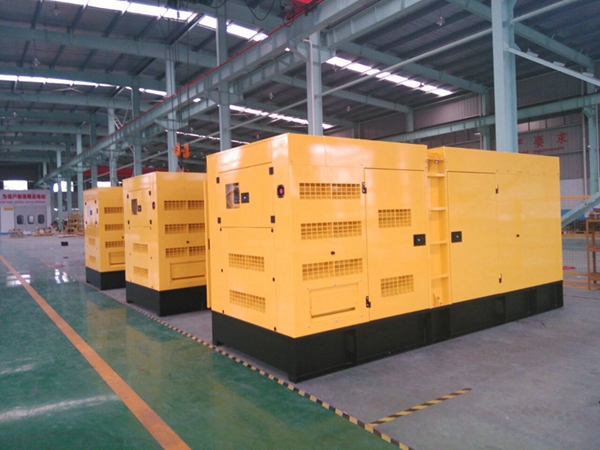 Data shet for 375kva cummins generator set

GenSet Model
GDC375
Continuous Output
300KW / 375KVA
Engine Brand & Model
Cummins NTA855-G7
Type
Water-cooled, 4-stroke, Natural Engine
No. of cylinder
6
Bore x Stroke
140x152mm
Engine power
343kw
Compression ratio
14.0: 1
Fuel consumption
≤ 80.5L/h
Displacement
14L
Engine speed
1500rpm
Noise control
below 75db in 7metres
Lubricant Capacity
36L




Starting system
D. C. 24V electric start
Cooling way
Positive Water Cooling Cycle
Alternator Brand & Model
GODLIKE JDG314FS 375kva/300kw (original stamford optional)
Frequency
50HZ
Voltage
380/220V
No. of phases
3
Excitation
Brushless
Insulation class
H
Power factor
0.8
Protection Grade
IP23
Altitude
≤ 1000m
Voltage Regulation, Steady State
≤ ± 1%
Control Panel - Standard equipped or LCD digital control module(DSE&SMARTGEN)
8hours Base Fuel Tank & battery included
Options: ATS


GODLIKE POWER Diesel Generator Set Advantage:
· 50Hz@1500rpm or 60Hz@1800rpm all are available
· AVR delivers non fluctuating power
· Panel type digital control panel/manual control
· 12 Volt / 24 Volt electric starter ensures easy starting
· Low oil pressure shut down system
· Low fuel cut out protection
· Low water cut out engine protection
.High water temperature cut out engine protection
· Enclosed structure ensures quieter operation
· Alternator (Dynamo) excitation mode brushless self excitation
· Three-phase output meets differing requirements
· Four Cylinder, four stroke, water cooled diesel engine
· 8 hours running @ full load on a single tank of fuel
· Dual access doors for easy maintenance
· Optional automatic or manual transfer switches available
· ATS ( auto transfer switch for city power and generator power ) / AMF (auto mains failure) /parallel running for option
· Weatherproof and soundproof, enclosure high grade steel protected by powder coat painting and incorporate internally mounted exhaust silencers
· Noise Level (65-75dBA @ 7m)
· All ratings are at sea level
after-sales Service:
1 year or 1000 continuously running hours subject to the earlier one.

Our Diesel Generator Set Production Range is as follows:
* Engine (motor) for Choice
1. Cummins :23kVA - 1500kVA
2. Perkins :9kVA - 2250kVA
3. Lovol (China): 30kVA - 138kVA
6. Yangdong (China) :11kVA - 63kVA
7. Weichai (China) 30kVA - 188kVA
8. XiChai (China) :18kva-375kva
9.Yanmar(Japan):6kva-58kva

* Canopy for Choice
1. Silent type (75- 80 dB(A) at 7 meters)
2. Super Silent type (65-70 dB(A) at 7 meters )
3. Open type
4. Trailer type (mobile)
5. Container Type
6. Parallel System
Optional Accessories

1. ATS(Automatic Transfer Switch);

Which can start the diesel generator when the main power is off; when the main power comes back, it will shut down generator.

2. MCCB (Molded case circuit breaker);

It can protect the loading machine and the diesel generator.

3. Battery charger(float charger);

When the generator hasn't been used for long time, the batteries will be no power, in that way, you can't start the generator. but the battery charger can charge the batteries from main power.

4. Extra daily fuel tank;

It will be requested while the base fuel tank capacity is not enough for daily fuel consumption.

5. Paralleling system;

this system can make several generators work together and automatically distrubute the load according to set.

6. Remote Control Panel:

Which can control the generator by computer, if use a RS484 or RS232 digital cable to connect the generator to the computer

7. Water Separate(additional cooling system);

If the ambient temperature is too high, it will be harmful to the diesel generator. Fan and water cooling is not enough for radiate. the water separate system is much better for cooling, and the life of generator will be much longer.

GODLIKE POWER type gensets
ü GODLIKE POWER offers a wider range of gensets, as well as other types of electrical
Equipment and services.
ü Gensets: single-phase and three-phase generators, manually operated or with
Automatic (AMF) operation, stationary or mobile, installed outdoors - with
Soundproof canopy, or indoors - open frame models, covering a power range
between 10 and 2000kVA.
ü the GODLIKE POWER genset series has been designed to fulfill all the energetic
Necessities of every type of electric appliance, having a compact design, powerful,
Reliable, easy to use and with silent operation.
ü GODLIKE POWER gensets are equipped with diesel engines from famous genset engines manufacturers.

Internal combustion engine - Godlike power gensets are equipped with
Best quality, world wide famous engines.
the engines equipping the JDG series are reliable, low-noise,
Powerful, with low fuel consumption and manufactured using innovative
Technologies.
4 stroke, water-cooled, direct injection, in-line 2-6 cylinders, naturally aspirated or turbocharged Diesel engines.
Mechanical or electronic governor.
Electric starter motor 12/24V DC.
Battery charging alternator 12/24V DC.
Fuel pump and fuel filter(s), oil pump and oil filter(s), fuel injection
Pump, air filter(s).
Oil pressure sensors, engine temperature sensors.
Automatic engine shutdown in case of genset malfunction.
Pre-heating system (only for automatic gensets).
Exhaust system with low-noise muffler(s) and bellow(s).
GENERATOR - Synchronous, 4 pole, single bearing or double bearing , brushless.
Self excited and self regulated by AVR (Automatic Voltage Regulator).
IP23 protection degree.
Insulation class H.
SKID (BASE FRAME)
the engine-generator assembly is made by coupling the two major
Components via the SAE coupling system. Thanks to the special anti-
Vibration rubber damper pads, the genset does not induce noticeable
Vibrations to the surrounding foundation. the maximum vibration level
Induced to the genset base frame is 5mm/s.
FUEL TANK , is incorporated in the genset's base frame. As genset
Manufacturer, GODLIKE POWER can adapt to the customers' requests by enlarging
or reducing the fuel tank capacity, in order to ensure the requested genset
Autonomy. in addition, the gensets can be equipped with large capacity
Auxiliary (external) fuel tanks with automatic refueling system.
SOUNDPROOF CANOPY , made from electrostatic spray-
Painted steel sheet, which reduces the corrosive action of atmospheric
and surrounding environmental agents.
EXHAUST MUFFLER , ensures silent genset operation and
Reduces the environmental impact of exhaust gas according to the
Relevant EU standards.
COMMAND AND CONTROL PANEL
the control panel is included in the genset assembly, fitted on the
Genset's base frame and can be visualized through one of the canopy
Door's plexiglas window.
the gensets are equipped with manually operated or automatic
Operation electric panels, according to the customer's request.
the panels offer multiple set-up and protection functions and operating
Modes. the gensets can also be remote operated and monitored using
the PC, including via Internet and GSM, as an optional extra. the
Control panel is friendly and easy to use. the automatic control panels
Can be manufactures as a dual electrical board (the control-side
Apparatus is separated from the switchgear).
QUALITY STANDARDS
the GODLIKE POWER series gensets are designed and manufactured by our
Company according with the latest issued CE!

Item
No
Genset Model
Power Out Put
400V/50HZ/1500RPM/3P/0.8(Y)
Cummins
Engine
Model
Godlike
Alternator
Model
Prime 40 oC
1
GDC23
18KW
23KVA
4B3.9G1/24KW
JDG 184E
2
GDC23
18KW
23KVA
4B3.9G2/24KW
JDG 184E
3
GDC28
22KW
28KVA
4B3.9G1/24KW
JDG 184F
4
GDC28
22KW
28KVA
4B3.9G2/24KW
JDG 184F
5
GDC31
25KW
31KVA
4BT3.9G1/36KW
JDG 184G
6
GDC31
25KW
31KVA
4BT3.9G2/36KW
JDG 184G
7
GDC40
32KW
40KVA
4BT3.9G1/36KW
JDG224C
8
GDC40
32KW
40KVA
4BT3.9G2/36KW
JDG 224C
9
GDC50
40KW
50KVA
4BTA3.9G2/50KW
JDG 224D
10
GDC56
45KW
56KVA
4BTA3.9G2/50KW
JDG 224ES
11
GDC60
48KW
60KVA
4BTA3.9G2/50KW
JDG 224E
12
GDC100
80KW
100KVA
6BT5.9G1/92KW
JDG 274C
13
GDC100
80KW
100KVA
6BT5.9G2/90KW
JDG 274C
14
GDC120
96KW
120KVA
6BTA5.9G2/106KW
JDG 274DS
15
GDC135
108KW
135KVA
6BTAA5.9G2 /120KW
JDG 274ES
16
GDC160
128KW
160KVA
6CTA8.3G2/163KW
JDG 274F
17
GDC180
144KW
180KVA
6CTA8.3G2/163KW
JDG 274G
18
GDC200
160KW
200KVA
6CTAA8.3G2/183KW
JDG 274H
19
GDC225
180KW
225KVA
6LTAA8.9G2/220KW
JDG 274J
20
GDC250
200KW
250KVA
6LTAA8.9G2/220KW
JDG 274K
21
GDC250
200KW
250KVA
NT855-GA/231KW
JDG274K
22
GDC250
200KW
250KVA
MTA11-G2A/234KW
JDG274K
23
GDC275
220KW
275KVA
NTA855-G1A/261KW
JDG 314DS
24
GDC300
240KW
300KVA
NTA855-G1A/261KW
JDG 314D
25
GDC313
250KW
313KVA
NTA855-G1B/284KW
JDG 314ESS
26
GDC313
250KW
313KVA
NTA855-G1B/284KW
JDG 314ESS
27
GDC313
250KW
313KVA
MTAA11-G3 /282KW
JDG 314ESS
28
GDC325
260KW
325KVA
NTA855-G1B/284KW
JDG 314ES
29
GDC350
280KW
350KVA
NTA855-G2A/313KW
JDG 314E
30
GDC350
280KW
350KVA
NTA855-G4/317KW
JDG 314E
31
GDC375
300KW
375KVA
NTAA855-G7/343KW
JDG 314FS
32
GDC375
300KW
375KVA
KTA19-G2 /336KW
JDG 314FS
33
GDC400
320KW
400KVA
NTAA855-G7A/407KW
JDG 314F
34
GDC450
360KW
450KVA
KTA19-G3 /403KW
JDG 354C
35
GDC500
400KW
500KVA
KTA19-G3A/448KW
JDG 354D
36
GDC500
400KW
500KVA
KTA19-G4 /448KW
JDG 354D
37
GDC550
440KW
550KVA
KTAA19-G5 /470KW
JDG 354ES
38
GDC575
460KW
575KVA
KTAA19-G6/520KW
JDG 354E
39
GDC600
480KW
600KVA
KTA19-G8/575KW
JDG 354E
40
GDC625
500KW
625KVA
KTAA19-G6A /610KW
JDG 354FS
41
GDC625
500KW
625KVA
KT38-G/560KW
JDG 354FS
42
GDC725
580KW
725KVA
KT38-GA/711KW
JDG 354G
43
GDC750
600KW
750KVA
KTA38-G2/664KW
JDG 404B
44
GDC800
640KW
800KVA
KTA38-G2B/711KW
JDG 404C
45
GDC900
720KW
900KVA
KTA38-G2A/813KW
JDG 404D
46
GDC1000
800KW
1000KVA
KTA38-G5/880KW
JDG 404E
47
GDC1125
900KW
1125KVA
KTA38-G9/1089KW
JDG 404F
48
GDC1250
1000KW
1250KVA
KTA50-G3/1097KW
JDG 404
Item
No
Genset Model
Power Out Put
400V/50HZ/1500RPM/3P/0.8(Y)
Cummins
Engine
Model
Stamford
Alternator
Model
Prime 40 oC
1
GDC43
34KW
43KVA
4BT3.9G1/36KW
UCI224C
2
GDC43
34KW
43KVA
4BT3.9G2/36KW
UCI224C
3
GDC50
40KW
50KVA
4BTA3.9G2/50KW
UCI224D
4
GDC60
48KW
60KVA
4BTA3.9G2/50KW
UCI224E
5
GDC100
80KW
100KVA
6BT5.9G1/92KW
UCI274C
6
GDC100
80KW
100KVA
6BT5.9G2/92KW
UCI274C
7
GDC120
96KW
120KVA
6BTA5.9G2/106KW
UCI274D
8
GDC135
108KW
135KVA
6BTAA5.9G2 /120KW
UCI274E
9
GDC160
128KW
160KVA
6CTA8.3G2/163KW
UCI274F
10
GDC180
144KW
180KVA
6CTA8.3G2/163KW
UCI274G
11
GDC200
160KW
200KVA
6CTAA8.3G2/183KW
UCI274H
12
GDC225
180KW
225KVA
6LTAA8.9G2/220KW
UCI274J
13
GDC250
200KW
250KVA
6LTAA8.9G2/220KW
UCI274K
14
GDC250
200KW
250KVA
NT855-GA/231KW
UCI274K
15
GDC250
200KW
250KVA
MTA11-G2A/234KW
UCI274K
16
GDC300
240KW
300KVA
NTA855-G1A /261KW
HCI444D
17
GDC300
240KW
300KVA
NTA855-G1B/284KW
HCI444D
18
GDC313
250KW
313KVA
NTA855-G1B/284KW
HCI444ES
19
GDC313
250KW
313KVA
MTAA11-G3 /282KW
HCI444ES
20
GDC325
260KW
325KVA
NTA855-G1B/284KW
HCI444ES
21
GDC350
280KW
350KVA
NTA855-G2A/313KW
HCI444E
22
GDC350
280KW
350KVA
NTA855-G4/317KW
HCI444E
23
GDC375
300KW
375KVA
NTAA855-G7/343KW
HCI444FS
24
GDC375
300KW
375KVA
KTA19-G2 /336KW
HCI444FS
25
GDC400
320KW
400KVA
NTAA855-G7A/407KW
HCI444F
26
GDC450
360KW
450KVA
KTA19-G3/403KW
HCI544C
27
GDC500
400KW
500KVA
KTA19-G3A/448KW
HCI544C
28
GDC500
400KW
500KVA
KTA19-G4 /448KW
HCI544C
29
GDC550
440KW
550KVA
KTAA19-G5 /470KW
HCI544D
30
GDC600
480KW
600KVA
KTAA19-G6/520KW
HCI544E
31
GDC600
480KW
600KVA
KTA19-G8/575KW
HCI544E
32
GDC625
500KW
625KVA
KTAA19-G6A /610KW
HCI544FS
33
GDC625
500KW
625KVA
KT38-G/560KW
HCI544FS
34
GDC750
600KW
750KVA
KTA38-G2/664KW
LVI634B
35
GDC800
640KW
800KVA
KTA38-G2B/711KW
LVI634C
36
GDC900
720KW
900KVA
KTA38-G2A/813KW
LVI634D
37
GDC1000
800KW
1000KVA
KTA38-G5/880KW
LVI634E
38
GDC1125
900KW
1125KVA
KTA38-G9/1089KW
LVI634F
39
GDC1250
1000KW
1250KVA
KTA50-G3/1097KW
LVI634G
40
GDC1375
1100KW
1375KVA
KTA50-G8/1200KW
PI734B
41
GDC1500
1200KW
1500KVA
KTA50-GS8/1287KW
PI734C