Quick Details
Brand Name: lanbao
Density: 1.0-1.2t/m3
Size: 1200*(2400-3000)mm
Color: white
Thickness: 3-20mm
Specifications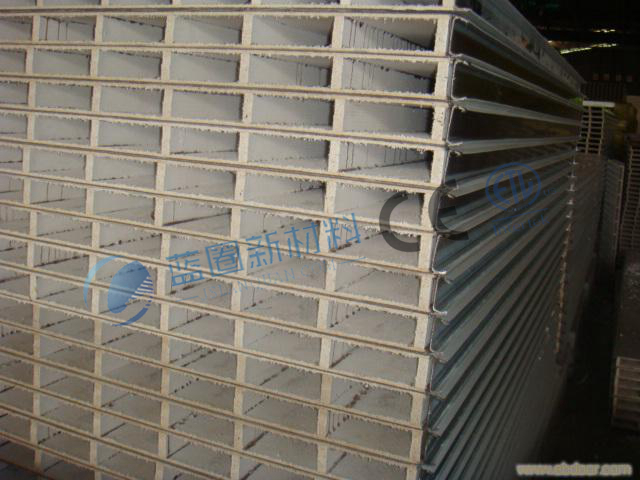 Feature:
Steel surface for senior polyester drying coating or zinc coating stainless steel plate. MgO board can replace gypsum Board, cement pressure board, plywood Board, can be used as partition board, Ceiling board, floor board, dorr board, Tube, fireproof board, basement Waterproof bare board, loading board, container Floor board, exterior wall cladding Board, fireproof door core board, package and other decorative board etc. It Has advantage characteristic of super Fireproof, waterproof. Moistureproof, High strength, light weight, insulation Energy-saving.
Usage:
Color Steel Sandwich hollow Mgo boardIs composed of the color steel within the Mgo board, high intensity of energy-efficient and green building Products used in food and medicine hospitals, the business enterprise inside the Clean room clean room of large area condole top enclosure.
Company Information:
Jiangsu Lanquan New Material Inc.,Ltd is specialized manufacturer of new energy saving & environmental Building Material such as Fireproof Magnesium Oxide Boards,Wall Panels,Partition Boards,Exterior Wall Claddings,Furniture Boards,Floor Boards…
Our products exported to Canada,South&East Asia,Australia, enjoyed high reputation overseas. We've Passed ISO9001,CE,WH& ETL certificate successfully.


| | | | | |
| --- | --- | --- | --- | --- |
| Name | Length | width | | Core thickness |
| Color Steel Sandwich hollow Mgo board | 2400-3000 | 1150 | | 50 mm |
| Color Steel Sandwich hollow Mgo board | 2400-3000 | 1150 | | 75 mm |
| Color Steel Sandwich hollow Mgo board | 2400-3000 | 1150 | | 100 mm |
| Color Steel Sandwich hollow Mgo board | 2400-3000 | 1150 | | 150 mm |