| | |
| --- | --- |
| Export Markets: | North America, South America, Eastern Europe, Southeast Asia, Africa, Oceania, Mid East, Eastern Asia, Western Europe |
| Place of Origin: | Shandong in China |
| Packaging Details: | we discuess |
Quick Details
Brand Name: Megatro
Rated Voltage: 500kv
application: overhead line tower
Material: steel
name: 500KV 5A2 ZBC2 single circuit transmission tower
Model Number: MGP-500kv-5A2 -ZBC2
designer software: pls or as per your requirements
Accessories 1: power fitting
Accessories 2: tower foundation
Accessories 3: lightning rod
Accessories 4: earth wire
Accessories 5: conductor
Accessories 6: cable
Accessories 7: Insulator
Accessories 8: aviation light
Accessories: earthing kits
Specifications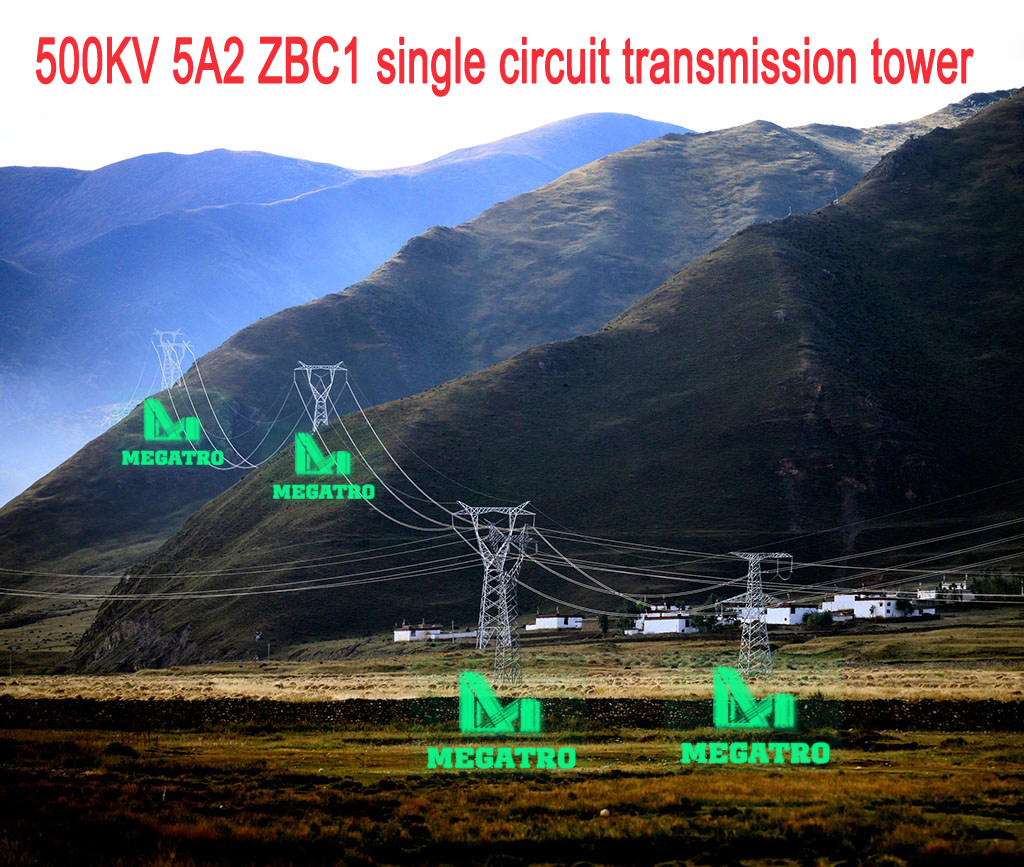 this photo refers to Our500KV 5A2 ZBC2Single circuit transmission tower, it is widely used In our Chinese market. Some of technical features of this tower as follow:1 climate condition
| | | | |
| --- | --- | --- | --- |
| Item | Temperature (℃) | Wind Speed (m/s) | Ice Thickness (mm) |
| Max. Temperature | 40 | 0 | 0 |
| Mini. Temperature | -30 | 0 | 0 |
| Ice Thickness | -5 | 10 | 10 |
| Basic Wind speed | -5 | 29 | 0 |
| Installation Condition | -15 | 10 | 0 |
| Annual Temperature | 10 | 0 | 0 |
| Lightning Overvoltage | 15 | 10 | 0 |
| Operation Overvoltage | 5 | 16.2 | 0 |
| Hot-line Work | 15 | 10 | 0 |
2 tower Design data
Tower

type

Nominal

Height

scope

(mm)

Nominal

Height

(mm)

Horizontal

span

(m)

Vertical

Span

(m)

Allowed

Angle

o

Insulator

Type

Horizontal

Span at angel condition

5A2 ZBC2

24~48

550

750

600

V Type (long rod insulator )

/

490

750

600

Conductor Type: 4×LGL-400/35

OPGW: JLB-150
3 Tower estimated weight and foundation force
Tower

Type

Tower weight scope (kg)

Foundation force scope (KN)

Tmax

Tx

Ty

Nmax

Nx

NY

5A2 ZBC2

12739~21531

601~677

80~89

65~68

763~894

96~109

79~86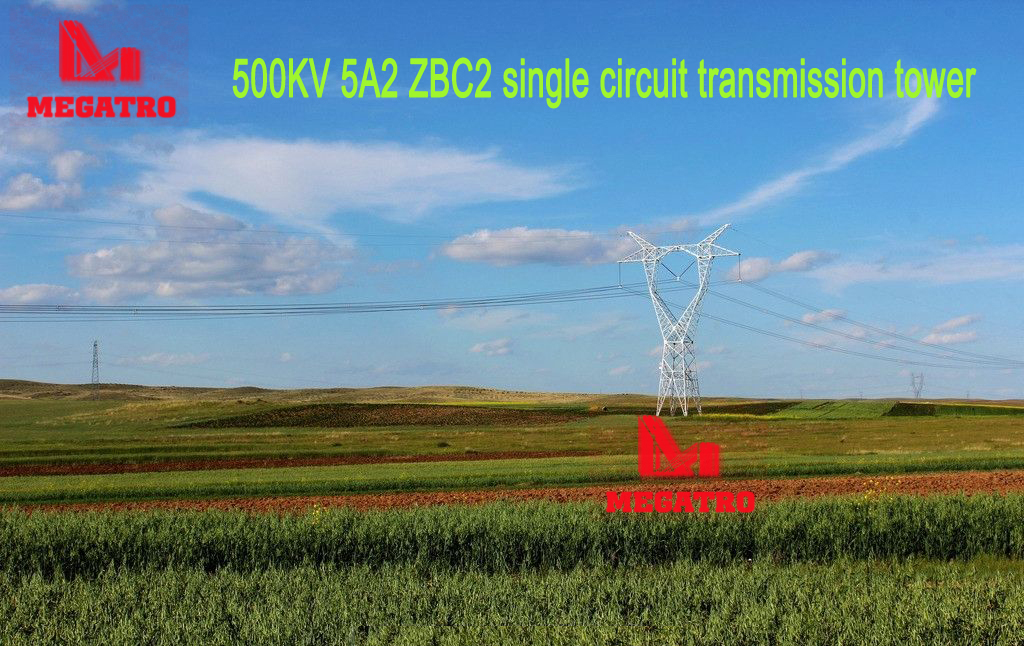 MEGATRO Is a full service engineering company with a global reputation for delivering Excellence and innovation in power transmission, transformation, distribution, and telecommunications systems. Our MEGATRO Provide and designthis type500KV 5A2 ZBC2 single Circuit transmission towerMainly for our Chinese and overseas client. since 2004, MEGATRO focus mainly international market and had export many kind of transmission structures to overseas clients. MEGATRO has been manufacturing Lattice transmission tower & tapered steel poles for lighting, traffic Control, communication and utility applications. MEGATRO pioneered the Development of transmission tower, telecom tower, substation, and other steel Structure and was also at the forefront in the design of Transmission tower.
Moreover,MEGATROIs fully equipped and qualified to carry out Design Engineering services which includes:
√ Overhead Transmission line steel tower & Telecom steel tower
Basic Design and Analysis
√ Shop Erection Drawings
√ as-Built Drawings
MEGATROPerforms in-house design activities specializing in electrical overhead Transmission &telecom tower steel works, which include wind and earthquake Loading, static analysis, stress analysis by finite element methods and Fatigue. Our Engineering Department is boasting of highly qualified engineering Who are conversant with international codes and standards. the work is carried Out with extensive use of CAE/CAD via a large of computer network. the computer Hardware & drafting software are liked to the CNC workshop equipment for Downloading of information thereby eliminating error and saving valuable Production time.
Besides, MEGATRO is one of the few manufactures who assemble a face of 500KV 5A2 ZBC2 single circuit transmission tower. this attention to quality may Not be the cheapest process but it does insure every tower meets our high Standards of quality. And it helps to reduce on-site construction cost due to Mismatched assemblies. after fabrication all 500KV 5A2 ZBC2 single Circuit transmission towers Are delivered to the galvanizing facility to be Hot DIP Galvanized. Towers are Processed through the facility by Caustic Cleaning, Pickling, and then Fluxing. these strict procedures insure years of maintenance free towers. All finished Surfaces shall be level and free of tears, burrs, clots and impurities.
Other Information:
Steel grades
Tower legs: Chinese steel Q345B, which equivalent to ASTM A572 GR50
Other webs, bracing and not stress plate and angle steel: Chinese Q235B, which equivalent to ASTM A36
Plates: Chinese steel Q345B, which equivalent to ASTM A572 GR50
Bolts: Bolt quality shall be Chinese Class 6.8 and 8.8, as per our Chinese Standard, or ISO 898 standard or ASTM A394 type 0,1,2,3 requirements
the Anti-theft bolts shall be Huckbolt Fasteners or approved equivalent. The fasteners shall be manufactured from high Tensile steel A242 or equivalent and hot-dip galvanized in accordance with ASTM Specification A153 and A394.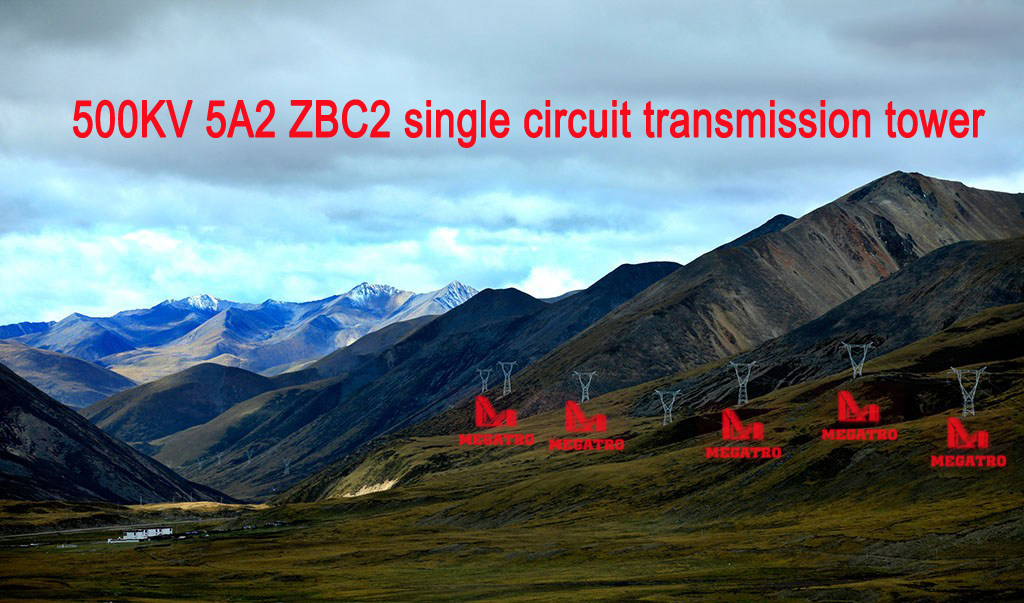 Package: both parties discuss before delivery
Port of Loading: Qingdao Port
Lead Time: One month or based on the customer's needs (for time being our Capacity about 5000 tons one month, and can meet client requirements)
Minimum order: 1 set
General Fabrication Requirements
Here is General fabrication requirements for our transmission tower; however, both Parties must discuss all drawings and confirm all shop drawings, technical Specification, and which standard to conform.
Before Mass production, we must received all signed approved shop drawings and Technical documents from our client.
Our Fabrication shall be in strict accordance with detail Drawings prepared by the Contractor and approved by the Engineer. Fabrication shall begin after the approval of the shop assembly and Tests.
Shearing
Shearing and cutting shall be performed carefully and all portions of the work which Will be exposed to view after completion shall be finished neatly. Manually guided cutting torches shall not be Used.
All Material over 13 (or 12) mm thick shall be cold sawn or machine flame cut.
Cropping or shearing shall be allowed for material thickness of 13 mm or less.
Flame cutting of high yield steel shall be preceded by a slight preheat operation by passing the cutting flame over the part to be cut.
All Flame-cut edges shall be ground clean.
Bending
Bending Shall be carried out in such a manner as to avoid indentation and surface Damage. All bending over 5o, or high yield steel, shall be performed while the material is hot.
Welding
No Welding shall be done unless prior approval has been obtained from the Engineer.
Welding Shall not be allowed at tower attachment points for conductor, shield-wire, Insulators or associated assemblies or brackets.
Sub-punching
All holes in structural steel less than 10 mm thickness may be punched to full size unless otherwise noted on the approved Drawings. Holes shown on the Drawings as drilled holes and all holes in structural steel 10 mm or more in thickness and tension Members of cross-arms shall be drilled or sub-punched and reamed.
All holes Shall be clean cut and without torn or ragged edges. All burrs resulting from reaming or drilling Shall be removed. All holes shall be Cylindrical and perpendicular to the member.
Where Necessary to avoid distortion of the holes, holes close to the points of bends Shall be made after bending.
Punching
for Punching to full size, the diameter of the punch shall be 1.0 mm larger than the nominal diameter of the bolt, and the diameter of the die shall not be more Than 1.5mm larger than the diameter of the punch. for sub-punching, the Diameter of the punch shall be 4 mm smaller than the nominal diameter of the Bolt, and the diameter of the die shall be not more than 2 mm larger than the Diameter of the punch. Sub-punching for Reamed work shall be such that after reaming no punch surface shall appear in the periphery of the hole.
Hole Size
Where holes Are reamed or drilled, the diameter of the finished hole shall be not greater Than the nominal diameter of the bolt plus 1.0 mm.
Accuracy
All holes Shall be spaced accurately in accordance with the Drawings and shall be located on the gauge lines.
the Maximum allowable variation in hole spacing from that indicated on the Drawings for all bolt holes shall be 0.8 mm.
Fabrication Tolerances
A Specification for tolerances shall be submitted for approval by the Engineer Prior to commencement of fabrication.
Bolt List
A Complete list of bolts showing their lengths and the members, which they are to Connect shall be given on the erection diagrams.
Step bolt:
Each steel tower Shall be provided with step bolts on one of the legs for single circuit Steel tower and On two diagonally Opposite legs for Single circuit steel Tower from approximately 2.5 Meters above ground Level to the Cross arm and from thereon to each Ground wire peak. Step bolts shall Be furnished for Each leg extension In an amount of 25% of the step Bolt holes. these bolts shall not be less than 16 mm or 3/4" diameter, Single nut type, 18 cm or 7" long with 35 mm or 1 5/8"diameter, Symmetrical head, two hexagon nuts and spring washers, spaced not more than 45 Cm or 18" apart. Each bolt shall withstand without permanent deformation a Vertical load of at least 137 kg applied at the bolt head. If any technical specification, We will discuss with our client and confirm before mass production.
Locking Devices
Locking Devices for tower bolts will not be required, but point punching shall be Performed.
Anti-theft Fasteners
Appropriate Anti-theft fasteners for example Huck-bolting shall be applied on all the Towers up to the level of anti-climbing devices, to prevent theft of tower Members.
Piece Marks
All Pieces shall be stamped before galvanizing with the piece marks shown on the Erection Drawings, with the marking not less than 20 mm high placed in the same Relative location on all pieces. the Marking shall be plainly visible after galvanizing.
Galvanizing
All Material shall be hot-dip galvanized after fabrication in accordance with the Latest revision of GB/T 13912-2002 or ASTM Specification A 123.
Material that has been rejected because of bare spots or other coating defects shall Either be stripped and re-galvanized, or the uncoated areas shall be recoated by an approved method.
All Plates and shapes which have been warped by the galvanizing process shall be Straightened by being re-rolled or pressed. the material shall not be hammered or Otherwise straightened in a manner that will injure the protective coating.
Approval Shall be secured from the Engineer if galvanizing is done outside of the Contractor's plant.
All Galvanized steelwork shall be protected against white storage stain by using an Approved dichromate solution treatment immediately following galvanizing.