| | |
| --- | --- |
| Export Markets: | North America, South America, Eastern Europe, Southeast Asia, Africa, Oceania, Mid East, Eastern Asia, Western Europe |
| Place of Origin: | Russian Federation |
| Packaging Details: | Each pcs packed in plastic bag, serveral pcs in one carton box |
Quick Details
Brand Name: Koten
Card type: Mifare, Ultralight, 1K, 4K, Plus
Communication: iButton (Dallas TM), Wiegand 26(34)
Dimension: 26*26*22mm
Frequency: 13.56Mhz
Model Number: Z2MF
Range of card reading: 2-6cm
Specifications
Z2MF reader
Mifare, Ultralight, 1K, 4K, Plus
IButton (Dallas TM), Wiegand 26(34)
12 V
35 miliamper
External control of light
TU 4372-002-38111914-2015
GENERAL INFORMATION
Controller is used in access Control systems (ACS).
It is used to read and transfer ID numbers to the controller
Maps, key fobs or bracelet with mark
Standard
Mifare
Via protocol
Dallas Touch Memory (Ibutton) and Wiegand 26(34).
Additionally, the reader can operate in modes Using the reading and recording of memory functions
Key fobs or bracelet with mark
Standard
Mifare Classic.
READER OPERATION
in standby mode, there is a red Light.
at the moment of touch by key fob, the red light Will turn off for one second.
while the card close to the reader, the light Indication is disabled.
If the jumper of light control is cut, there is No red light in standby mode, but there will be the light for one second at the Moment of touching by key fob.
the reader has additional modes when working with special software and hardware. the operation is described in the manual for the software.
PURPOSE of PINS
Color - Purpose of wire.
Red - Power Plus from 8 to 18 V.
Black - power minus, common wire.
Green - Data 0 / Dallas TM Output, TM centeral.
White - Data 1.
Yellow - External control of red LED.
WIRING

DELIVERY SET
Reader - 1.
Nut - 1 PC
Packaging - 1 PC.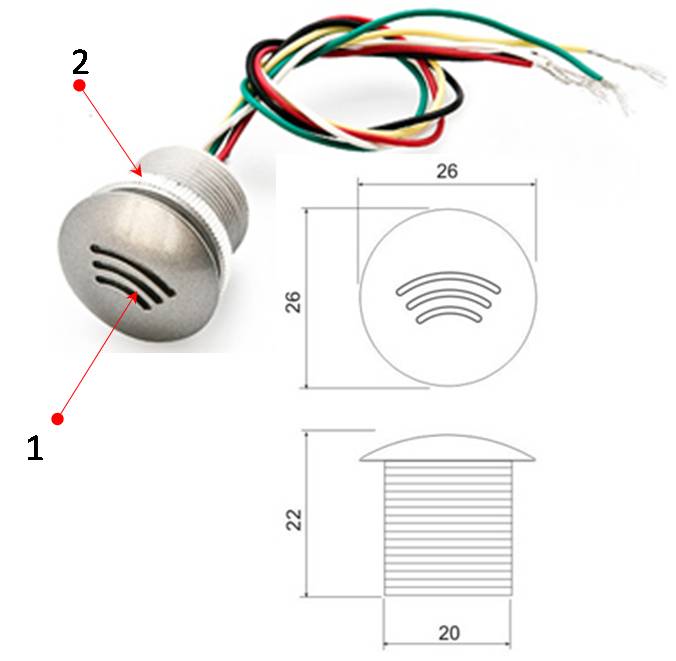 the reader is mounted on a flat Surface in place where you can touch the key fob to reader without any Problems.
Mark and drill the hole for mounting the reader.
Insert the reader into the hole and secure it with mounting nut.
Connect the wires to the reader.
1 - red LED
2 - retention ring
SPECIFICATIONS
Operating frequency: 13.56 MHz
Type readable cards: Mifare, Ultralight, 1K, 4K, Plus
Range of card reading to 2-6 cm
Protocol for connection to the controller: IButton (Dallas Touch Memory, emulation DS1990A), Wiegand 26
Maximum length of line from reader to Controller: up to 15m
Power supply: 8 - 18 VDC
Current consumption: 35 mA
Light indication: Red LED
Housing material: Polyamide
Size (mm): Diameter 25 mm., Height 22 mm.
OPERATING CONDITIONS STORAGE and TRANSPORT
Converter is designed to Operate in the absence of:
Atmospheric fallouts, sunshine and humidity Condensation.
Operating conditions
Temperature from -30 ° C to +40 ° C;
Relative humidity less than 98% (at 25 ° C).
When there are changes in maintenance Conditions, the specification of product may differ from the nominal values.
Storage conditions (group L according to GOST 15150-69)
Temperature from +5 ° C to +40 ° C;
Relative humidity less than 80% (at 25 ° C).
Transportation conditions:
Temperature from -50° C to +50 ° C;
Relative humidity less than 98% (at 25 ° C).
WARRANTY
the warranty period is 12 Months from the date of sale. Reasons for termination of the warranty:
- nonadherence to the following manual;
- mechanical damages;
- the evidence of impact of water and corrosive Substances;
- the evidence of improper interference in the Circuit.
- Lifetime - 6 years.