| | |
| --- | --- |
| Export Markets: | North America, South America, Eastern Europe, Southeast Asia, Africa, Oceania, Mid East, Eastern Asia, Western Europe |
| Place of Origin: | Fujian in China |
| Packaging Details: | Shrik Wrap or Wooden Box |
Quick Details
Rated Power: 100kw / 125kVA
Frequency: 50Hz (60Hz as optional)
Speed: 1500rpm(1600rpm as optional)
Output Type: AC Three Phase
Brand Name: Genlitec
Controller: Smartgen
Warranty: 12 Months or 1000 Hours
Delivery Time: 15-25 Working Days
Canopy Colour: Yellow, Blue, Red, White, etc.
Fuel Tank Capacity: 8-10 Hours
Specifications
Chinese 100kW 125kVA Diesel Generator with Copy Stamford Alternator

Δ STANDARD CONFIGURATION
√ Industrial WEICHAI TIANHE water-cooled diesel engine
√ Ricardo engine technology
√ Single bearing alternator with insulation class H and IP23
√ Standard CHINT or DELIXI circuit breaker, ABB as an optional
√ Steel base fuel tank with anti-vibration mounting
√ Based 8-10 hours build-in fuel tank
√ 9 dB muffler exhaust system, free-maintenance battery, user's manual
√ Flexible fuel lines and lube oil drain cock
√ Smartgen controller module
√ Shrink wrap packing method
√ 12 months or 1 year warranty
√ 20-25 days quick delivery time

Δ PRODUCTS PHOTOS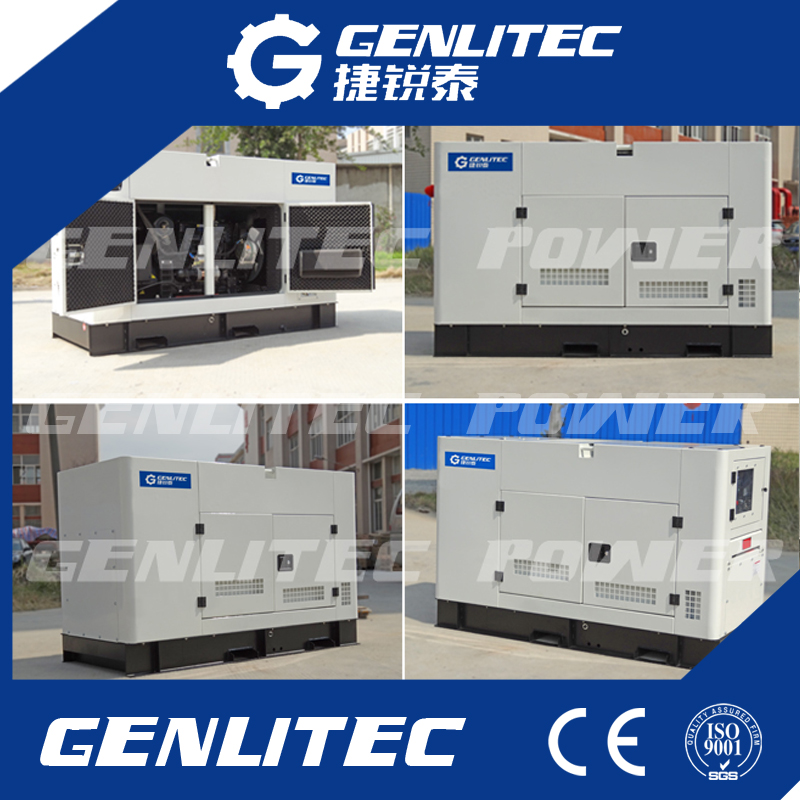 Δ TESTING ITEMS
GENLITEC POWER provides a full line of brand new and high quality products. Each and every unit is strictly factory tested before shipment.
√ Parts faults testing
√ Fuel tank pressure testing
√ Bolt tightening torque testing
√ Painting thickness testing
√ Voltage bearing and insulation testing
√ Noise testing
√ Loading Testing(25%, 50%, 75%, 100%, 110% load to check verify that all control systems, alarm and shut-down protection)
Δ GWF SERIES DIESEL GENERATOR SET POWER RANGE
50Hz
3-Phase, 1500RPM, 220/380V, 230/400V, 240/415V
Model
Prime Power (PRP)
Standby Power (ESP)
Engine Model
Alternator Model
Controller Moudle
kW
Kva
kW
Kva
Weichai TIANHE
Genlitec Power
Smartgen
GWF12(S)
10
13
11
14
SL2100ABD/16kw
GPG-10KW
HGM420
GWF15(S)
12
15
13
17
SL2100ABD/16kw
GPG-12KW
HGM420
GWF20(S)
15
19
17
21
2100ABD/19.3kw
GPG-15KW
HGM420
GWF25(S)
20
25
22
28
495D/26.5KW
GPG-20KW
HGM420
GWF30(S)
24
30
26
33
4100D/30KW
GPG-24KW
HGM420
GWF31(S)
25
31
28
34
495ZD/36.5KW
GPG-30KW
HGM420
GWF38(S)
30
38
33
41
4100ZD/42KW
GPG-40KW
HGM420
GWF50(S)
40
50
44
55
4105ZD/56KW
GPG-50KW
HGM420
GWF63(S)
50
63
55
69
4105AZLD/66KW
GPG-60KW
HGM420
GWF75(S)
60
75
66
83
6105ZD/84KW
GPG-75KW
HGM420
GWF100(S)
80
100
88
110
6105AZLD/110KW
GPG-100KW
HGM6120
GWF125(S)
100
125
110
138
6105IZLD/132KW
GPG-120KW
HGM6120
GWF150(S)
120
150
132
165
6110ZLD/165KW
GPG-144KW
HGM6120
GWF180(S)
144
180
158
198
6113AZLD/170KW
GPG-160KW
HGM6120
GWF200(S)
160
200
176
220
TH6126AZLD/240KW
GPG-200KW
HGM6120
GWF250(S)
200
250
220
275
TH6126IZLD/288KW
GPG-250KW
HGM6120
Δ STANDARD SUPPLY SCOPE
| | | | | |
| --- | --- | --- | --- | --- |
| Exhaust silencer | Flexible pipes | Flange | Base frame | Main circuit breaker |
| Starting battery | Battery wires | Battery charger | Float battery charger | AVR |
| Cooling radiator | Wires diagram | Manual books | Auto control panel | Silent canopy |

Δ OPTIONAL PARTS
| | | | | |
| --- | --- | --- | --- | --- |
| Engine & Radiator | Alternator part | Electric part | Fuel tank part | Others |
| Water preheater | PMG | ATS | External daily fuel tank | Weatherproof canopy |
| Lub oil pre-heater | Anti-condensation heater | Synchronization panel | Automatic fuel pump | Mobile trailer |
| Spare parts | Parallel droop | ABB breaker | Oil drain pump | Containerized |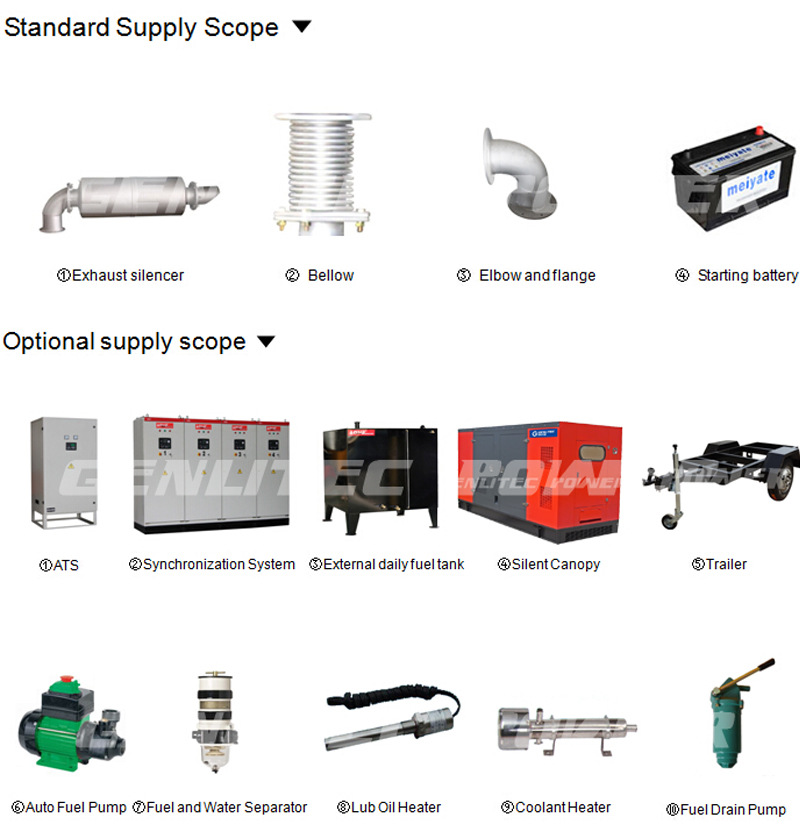 Δ COMAPNY OVERVIEW
√ Company name: Genlitec (Fuzhou) Power Equipment Co., Ltd.
√ Value: Power Anywhere Anytime...
√ Business type: Power equipment manufacturer and service provider
√ Founded: 2010 year
√ Products range: Engines, Generators, Water Pumps, Mobile Lighting Towers
√ Professional Team: Genlitec Power technicians and engineers are hard-working and serious with their work. Compliance, standard and process are fundamentals of our high quality products. Members of our products development team are rich in professional skills and familiar with products. with the help of advanced development tools and management platforms, we will always be ready to provide best service to all our customs.