| | |
| --- | --- |
| Export Markets: | North America, South America, Eastern Europe, Southeast Asia, Africa, Oceania, Mid East, Eastern Asia, Western Europe |
| Place of Origin: | Shandong in China |
| Packaging Details: | 20 kg/ Carton board (1Kg/bag). |
Quick Details
Brand Name: ICON
Classification: Specific Reagents
Purity: >95%
Other Names: Vapor corrosion inhibition
CAS No.: 20190-03-8
Model Number: CHC
EINECS No.: 243-571-3
MF: no
Appearance: white powder
Application: ferrous metal rust prevention
Advantage: Usage little, anti rust effect longer
usage: 80-120g/cubic meter
use method: use powder directly or suspend by non-woven fabics bag
Specifications

Cyclohexylamine Carbonate
1. Characters
White powder, amine odor;
Boiling point 395 ℃ (Pressure 760ml mercury column);
Flash point 192.7 ℃;
Decompose when it encountered strong acid and strong alkali;
Easily decompose in the light and humid Environment;
Vapor pressure is 2.42E-07 mm Hg at 25 ℃;
Combustible.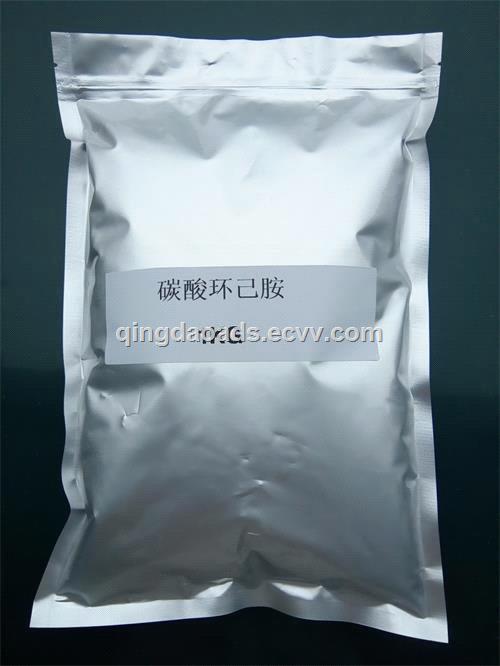 2. Application
There Are good inhibition and rust-proof effects to ferrous metal. It can be used for auto Parts, reduction - machine box, internal combustion engine piston, sleeve, Spare parts, machine tools and machine parts, tools, cutting tools, measuring, Bearings, seamless steel pipe, machinery parts, textile machines and Accessories, knitting machine needles, sewing needle, industry and civil blades, Blades, aerospace mechanical, aircraft engines, steel wire, steel plate, steel strip, large-scale storage, packaging buckets, etc..
3. Notes
Slow Down corrosion to steel, tin, nickel, chromium, aluminum, cast iron; accelerate Corrosion to zinc, cadmium, magnesium, copper and its alloys.
4.Usage Method
Direct method: Use cyclohexylamine Carbonate directly or use non-woven fabrics package. Spatter cyclohexylamine Carbonate powder on the metal surface or suspend or put it into different place of equipment. Generally speaking, effective distance is no more than 40cm, Usage is no less than 80-120 g/cubic meter( use upper limit when high Temperature and humidity season)
5. Package and Storage
Package: 20 Kg/ Carton board (1Kg/bag).
Storage: Indoor avoid of light and high temperature.