Quick Details
Brand Name: unibiotest
Classification: General Reagents
Purity: ---
Other Names: ---
CAS No.: ---
Specifications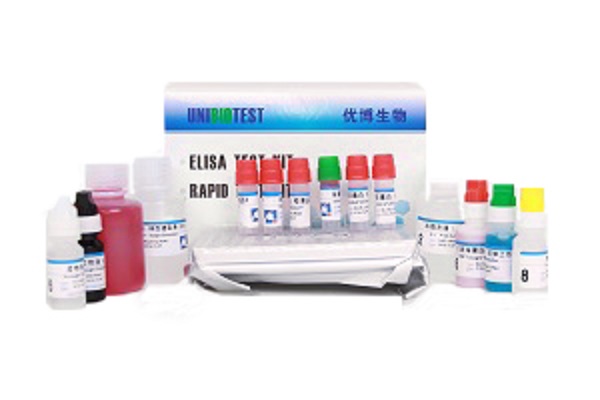 Principle
Beta-conglycinin ELISA Test Kit is a competitive enzyme immunoassay for the quantitative analysis ofBeta-conglycinin in soybean, feed, soybean meal, fermented soybean meal, extruded soybean, soy protein isolate, soy protein concentrated samples.
Beta-conglycinin ELISA Test Kit incorporates a fast, low-cost sample prep protocol with high recovery rates.
An antibody with a affinity forBeta-conglycinin is coated onto microwells. Standard or sample is added to the appropiate well and ifBeta-conglycinin is present it will bind to the coated antibody. Subsequently,Beta-conglycinin bound to horse-radish peroxidase(HRP) is added and binds to the antibody not already occupied byBeta-conglycinin present in the sample or standard. after this incubation period, the contents of the wells are decanted, washed and an HRP substrate is added which develops a blue color in the present of an enzyme. the resulting color intensity, has an inverse relationship with the target concentration in the sample. the levels ofBeta-conglycinin in the sample are determined by comparison of the color intensity of unknown samples with the standard curve, which is made using theBeta-conglycinin standards provided in the kit.
Detect Limit: 50 ng /mL (ppb)
Specification: 96 tests /kit
Materials provided
NO

Name

Content

1

30 × Sample Extractant

50 mL/ bottle × 2

3 × Sample Diluent

50 mL / bottle × 1

2

20 × Wash Solution

50 mL / bottle × 1

3

Microtiter Plate

96 wells ×1

4

Standard Substance (Calibrators)

700 uL / bottle × 6

5

Beta-conglycinin Antibody Solution

7 mL / bottle × 1

6

HRP Conjugate Enzyme Reagent

12 mL/ bottle × 1

7

Substrate A

7 mL/ bottle × 1

8

Substrate B

7 mL / bottle × 1

9

Stop Solution

7 mL / bottle × 1