| | |
| --- | --- |
| Export Markets: | North America, South America, Eastern Europe, Southeast Asia, Africa, Oceania, Mid East, Eastern Asia, Western Europe |
| Place of Origin: | Guangdong in China |
| Packaging Details: | Standard Pack |
Quick Details
Usage: Tensile Testing Machine
Power: Electronic
Brand Name: OTS JUNYUAN
Warranty: 12 Months
weight: 150kg
Model Number: JY-1099
Type: Tensile Testing Machine
Specifications
Product description
Environmental chamber for mobile phone also known as environmental testing machine, test a variety of materials, heat, Cold resistance, dry and wet performance. Suitable for electronic, Electrical, food, vehicles, metals, chemicals, building materials Factory use.

Details
A mobile phone and humidity tester uses:
1. the unit provides a hot and humid environment, to compare the rubber, Plastic materials testing before and after the change and the degree of Strength reduction decay; the machine can also simulate container Environment to detect rubber, plastic at high temperature and humidity, Fading, shrinkage case, the unit specialized test a variety of Materials, heat, cold, moisture performance.

2. the temperature and humidity testing machine, also known as environmental testing Machine, test a variety of materials, heat, cold resistance, dry and wet Performance. Suitable for electronic, electrical, food, vehicles, Metals, chemicals, building materials factory use.

Product description meet the standards:
GB5170,2,3,5,6-95, GB 2423.1-89 (IEC68-2-1), GB 2423.2-89 (IEC68-2-2), GB / T 2423.3-93 (IEC68- 2-3), GB / T423.4-93 (IEC68-2-30), GJB150.3 (ML-STD0-810D), GJB150.4 (MIL-STD-810D), GJB150.9-1986, GJB4. 5-1983, GJB4.6-1983, GJB367.2-1987, GJB360.8-87, GB / T5170.2-96, GB / T5170.5-96, GB10592-93, GB10586-93, etc.

Control and characteristics:
a Balanced temperature control system (BTHC), to P.I.D. Controlled SSR, the heating system of the humidification amount equal to the amount of Heat loss, it can use long-term stability.

Product description the performance
Refers to the air-cooled at room temperature 20 oC, no load.
Specifications Model: HE-WS-80/100/150/225/408/800/1000 (A, B, C, D)
Capacity: 80 liters, 150 liters, 408 liters, 800 liters, 1000 liters
Within the box size (W * H * D): 400X500X400,500X600X500,600X850X800,1000X1000X800,1000X1000X1000 (MM)
Dimensions (W * H * D): 980X1590X940,1080X1690X1040,1180X1950X1350,1600X2070X1400,1600X2070X1570 (MM)
Temperature range: A represents: 0 oC ~ + 150 oC
B represents: -20 oC ~ + 150 oC
C represents: -40 oC ~ + 150 oC
Temperature accuracy: ± 0.01 oC
Temperature fluctuation: ± 0.5 oC
Temperature uniformity: ± 2.0 oC
Humidity range: 20% RH ~ 98% RH
Humidity Accuracy: ± 0.1% R.H
Humidity fluctuation: ± 2.0% R.H.
Humidity uniformity: ± 3% R.H.
Heating Rate: an average of 3 oC / (non-linear, no-load; raised from normal Temperature + 25 oC + 85 oC about 20min); min can be customized Non-standard specifications
Cooling rate: Average 1 oC / (non-linear, No-load; from room temperature down to + 25 oC -40 oC about 65min); min Can be customized non-standard specifications
Power supply: single-phase three-wire or three-phase five-wire 220V 50HZ 380V 50HZ
Within the box material: SUS 304 stainless steel mirror
Carton was quality: SUS 201 stainless steel gauze or advanced cold steel spray treatment
Cooling System: French imported Taikang compressor, environmentally friendly Refrigerant R504A and R23A, fin condenser attached cooling evaporator
Control System: TEMI series programmable temperature and humidity control (such as TEMI880 color touch-button controller and TEMI300 controller)
Security: No fuse switch, compressor pressure, overheating, over-current Protection, over-temperature protection, fan overload, fuse, dry Protection, water alarm
Standard configuration: 2 sets of racks, an observation window, a test hole, four casters, humidification barrels a test damp 5
Online Software: 232 or 485 online, CD-ROM with software and connecting cable 1 set, optional USB interface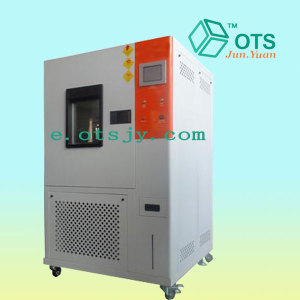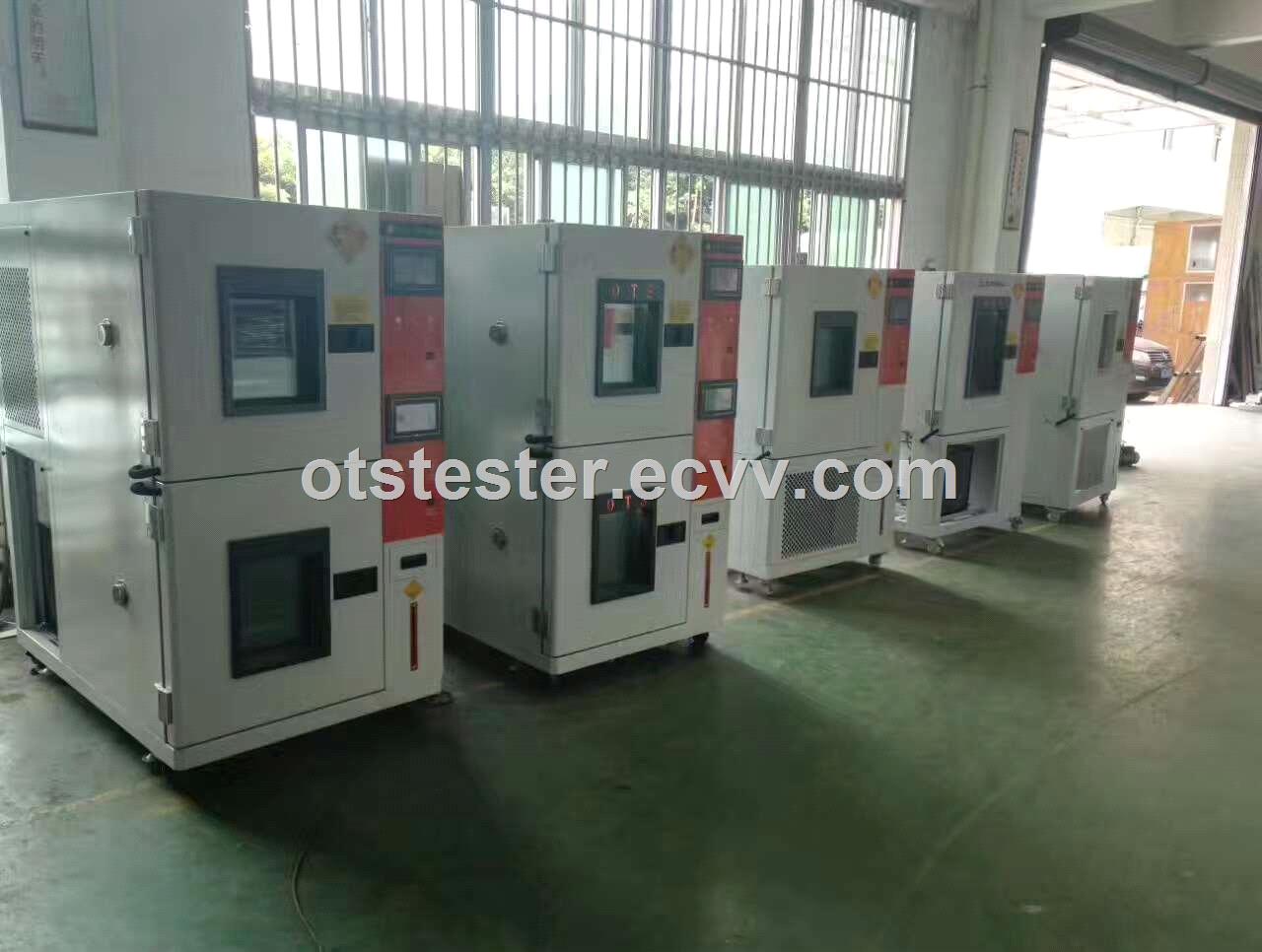 If you have new requirements, please contact the Technical section,Senior engineer to provide you with the most Authoritative product testing scheme



Q1:Is your company a trading one or a factory?
A1:Our factory Produces goods directly. We have focused on the development and Manufacturing of physical and environmental testing equipments for 18 Years,besides,we have export experience of six years.

Q2:What about the quality of services and products?
A2:Berore shipping and delivering the goods,each product must be tested and tested for 100%.
Products using training: we would provide a training video of each product in order to show you how to install and operate.
All Products meet the standsrds of ISO, ASTM, AATCC, BS, EN, DIN, JIS, GB And other requirements.Q3:how long is the delivery time?A3:Usually about 15 to 25 days.If we have stock, we can arrange the shipment within 3 Days.
Kindly note that our producing and delivery time depend on specific item and the number of it.
Except for the special customization.

Q3:Distance transportation, the packaging is strong enough?
A3:Packing: the first layer uses bubble film,and the second layer uses vacuum Film.We take away the air so as to make a vacuum environment after Packing,which can avoid the problem of rust on the rough sea,and the Outer packing using standard wooden cases.

Q4: What is the mode of payment?
A4: Generally we use telegraphic transfer,inculding 50% deposit and 50% before shipment.Other payment methods can be negotiated.


Q5:how warranties and after-sales services?
A5:Our products have 18-month warranty.
Life-long Free technical support, be video through email.Besides, we can help you to repair your problem controller, even it's not from our factory Produce.
What you need to do is to send us the controller.
Outside the warranty period, professional after-sales service team will provide the perfect technical support, and help customers to solve problems When using our products, deal with guest problems and complaints, and in A professional and timely.


Commitment:
Though we sign a contract, we will also sign a letter of commitment, which will increase your confidence in us.