Quick Details
After-sales Service Provided: Engineers available to service machinery overseas
Condition: New
Brand Name: Hilans
Weight: 1.5t
color: as your require
Casting efficiency (grids/min): 7-16
Applied sizes(mm): 400 x (110-160) x(1.2-4.0)
Equipment Dimensions(mm): 3440 x1070 x2000
Power(kw): 9.0
Specifications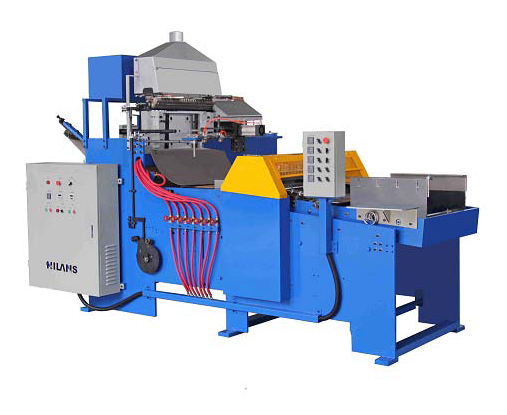 Device characteristics
1, the host drive: the opening and closing of mold and the ration lead feeding use stable and reliable pneumatic components to control, and other mechanical drive means are also stable and reliable. The speed control of the main machine uses the frequency converter to realize variable speed, adjustment range is wide, and speed control is simple.+
2, the lead feeding system: lead pump adopts rotary pump for the quantitative lead, rotary pump rotates with high-precision concentricity, jitter phenomenon does not appear, greatly reduce the production of lead slag, and the ration of lead feeding can be carried out for micro-adjustment; the lead feeding system uses method of ration lead feeding and applies thermos table and impact-resistant materials with durable and reliable operation.
3, the lost lead tube uses short-circuit transformer plumbing heating, overcomes the heating plumber heating losers are dead ends, heating is not full and frequent replacement of the heating tube defects. Automatic temperature control, temperature control panel display. Good thermal insulation of external measures, structural lightweight, easy to replace.
4, Lead spoon in the non-burning gas, the heating tube power can be increased to 3KW, the lead mouth used a gas-fired combustion to protect the oxygen barrier to prevent the oxidation of lead.
5, Mold temperature is controlled by the on-off of electro thermal tube which is controlled by thermocouple in the mold, mold heating temperature control and temperature display show separately, that is when not heated as long as opening the main control switch can show that the mold temperature, circulating water control mold temperature automatically.
6, Lead spoon temperature is controlled by the on-off of electro thermal tube which is controlled by thermocouple in order to achieve automatic control of lead spoon temperature.
7, A long cutter, the positioning mechanism: Dumfounding grid into a conveyor belt, with compression of the roller, sliding board, to send films to roll into the cutter, adjust the positioning mechanism of grid position, to avoid the whole grid work impact on the process to overcome the severe grid deformation. Cutter adjustable length: width of the adjustment through the completion of insert adjustment to fit multi-grid specifications (105 ~ 165 mm), a long cutter to ensure that the grid in demold and transmission process also can work in deviate state.
8, to make sure stability of equipment, the key devices adopt imported equipment, inverter using "Omron" imported electrical components, etc.; pneumatic actuators using the Taiwan "AirTAC" pneumatic parts.
9 Electrical control system concentrates original host machine electric control cabinet and lead-melting furnace control cabinet for the whole, for the purpose of centralized control, systematization and automation, easy operation and maintenance.
10, Casting mold: annular exhaust joints, T-shaped water cooling groove, mold temperature (120-190 ℃) is controlled by the on-off of electro thermal tube which is controlled by thermocouple, circulating water controls mold temperature automatically.
11, Storage rack plates: flap plates are sent to storage rack, regulate hand wheel and spacing to adapt grid.
12, There is a certain space between the machine bottom and the ground, easy to clean.
13, Grid down by cutter receives plates using the transition with buffer to reduce the deformation grid.
14, Lead feeding system is stable and reliable to ensure that within 3 months of free maintenance failure.
15, the machine sets aside hole site connecting to the ground screws.(also can not connect to the ground screws)