| | |
| --- | --- |
| Export Markets: | North America, South America, Eastern Europe, Southeast Asia, Africa, Oceania, Mid East, Eastern Asia, Western Europe |
| Place of Origin: | Shanghai in China |
Quick Details
Insulation Material: PVC
Conductor Material: Copper
Application: Industrial
Brand Name: Bladar
Type: Insulated
Jacket: PVC
Model Number: RVV-NBR, RVVP-NBR
Specifications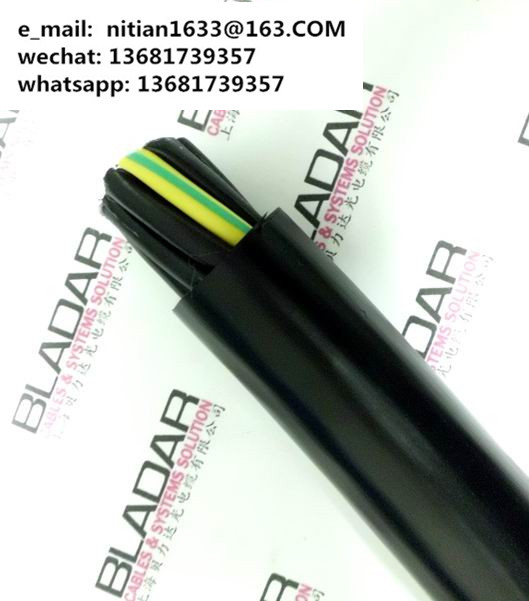 Shield Round Crane Control Cable from Factory
Applications:
as connecting and control cable for lift or crane, it is also used for various kinds of electric installation in dry or wet in door as well as outdoor.
Properties:
the Butadiene-acrylonirile rubber outer sheath makes the cable resistant to ozone and UV radiation as well as oil, acid, flat and solvents.
Structure:
Conductor: Superfine copper strands acc. To VDE0295, class 5
Insulation: Butadiene-acrylonitrile rubber
Inner liner: Non-woven fabric wrapping to release impact
Outer sheath: Based on with Butadiene-acrylonitrile rubber as torsion protection
Uted insulated cable rope among cores functions as tensile resistance
the outer sheath is flame retardant and self-extinguishing
(acc. to VDE0482, part 265-2-1 resp. EN50265-2-1 and IEC 60332-1). Color black.
Technical data:
Rated voltage: 450/750V
Test Voltage: 2500V
Temperature range:
Fixed installation: -35 degree to +80 degree/ -40degree to +105degree
Flexible application: -20 degree to +70 degree/
Minimum bending radius: 10X outer diameter
CABLE SAMPLES ARE AVAILABLE
| | | | | | | |
| --- | --- | --- | --- | --- | --- | --- |
| Type | Specification | Conductor No. | Each wire Diaφ | Weight/KM | Dia Down mm | Dia up mm |
| RVV-NBR | 0.5*2C | 33 | 0.14 | 62.0 | 6.5 | 7.3 |
| RVV-NBR | 0.5*3C | 33 | 0.14 | 75.5 | 6.9 | 7.7 |
| RVV-NBR | 0.5*4C | 33 | 0.14 | 91.3 | 7.5 | 8.3 |
| RVV-NBR | 0.5*5C | 33 | 0.14 | 108 | 8.2 | 9.0 |
| RVV-NBR | 0.5*6C | 33 | 0.14 | 125.3 | 8.9 | 9.7 |
| RVV-NBR | 0.5*7C | 33 | 0.14 | 142.9 | 9.6 | 10.4 |
| RVV-NBR | 0.5*8C | 33 | 0.14 | 163.4 | 10.3 | 11.8 |
| RVV-NBR | 0.5*9C | 33 | 0.14 | 180.5 | 10.9 | 12.4 |
| RVV-NBR | 0.5*10C | 33 | 0.14 | 191.9 | 11.0 | 12.5 |
| RVV-NBR | 0.5*11C | 33 | 0.14 | 206.4 | 11.3 | 12.8 |
| RVV-NBR | 0.5*12C | 33 | 0.14 | 216.7 | 11.3 | 12.8 |
| RVV-NBR | 0.5*13C | 33 | 0.14 | 234.2 | 11.9 | 13.4 |
| RVV-NBR | 0.5*14C | 33 | 0.14 | 244.5 | 11.9 | 13.4 |
| RVV-NBR | 0.5*15C | 33 | 0.14 | 263.1 | 12.6 | 14.1 |
| RVV-NBR | 0.5*16C | 33 | 0.14 | 273.4 | 12.6 | 14.1 |
| RVV-NBR | 0.5*17C | 33 | 0.14 | 292.6 | 13.3 | 14.8 |
| RVV-NBR | 0.5*18C | 33 | 0.14 | 302.9 | 13.3 | 14.8 |
| RVV-NBR | 0.5*19C | 33 | 0.14 | 317.9 | 13.7 | 15.2 |
| RVV-NBR | 0.5*20C | 33 | 0.14 | 332.7 | 14.0 | 15.5 |
| RVV-NBR | 0.5*21C | 33 | 0.14 | 355.8 | 14.4 | 16.9 |
| RVV-NBR | 0.5*22C | 33 | 0.14 | 376 | 15.1 | 17.6 |
| RVV-NBR | 0.5*23C | 33 | 0.14 | 386.3 | 15.1 | 17.6 |
| RVV-NBR | 0.5*24C | 33 | 0.14 | 396.6 | 15.1 | 17.6 |
| RVV-NBR | 0.5*25C | 33 | 0.14 | 412.1 | 15.5 | 18.0 |
| RVV-NBR | 0.5*26C | 33 | 0.14 | 422.4 | 15.5 | 18.0 |
| RVV-NBR | 0.5*27C | 33 | 0.14 | 432.6 | 15.5 | 18.0 |
| RVV-NBR | 0.5*28C | 33 | 0.14 | 451.9 | 16.1 | 18.6 |
| RVV-NBR | 0.5*29C | 33 | 0.14 | 462.2 | 16.1 | 18.6 |
| RVV-NBR | 0.5*30C | 33 | 0.14 | 472.5 | 16.1 | 18.6 |
| RVV-NBR | 0.5*31C | 33 | 0.14 | 492.9 | 16.7 | 19.2 |
| RVV-NBR | 0.5*32C | 33 | 0.14 | 503.2 | 16.7 | 19.2 |
| RVV-NBR | 0.5*33C | 33 | 0.14 | 513.4 | 16.7 | 19.2 |
| RVV-NBR | 0.5*34C | 33 | 0.14 | 534.7 | 17.4 | 19.9 |
| RVV-NBR | 0.5*35C | 33 | 0.14 | 544.9 | 17.4 | 19.9 |
| RVV-NBR | 0.5*36C | 33 | 0.14 | 555.2 | 17.4 | 19.9 |
| RVV-NBR | 0.5*37C | 33 | 0.14 | 565.5 | 17.4 | 19.9 |
| | | | | | | |
| RVV-NBR | 0.75*2C | 49 | 0.14 | 72.4 | 7.0 | 7.8 |
| RVV-NBR | 0.75*3C | 49 | 0.14 | 89.4 | 7.4 | 8.2 |
| RVV-NBR | 0.75*4C | 49 | 0.14 | 109.2 | 8.1 | 8.9 |
| RVV-NBR | 0.75*5C | 49 | 0.14 | 129.9 | 8.8 | 9.6 |
| RVV-NBR | 0.75*6C | 49 | 0.14 | 151.3 | 9.6 | 10.4 |
| RVV-NBR | 0.75*7C | 49 | 0.14 | 173.1 | 10.1 | 11.6 |
| RVV-NBR | 0.75*8C | 49 | 0.14 | 198.2 | 11.1 | 12.6 |
| RVV-NBR | 0.75*9C | 49 | 0.14 | 219.6 | 11.8 | 13.3 |
| RVV-NBR | 0.75*10C | 49 | 0.14 | 234.2 | 11.9 | 13.4 |
| RVV-NBR | 0.75*11C | 49 | 0.14 | 252.5 | 12.3 | 13.8 |
| RVV-NBR | 0.75*12C | 49 | 0.14 | 265.9 | 12.3 | 13.8 |
| RVV-NBR | 0.75*13C | 49 | 0.14 | 287.7 | 13.0 | 14.5 |
| RVV-NBR | 0.75*14C | 49 | 0.14 | 301.1 | 13.0 | 14.5 |
| RVV-NBR | 0.75*15C | 49 | 0.14 | 324.1 | 13.7 | 15.2 |
| RVV-NBR | 0.75*16C | 49 | 0.14 | 337.5 | 13.7 | 15.2 |
| RVV-NBR | 0.75*17C | 49 | 0.14 | 361.3 | 14.5 | 16.0 |
| RVV-NBR | 0.75*18C | 49 | 0.14 | 374.7 | 14.5 | 16.0 |
| RVV-NBR | 0.75*19C | 49 | 0.14 | 393.5 | 14.4 | 16.9 |
| RVV-NBR | 0.75*20C | 49 | 0.14 | 412.2 | 14.7 | 17.2 |
| RVV-NBR | 0.75*21C | 49 | 0.14 | 440.5 | 15.7 | 18.2 |
| RVV-NBR | 0.75*22C | 49 | 0.14 | 465.5 | 16.5 | 19.0 |
| RVV-NBR | 0.75*23C | 49 | 0.14 | 478.9 | 16.5 | 19.0 |
| RVV-NBR | 0.75*24C | 49 | 0.14 | 492.3 | 16.5 | 19.0 |
| RVV-NBR | 0.75*25C | 49 | 0.14 | 511.8 | 16.9 | 19.4 |
| RVV-NBR | 0.75*26C | 49 | 0.14 | 525.2 | 16.9 | 19.4 |
| RVV-NBR | 0.75*27C | 49 | 0.14 | 538.6 | 16.9 | 19.4 |
| RVV-NBR | 0.75*28C | 49 | 0.14 | 562.5 | 17.6 | 20.1 |
| RVV-NBR | 0.75*29C | 49 | 0.14 | 575.8 | 17.6 | 20.1 |
| RVV-NBR | 0.75*30C | 49 | 0.14 | 589.2 | 17.6 | 20.1 |
| RVV-NBR | 0.75*31C | 49 | 0.14 | 614.5 | 18.3 | 20.8 |
| RVV-NBR | 0.75*32C | 49 | 0.14 | 627.9 | 18.3 | 20.8 |
| RVV-NBR | 0.75*33C | 49 | 0.14 | 641.3 | 18.3 | 20.8 |
| RVV-NBR | 0.75*34C | 49 | 0.14 | 667.5 | 18.6 | 21.6 |
| RVV-NBR | 0.75*35C | 49 | 0.14 | 680.9 | 18.6 | 21.6 |
| RVV-NBR | 0.75*36C | 49 | 0.14 | 694.3 | 18.6 | 21.6 |
| RVV-NBR | 0.75*37C | 49 | 0.14 | 707.6 | 18.6 | 21.6 |
| | | | | | | |
| RVV-NBR | 1.0*2C | 65 | 0.14 | 90.5 | 7.9 | 8.7 |
| RVV-NBR | 1.0*3C | 65 | 0.14 | 112.3 | 8.3 | 9.1 |
| RVV-NBR | 1.0*4C | 65 | 0.14 | 137.4 | 9.1 | 9.9 |
| RVV-NBR | 1.0*5C | 65 | 0.14 | 163.8 | 9.7 | 11.2 |
| RVV-NBR | 1.0*6C | 65 | 0.14 | 191.1 | 10.6 | 12.1 |
| RVV-NBR | 1.0*7C | 65 | 0.14 | 218.8 | 11.5 | 13.0 |
| RVV-NBR | 1.0*8C | 65 | 0.14 | 250.7 | 12.6 | 14.1 |
| RVV-NBR | 1.0*9C | 65 | 0.14 | 278 | 13.4 | 14.9 |
| RVV-NBR | 1.0*10C | 65 | 0.14 | 296.7 | 13.5 | 15.0 |
| RVV-NBR | 1.0*11C | 65 | 0.14 | 320.1 | 13.9 | 15.4 |
| RVV-NBR | 1.0*12C | 65 | 0.14 | 337.3 | 13.9 | 15.4 |
| RVV-NBR | 1.0*13C | 65 | 0.14 | 365.1 | 14.2 | 16.7 |
| RVV-NBR | 1.0*14C | 65 | 0.14 | 382.3 | 14.2 | 16.7 |
| RVV-NBR | 1.0*15C | 65 | 0.14 | 411.6 | 15.0 | 17.5 |
| RVV-NBR | 1.0*16C | 65 | 0.14 | 428.8 | 15.0 | 17.5 |
| RVV-NBR | 1.0*17C | 65 | 0.14 | 459.2 | 15.9 | 18.4 |
| RVV-NBR | 1.0*18C | 65 | 0.14 | 476.4 | 15.9 | 18.4 |
| RVV-NBR | 1.0*19C | 65 | 0.14 | 500.5 | 16.3 | 18.8 |
| RVV-NBR | 1.0*20C | 65 | 0.14 | 524.4 | 16.8 | 19.3 |
| RVV-NBR | 1.0*21C | 65 | 0.14 | 560.4 | 17.9 | 20.4 |
| RVV-NBR | 1.0*22C | 65 | 0.14 | 592.3 | 18.8 | 21.3 |
| RVV-NBR | 1.0*23C | 65 | 0.14 | 609.5 | 18.8 | 21.3 |
| RVV-NBR | 1.0*24C | 65 | 0.14 | 626.7 | 18.8 | 21.3 |
| RVV-NBR | 1.0*25C | 65 | 0.14 | 651.7 | 18.7 | 21.7 |
| RVV-NBR | 1.0*26C | 65 | 0.14 | 668.9 | 18.7 | 21.7 |
| RVV-NBR | 1.0*27C | 65 | 0.14 | 686.1 | 18.7 | 21.7 |
| RVV-NBR | 1.0*28C | 65 | 0.14 | 716.6 | 19.5 | 22.5 |
| RVV-NBR | 1.0*29C | 65 | 0.14 | 733.8 | 19.5 | 22.5 |
| RVV-NBR | 1.0*30C | 65 | 0.14 | 751 | 19.5 | 22.5 |
| RVV-NBR | 1.0*31C | 65 | 0.14 | 783.2 | 20.3 | 23.3 |
| RVV-NBR | 1.0*32C | 65 | 0.14 | 800.4 | 20.3 | 23.3 |
| RVV-NBR | 1.0*33C | 65 | 0.14 | 817.7 | 20.3 | 23.3 |
| RVV-NBR | 1.0*34C | 65 | 0.14 | 851.1 | 21.2 | 24.2 |
| RVV-NBR | 1.0*35C | 65 | 0.14 | 868.3 | 21.2 | 24.2 |
| RVV-NBR | 1.0*36C | 65 | 0.14 | 885.5 | 21.2 | 24.2 |
| RVV-NBR | 1.0*37C | 65 | 0.14 | 902.7 | 21.2 | 24.2 |
| | | | | | | |
| RVV-NBR | 1.5*2C | 98 | 0.14 | 116 | 8.9 | 9.7 |
| RVV-NBR | 1.5*3C | 98 | 0.14 | 146.3 | 9.5 | 10.3 |
| RVV-NBR | 1.5*4C | 98 | 0.14 | 180.9 | 10.2 | 11.7 |
| RVV-NBR | 1.5*5C | 98 | 0.14 | 217 | 11.1 | 12.6 |
| RVV-NBR | 1.5*6C | 98 | 0.14 | 254.4 | 12.2 | 13.7 |
| RVV-NBR | 1.5*7C | 98 | 0.14 | 292.4 | 13.2 | 14.7 |
| RVV-NBR | 1.5*8C | 98 | 0.14 | 335.8 | 14.1 | 16.6 |
| RVV-NBR | 1.5*9C | 98 | 0.14 | 373.3 | 15.0 | 17.5 |
| RVV-NBR | 1.5*10C | 98 | 0.14 | 399.9 | 15.1 | 17.6 |
| RVV-NBR | 1.5*11C | 98 | 0.14 | 432.4 | 15.6 | 18.1 |
| RVV-NBR | 1.5*12C | 98 | 0.14 | 456.9 | 15.6 | 18.1 |
| RVV-NBR | 1.5*13C | 98 | 0.14 | 495.2 | 16.5 | 19.0 |
| RVV-NBR | 1.5*14C | 98 | 0.14 | 519.8 | 16.5 | 19.0 |
| RVV-NBR | 1.5*15C | 98 | 0.14 | 560 | 17.5 | 20.0 |
| RVV-NBR | 1.5*16C | 98 | 0.14 | 584.6 | 17.5 | 20.0 |
| RVV-NBR | 1.5*17C | 98 | 0.14 | 626.2 | 18.5 | 21.0 |
| RVV-NBR | 1.5*18C | 98 | 0.14 | 650.7 | 18.5 | 21.0 |
| RVV-NBR | 1.5*19C | 98 | 0.14 | 684.3 | 19.0 | 21.5 |
| RVV-NBR | 1.5*20C | 98 | 0.14 | 717.6 | 19.0 | 22.0 |
| RVV-NBR | 1.5*21C | 98 | 0.14 | 766.7 | 20.4 | 23.4 |
| RVV-NBR | 1.5*22C | 98 | 0.14 | 810.5 | 21.4 | 24.4 |
| RVV-NBR | 1.5*23C | 98 | 0.14 | 835.1 | 21.4 | 24.4 |
| RVV-NBR | 1.5*24C | 98 | 0.14 | 859.6 | 21.4 | 24.4 |
| RVV-NBR | 1.5*25C | 98 | 0.14 | 894.3 | 22.0 | 25.0 |
| RVV-NBR | 1.5*26C | 98 | 0.14 | 918.8 | 22.0 | 25.0 |
| RVV-NBR | 1.5*27C | 98 | 0.14 | 943.4 | 22.0 | 25.0 |
| RVV-NBR | 1.5*28C | 98 | 0.14 | 985.4 | 22.8 | 25.8 |
| RVV-NBR | 1.5*29C | 98 | 0.14 | 1010 | 22.8 | 25.8 |
| RVV-NBR | 1.5*30C | 98 | 0.14 | 1034.5 | 22.8 | 25.8 |
| RVV-NBR | 1.5*31C | 98 | 0.14 | 1078.8 | 23.8 | 26.8 |
| RVV-NBR | 1.5*32C | 98 | 0.14 | 1103.4 | 23.8 | 26.8 |
| RVV-NBR | 1.5*33C | 98 | 0.14 | 1128 | 23.8 | 26.8 |
| RVV-NBR | 1.5*34C | 98 | 0.14 | 1173.9 | 24.9 | 27.9 |
| RVV-NBR | 1.5*35C | 98 | 0.14 | 1198.4 | 24.9 | 27.9 |
| RVV-NBR | 1.5*36C | 98 | 0.14 | 1223 | 24.9 | 27.9 |
| RVV-NBR | 1.5*37C | 98 | 0.14 | 1247.5 | 24.9 | 27.9 |