| | |
| --- | --- |
| Export Markets: | North America, South America, Eastern Europe, Southeast Asia, Africa, Oceania, Mid East, Eastern Asia, Western Europe |
| Place of Origin: | Shanghai in China |
Quick Details
Insulation Material: PVC
Conductor Material: Copper
Application: Industrial
Brand Name: Bladar
Type: RVV(1G), RVV(2G)
Jacket: PVC
Model Number: RVV(1G), RVV(2G)
Specifications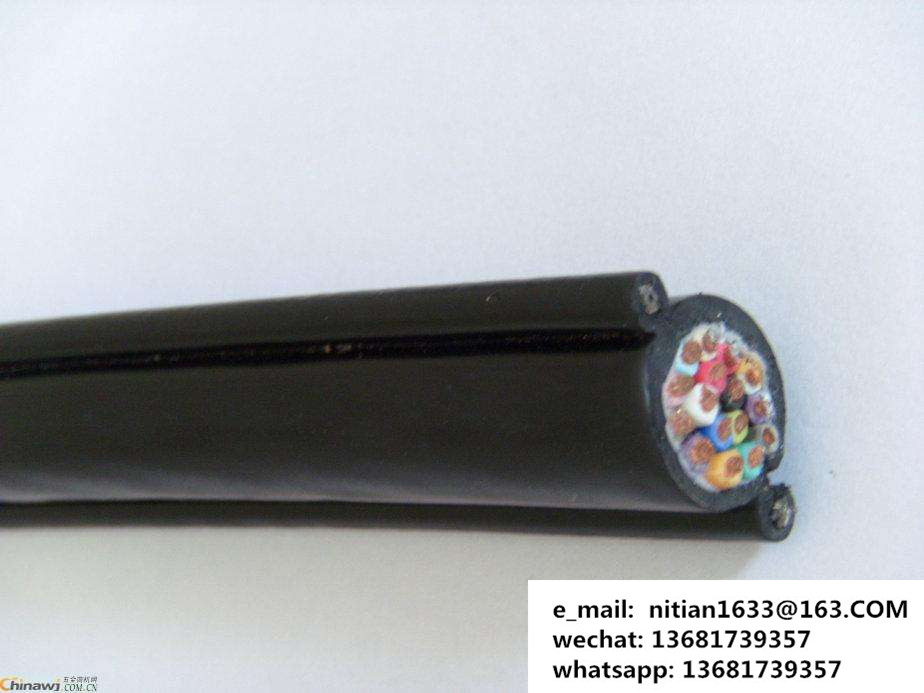 Round Crane Control Cable with Supporting Steel Wires
Applications:
It is the control cable being used for cranes and other appliances in dry or wet environment (indoor). for its special flexibility, it also can be used for non-continuous installation or fixation, but cannot work as elevator cables. Juted insulated cable rope among cores functions as tensile resistance, there is non-woven fabric to release impact between cores and sheath.
Properties:
in the condition of ultra-height, we recommend to use cable with 2 steels whose broken pulling force reaches 10.4KN and the height 150m.
for the adoption of modified PVC sheath, the product has an excellent properties and safety service.
Structure:
Conductor: Fine strands of oxygen-free copper wire, acc. To VDE0295, class 5
Color: Various colour cores with number acc. to JISC3306
Black with white number and green/yellow acc. to IEC227
Inner liner: Non-woven fabric wrapping to release impact
Steel rope: One or two self-supporting steel rope is used to carry tensile force in working.
Outer sheath: Special PVC, black(RAL9005)
Technical data:
Rated voltage: 1.5mm 450/750V
Test voltage: 1.5mm 3000V
Temperature range: -15 degree to +70 degree; (or -40 degree to 105 degree)
| | | | | | | |
| --- | --- | --- | --- | --- | --- | --- |
| TYPE | CORES | SPECIFICATION | STEEL NO. | STEEL DIAMETER mm | WEIGHT(KG/KM) | MEASUREMENTmm |
| RVV(2G) | 2C | 1.25 | 2 | 1.3 | 175 | 17.3 |
| RVV(2G) | 3C | 1.25 | 2 | 1.3 | 192 | 17.8 |
| RVV(2G) | 4C | 1.25 | 2 | 1.3 | 221 | 18.7 |
| RVV(2G) | 5C | 1.25 | 2 | 1.3 | 253 | 19.7 |
| RVV(2G) | 6C | 1.25 | 2 | 1.3 | 287 | 20.7 |
| RVV(2G) | 7C | 1.25 | 2 | 1.6 | 329 | 24 |
| RVV(2G) | 8C | 1.25 | 2 | 1.6 | 369 | 25.4 |
| RVV(2G) | 9C | 1.25 | 2 | 1.6 | 410 | 26.4 |
| RVV(2G) | 10C | 1.25 | 2 | 1.6 | 445 | 26.4 |
| RVV(2G) | 11C | 1.25 | 2 | 1.6 | 481 | 26.9 |
| RVV(2G) | 12C | 1.25 | 2 | 1.6 | 489 | 26.9 |
| RVV(2G) | 13C | 1.25 | 2 | 1.6 | 534 | 27.8 |
| RVV(2G) | 14C | 1.25 | 2 | 1.6 | 542 | 27.8 |
| RVV(2G) | 15C | 1.25 | 2 | 1.6 | 590 | 28.8 |
| RVV(2G) | 16C | 1.25 | 2 | 2.5 | 639 | 30.9 |
| RVV(2G) | 17C | 1.25 | 2 | 2.5 | 690 | 31.9 |
| RVV(2G) | 18C | 1.25 | 2 | 2.5 | 698 | 31.9 |
| RVV(2G) | 19C | 1.25 | 2 | 2.5 | 719 | 31.9 |
| RVV(2G) | 20C | 1.25 | 2 | 2.5 | 744 | 32.4 |
| RVV(2G) | 21C | 1.25 | 2 | 2.5 | 780 | 32.9 |
| RVV(2G) | 22C | 1.25 | 2 | 2.5 | 877 | 34.3 |
| RVV(2G) | 23C | 1.25 | 2 | 2.5 | 896 | 35.3 |
| RVV(2G) | 24C | 1.25 | 2 | 2.5 | 902 | 35.3 |
| RVV(2G) | 25C | 1.25 | 2 | 2.5 | 940 | 35.9 |
| RVV(2G) | 26C | 1.25 | 2 | 2.5 | 960 | 35.9 |
| RVV(2G) | 27C | 1.25 | 2 | 2.5 | 969 | 35.9 |
| RVV(2G) | 28C | 1.25 | 2 | 2.5 | 1019 | 36.7 |
| RVV(2G) | 29C | 1.25 | 2 | 2.5 | 1028 | 36.7 |
| RVV(2G) | 30C | 1.25 | 2 | 2.5 | 1048 | 36.7 |
| RVV(2G) | 2C | 1.5 | 2 | 1.3 | 189 | 17.4 |
| RVV(2G) | 3C | 1.5 | 2 | 1.3 | 207 | 17.9 |
| RVV(2G) | 4C | 1.5 | 2 | 1.3 | 239 | 18.8 |
| RVV(2G) | 5C | 1.5 | 2 | 1.3 | 276 | 19.8 |
| RVV(2G) | 6C | 1.5 | 2 | 1.3 | 315 | 20.9 |
| RVV(2G) | 7C | 1.5 | 2 | 2.5 | 403 | 26.3 |
| RVV(2G) | 8C | 1.5 | 2 | 2.5 | 452 | 27.7 |
| RVV(2G) | 9C | 1.5 | 2 | 2.5 | 502 | 28.7 |
| RVV(2G) | 10C | 1.5 | 2 | 2.5 | 536 | 28.7 |
| RVV(2G) | 11C | 1.5 | 2 | 2.5 | 575 | 29.3 |
| RVV(2G) | 12C | 1.5 | 2 | 2.5 | 582 | 29.3 |
| RVV(2G) | 13C | 1.5 | 2 | 2.5 | 634 | 30.2 |
| RVV(2G) | 14C | 1.5 | 2 | 2.5 | 640 | 30.2 |
| RVV(2G) | 15C | 1.5 | 2 | 2.5 | 698 | 31.2 |
| RVV(2G) | 16C | 1.5 | 2 | 2.5 | 704 | 31.2 |
| RVV(2G) | 17C | 1.5 | 2 | 2.5 | 765 | 32.2 |
| RVV(2G) | 18C | 1.5 | 2 | 2.5 | 772 | 32.2 |
| RVV(2G) | 19C | 1.5 | 2 | 2.5 | 791 | 32.2 |
| RVV(2G) | 20C | 1.5 | 2 | 2.5 | 820 | 32.7 |
| RVV(2G) | 21C | 1.5 | 2 | 2.5 | 861 | 33.2 |
| RVV(2G) | 22C | 1.5 | 2 | 2.5 | 976 | 34.6 |
| RVV(2G) | 23C | 1.5 | 2 | 2.5 | 1006 | 35.7 |
| RVV(2G) | 24C | 1.5 | 2 | 2.5 | 1010 | 35.7 |
| RVV(2G) | 25C | 1.5 | 2 | 2.5 | 1054 | 36.2 |
| RVV(2G) | 26C | 1.5 | 2 | 2.5 | 1073 | 36.2 |
| RVV(2G) | 27C | 1.5 | 2 | 2.5 | 1080 | 36.2 |
| RVV(2G) | 28C | 1.5 | 2 | 2.5 | 1141 | 37.1 |
| RVV(2G) | 29C | 1.5 | 2 | 2.5 | 1149 | 37.1 |
| RVV(2G) | 30C | 1.5 | 2 | 2.5 | 1168 | 37.1 |