| | |
| --- | --- |
| Export Markets: | North America, South America, Eastern Europe, Southeast Asia, Africa, Oceania, Mid East, Eastern Asia, Western Europe |
Quick Details
After-sales Service Provided: Engineers available to service machinery overseas
Warranty: 1YEAR
Brand Name: zk
Type: Sprial Separator
Condition: New
Specifications
Spiral Classifier also can be called Spiral separator, screw classifier or screw separator. It is widely used in the Concentrator and make up a closed-loop with ball mill.
We produce high weir type classifier, Single and double spiral type classifier and immersed single and double spiral Classifiers. Our spiral classifiers are widely used in the separation of ore in Closed circuits with ball mills for the grading of ores and metal ore-dressing and other operations.
this product is featured with simple Structure, reliable working condition and convenient operation. Because different Grains have different specific gravity and sedimentation rates in liquid, this Product allows the fine ore to float in the water, while coarse ore sinks to the bottom.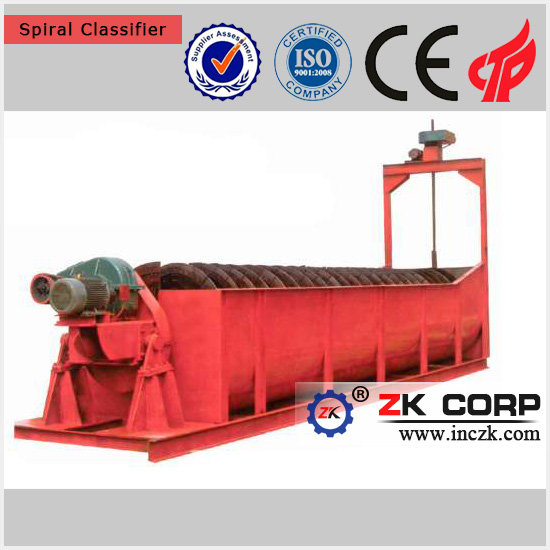 Features and benefits
1. Can be very convenient to control the content of sand powder and to meet users' requirements.
2. Spiral classifier has advanced Technology, simple process, particularly suitable for large and medium-sized Sand making production line.
3. the content of powder with size of 0.00--0.75mm is between 2%-15% and can be adjusted.
4. the quality of powder is easy to Control. the adjustment of fine is convenient, flexible, and reliable.
Working Principle
the principle used in spiral Classifier is that different sizes of crushers have different weights, so their Sedimentation rates are also different. In the working process, fine ore grains Float on the surface of water, and rough grains sink on the bottom of the cell. Screw grader can classify materials from mill, and then bring the rough grains To the entrance mouth of mill with the help of flights, and discharge the fine Ore grins though pipe. The pedestal spiral classifier is made of box iron. The Body is made of welding steel plates. The faucet and spindle nose of screw Shaft are made of pig iron set which is wear-resisting durable. The take-up Sets include two types power-driven and manual operation.
Model

Spiral dia(mm)

Spiral speed(r/min)

/output

Motor power


Circulating load(t/24h)


Overflow quantity(t/24h)


Lift/lower (kw)

Drive(kw)

High-wear single spiral classifier

FG-5

Φ500

8.5-15.5

143-261

32

1.1

FG-7

Φ750

4.5-9.9

256-564

65

3

FG-10

Φ1000

3.5-7.6

473-1026

85

5.5

FG-12

Φ1200

5,6,7

1170-1600

155

2.2

5.5

FG-15

Φ1500

2.5,4,6

1140-2740

235

2.2

7.5

FG-20

Φ200

3.6,5.5

3890-5940

400

3

11,15

FG-24

Φ2400

3.64

6800

580

3

15

FG-30

Φ3000

3.2

11650

893

4

22

High-wear double spiral classifier

2FG-12

Φ1200

5,6,7

2340-3200

310

2.2x2

5.5x2

2FG-15

Φ1500

2.5,4,6

2280-5480

470

2.2x2

7.5x2

2FG-20

Φ2000

3.6,5.45

7780-11880

800

3x2

22,30

2FG-24

Φ2400

3.67

13600

1160

3x2

30

2FG-30

Φ3000

3.2

23300

1785

4x2

40

Submerged single spiral classifier

FC-12

Φ1200

2.5,4,6

1170-1630

120

2.2

7.5

FC-15

Φ1500

2.5,4,6

1140-2740

185

2.2

7.5

FC-20

Φ2000

3.6,5.5

3890-5940

320

3

11,15

FC-24

Φ2400

3.64

6800

455

4

18.5

FC-30

Φ3000

3.2

11650

705

4

22

Submerged double spiral classifier

2FC-12

Φ1200

3.8,6

1770-2800

240

2.2x2

7.5x2

2FC-15

Φ1500

2.5,4,6

2280-5480

370

2.2x2

7.5x2

2FC-20

Φ2000

3.6,5.5

7780-11880

640

3x2

22,30

2FC-24

Φ2400

3.67

13700

910

3x2

30

2FC-24

Φ2400

3.67

13700

910

4x2

37

2FC-30

Φ3000

3.2

23300

1410

4x2

45