| | |
| --- | --- |
| Export Markets: | North America, South America, Eastern Europe, Southeast Asia, Africa, Oceania, Mid East, Eastern Asia, Western Europe |
| Place of Origin: | Shanghai in China |
| Packaging Details: | As your requirement |
Quick Details
Gender: Male-Male
Shielding: Braid
Color: Black
Application: Multimedia
Brand Name: Relico Wire&Cable
Outer Diameter: As specification
Packing: Coil
Type: Coaxial
Model Number: SYV
Color: Black
Specifications
Model Description
SYV-50:Solid PE Insulation, PVC Jacket RF Coaxial Cable(50Ω)
SYV-75:Solid PE Insulation, PVC Jacket RF Coaxial Cable(75Ω)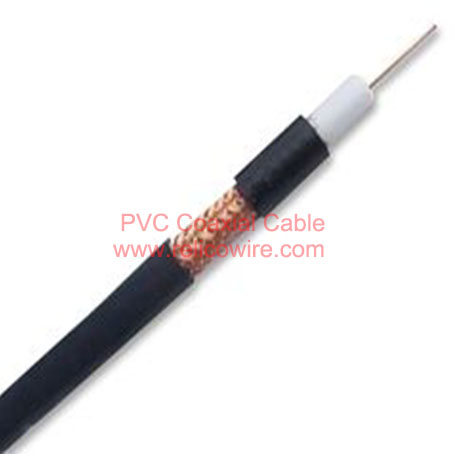 Specification and Construction Data
| | | | | | | | |
| --- | --- | --- | --- | --- | --- | --- | --- |
| Part No. | Conductor Construction(Rootsx mm) | Conductor Diameter(mm) | Dielectric Diameter(mm) | Jacket Diameter(mm) | Impedance(Ω) | Attenuation Under200MHz(≤) | Weight(Kg/KM) |
| SYV-50-2-1 | 7 x0.16 | 0.48 | 1.50±0.10 | 2.80±0.20 | 50±2 | 0.450 | 15 |
| SYV-50-2-2 | 1 x0.68 | 0.68 | 2.20±0.10 | 4.00±0.20 | 50±2 | 0.310 | 31 |
| SYV-50-3-1 | 7x0.32 | 0.96 | 2.95±0.13 | 5.00±0.20 | 50±2 | 0.240 | 40 |
| SYV-50-3-2 | 1x0.90 | 0.90 | 2.95±0.13 | 5.00±0.30 | 50±2 | 0.208 | 46 |
| SYV-50-5-1 | 1x1.40 | 1.40 | 4.80±0.20 | 7.20±0.30 | 50±2 | 0.150 | 72 |
| SYV-50-5-2 | 1x1.40 | 1.40 | 4.80±0.20 | 7.80±0.30 | 50±2 | 0.181 | 83 |
| SYV-50-7-1 | 7x0.75 | 2.25 | 7.25±0.25 | 10.30±0.30 | 50±2 | 0.110 | 160 |
| SYV-50-7-2 | 7x0.75 | 2.25 | 7.25±0.25 | 11.20±0.30 | 50±2 | 0.137 | 100 |
| SYV-50-9 | 7x0.95 | 2.85 | 9.00±0.30 | 12.20±0.40 | 50±2 | 0.095 | 237 |
| SYV-50-12 | 7x1.15 | 3.45 | 11.5±0.60 | 15.00±0.40 | 50±2 | 0.080 | 280 |
| SYV-75-2 | 7x0.08 | 0.30 | 1.50±0.10 | 2.90±0.10 | 75±3 | 0.576 | 15 |
| SYV-75-3 | 7x0.17 | 0.58 | 2.95±0.15 | 5.00±0.25 | 75±3 | 0.308 | 42 |
| SYV-75-5-1 | 1x0.22 | 0.22 | 4.60±0.20 | 7.10±0.30 | 75±3 | 0.150 | 77 |
| SYV-75-5-2 | 7x0.26 | 0.76 | 4.60±0.20 | 7.10±0.30 | 75±3 | 0.211 | 77 |
| SYV-75-7 | 7x0.40 | 1.22 | 7.30±0.25 | 10.20±0.30 | 75±3 | 0.140 | 150 |
| SYV-75-9 | 1x1.37 | 1.37 | 9.00±0.30 | 12.20±0.40 | 75±3 | 0.088 | 213 |
| SYV-75-12 | 7x0.64 | 1.85 | 11.50±0.40 | 15.00±0.50 | 75±3 | 0.096 | 300 |
Order Information
1,the length of wire manufacturing is not less than 20 meter. Delivery of Short segments with a length of not less than 10 meters is aviable and the Percent is not over 10%. Delivery may also be made at any length in accordance with the agreement.
2,Conductor materials and constructions, such as nickel plated or nickel Plated, may be made according to the agreement.
3,There are red, black, yellow, blue, green, white, brown, orange, purple, Gray, transparent and translucent colors for election.