Quick Details
Type: Buckets, Coolers & Holders
Brand Name: ZK
Feature: Eco-Friendly
Certification: CE / EU
Material: Bamboo
Type: rotary
Specifications
Rotary cooler/NPK compound fertilizer cooler is used for cooling the compound fertilizers.It can directly cool the granules of compound fertilizers quickly from 65-85 degrees to close to room temperature,to facilitate the timely packaging,to prevent caking on storage process.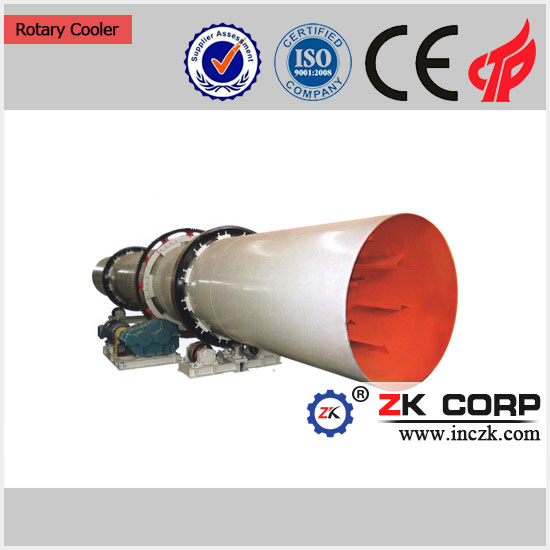 Advantage of rotary cooler
1.the fertilizer rotary cooler adopts counter-flow cooling,cooling effect is good.
2.Using flange connection,it can operate steadyly and use for a long time.
3.Simple structure,easy maintenance and high production efficiency.


| | | | | | |
| --- | --- | --- | --- | --- | --- |
| Model | Capacity(t/h) | Slope(%) | Reducer | Motor | Power(kW) |
| ?1.0×10m | 1-2 | 5 | ZQ400 | YCT200-4B | 7.5 |
| ?1.2×12m | 2-3 | 5 | ZQ500 | YCT225-4A | 11 |
| ?1.5×15m | 3-5 | 5 | ZQ500 | YCT225-4B | 15 |
| ?1.8×18m | 4-6 | 4 | ZQ750 | YCT250-4B | 22 |
| ?2.0×20m | 7-9 | 3.5 | ZQ750 | YCT280-4A | 30 |
| ?2.2×22m | 8-10 | 3.5 | ZQ850 | YCT315-4A | 37 |
| ?2.4×24m | 12-15 | 3.5 | ZQ850 | YCT315-4B | 45 |
| ?2.8×28m | 16-22 | 3.5 | ZS145 | YCT355-4A | 55 |
| ?3.0×30m | 20-25 | 3.5 | ZS165 | YCT355-4B | 75 |
| ?3.2×32m | 28-32 | 3.5 | ZL130 | YCT355-4C | 90 |
| ?3.6×36m | 38-40 | 3.5 | ZL130 | YVF2-315L2-6 | 132 |