| | |
| --- | --- |
| Export Markets: | Eastern Asia |
| Place of Origin: | Guangdong in China |
Quick Details
Style: Stainless steel
Certification: Business license
Material: Business license
Brand Name: yiguang
Name: Zhouzhanmin
Specifications
I. Company profiles:
Dongguan City Wide Bridge Industrial Co., Ltd. (formerly Billion Canton Hardware), founded in July 2000, is located in the beautiful scenery of the Guangdong Dongguan Lotus Lake, and to facilitate the traffic, is a design and development, production and sales of professional hardware manufacturers. In more than 10 years, the factory constantly introduce excellent production equipment, perfect production process and the use of modern enterprise management mode, the factory area of more than 2000 square meters, has a professional technical team, strong strength, advanced equipment.
the main processing factory project include: customer requirements to produce all kinds of metal parts, die casting, metal parts, electronic products, metal parts, metal crafts, furniture hardware, electronic products, hardware, instrument hardware; product development, mold design, wire cutting; independent production of various stainless steel products, iron products, aluminum products, copper zinc alloy products, stamping parts and other related metal products decompression, molding, polishing and surface drawing color processing service processing.
Our aim is: only to do every detail well, do a unique, enterprises can compete in the fierce market competition, in order to survive and develop. after years of development, with excellent technology and perfect service system in the country to establish a solid customer base, establish long-term cooperation department to visit the guidance of households with many well-known enterprises, the processed products exported to Japan,South Korea, Britain, Singapore and other overseas countries!
We will treat you with a sincere attitude and openness. We are committed to providing high quality, high standard products and considerate and timely service to our customers. Quality first, reasonable price, comprehensive service, reputation first, sincerely look forward to working with you!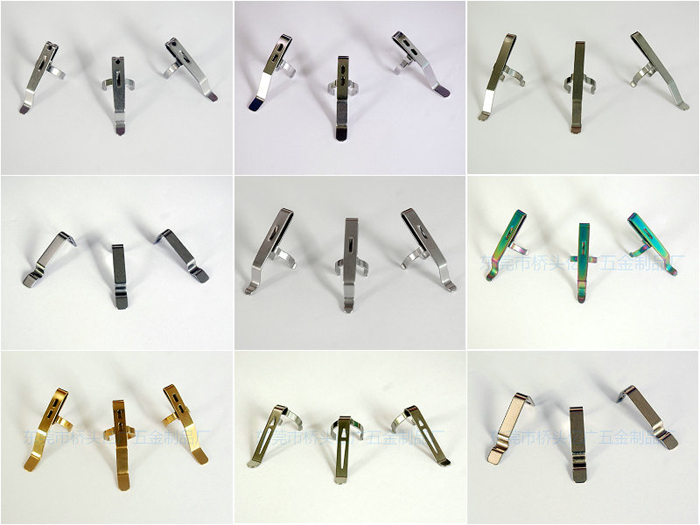 2.Product description:
the main products include flashlight holding clip, copper insert, Plug, tin, aluminum and other metal stamping parts, can customize all kinds of metal stamping parts and molds according to customer requirements. among them, flashlight holder, can be customized according to customer requirements, order 10000 free mold opening.
"Quality first, reputation first, affordable", sincerely look forward to your cooperation!
Product making:
Custom batch production of various kinds of hardware, metal parts, metal crafts, metal products, metal shell, torch clip, Taiwan Taiwan card card, metal accessories, wine rack, metal candlestick, metal crafts, precision metal stamping parts etc.
Products applicable:
Applicable to all types of electronic products, electrical appliances, furniture, gifts, crafts, toys, lighting, handbags, leather bags, stationery, cameras, communication equipment, medical equipment, precision equipment, vehicles, metal plastic, electronics, machine, bicycles, washing machines, vacuum cleaners, remote control, auto lamps, switch, socket sanitary ware, washing machine, vacuum cleaner, water heater, oven, calculator, clock and watch, igniter, mouse, motor, mobile phone, medals, fan, game machine etc.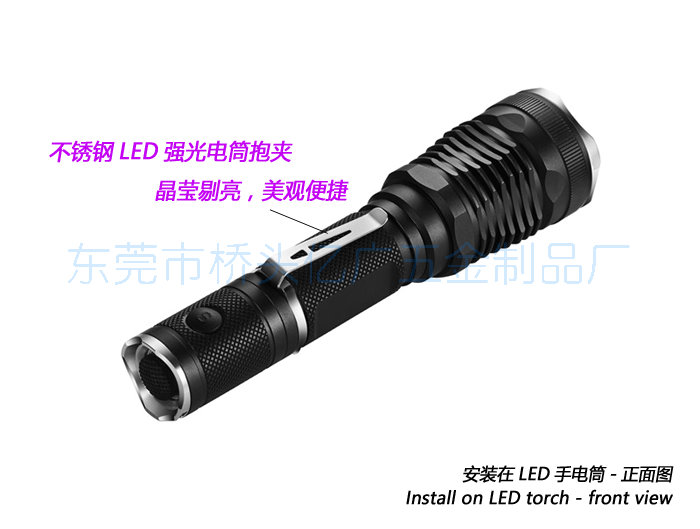 Production process:
Stamping, stretching, bending, high impact, shear plate, sheet metal bending, welding, welding, winding, drilling, tapping, machining and so on.
Surface treatment:
Silk screen printing laser engraving laser engraving etching corrosion paint paint spray electrophoresis injection drawing polishing electric Oxidation Gold / silver / bronze / bronze / red retro copper hydraulic oil filled with oil paint Dijiao high light vibration grinding grain CD batch flower sun circle drawing mirror light horizontal drawing sand blasting matte.
Manufacturing materials:
Aluminum Alloy, stainless steel, copper, iron, stainless steel, zinc alloy, white zinc plating / color zinc plate, brass, copper, copper, copper, steel, carbon steel, low carbon steel, high carbon steel, spring steel, spring steel, manganese steel, A3 steel, 45# steel and other metal, hardware.
Hot goods:
Flashlight stainless steel clamp, metal hollow flashlight clip sharing LED torch clamp, stainless steel stamping hole clamp, fine stainless steel small duplex stainless steel pen holder, pen holder, flashlight elastic clip
Reminder:
this website shows the products are factory design according to customer requirements, online picture and the standard price for reference only, all products can be customized for the specifications, size, material of products, ranging in price, if you need customized products, please provide design drawings or samples to text and detailed instructions, we will help you in the shortest time. Inquiry, welcome, want to call or negotiable consultation.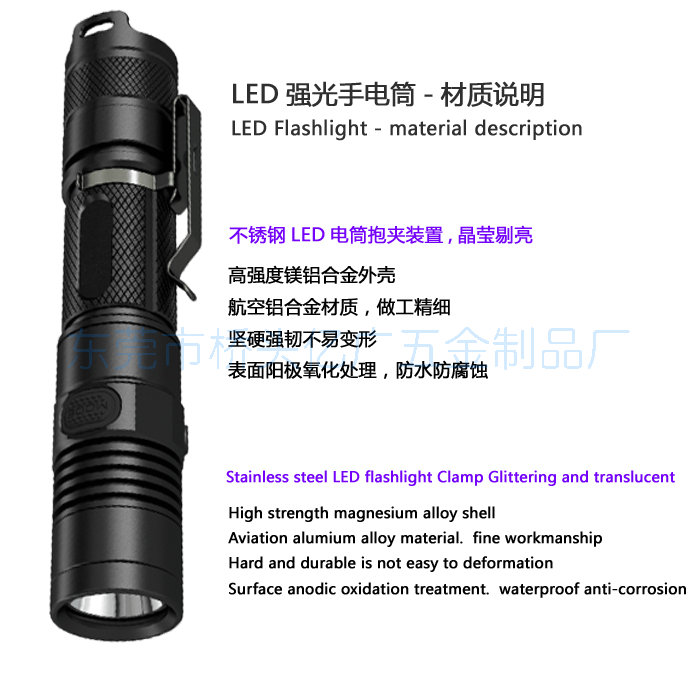 LED flashlight holder|Flashlight holder|Flashlight holding clip factory|Flashlight holder wholesale|Flashlight holder manufacturers|Tactical flashlight holder|Riding torch holding clip|According to jade flashlight holding clip|Follow the jade torch to hold the clip|UV flashlight holding clip|Outdoor search flashlight holding clip|Magnet absorbing hand holding clip|Focusing flashlight holding clip|Holding clip for police flashlight|Metal stamping|Hardware stamping products|Metal stamping|Hardware stamping factory|Dongguan metal stamping|Huizhou metal stamping|Shenzhen metal stamping