| | |
| --- | --- |
| Export Markets: | North America, South America, Eastern Europe, Southeast Asia, Africa, Oceania, Mid East, Eastern Asia, Western Europe |
| Place of Origin: | Guangdong in China |
| Packaging Details: | Strong Wooden Case |
Quick Details
Temperature range: +0C~+85C
Accuracy: +0.1,-0.1
Theory: Temperature Recorder
Usage: Industrial
Brand Name: OTS JUNYUAN
Model Number: JY-OTS-120A9
Display: Digital
Specifications
High Tech Universal Nozzle Composite Salt Spray Test Chamber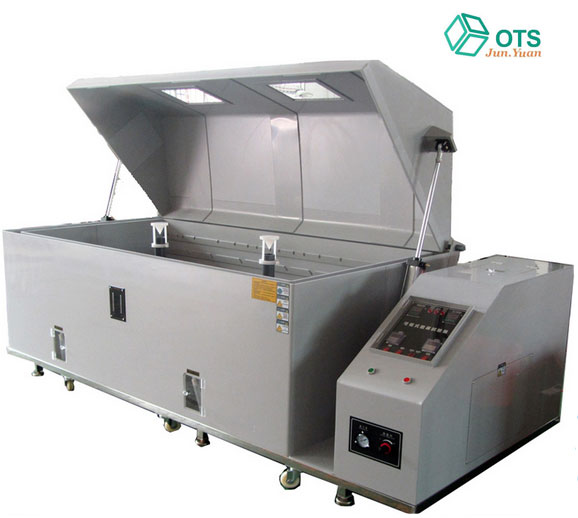 Applicable Industries:
Composite Sal spray chamber is applicable for various kinds material's surface Treatment with temperature humidity and salt water spray, such as after Coating, electroplate, inorganic and organic membrane dermal, negative Pole with antirust oil treatment etc anti-corrosive treatment to test the corrosion-resistance of the product.
Can Also be used to external lighting and signal device and vehicle lamps Shell protection. Walk in type salt spray test chamber is available for Us.
Specifications:
A. Test chamber outside the box are made of CPVC polyethylene plates, thickness 10mm.
B. Laboratory closures with PVC polyethylene board, thickness 5mm/8mm
C. Supplementary reagent bottle with PVC polyethylene board, hidden water table attached
D. Humidification fill the tank with PVC polyethylene board, hidden water table attached
E. Pressure air tank with SUS304 # stainless steel high pressure barrel insulation best
F. Tune greenhouse: SUS304 # stainless steel box with inner and outer box with PVC polyethylene board
G. Insulation material: polyurethane rigid foam plastic
H. Automatic lift by cylinder closures
I. Adopts SUS304 # stainless steel bottom chassis and removable casters and positioning foot cups
J. Transparent viewing window, combined with defogging device, easy to be clearly observed during the test to the test
K. Specially designed sealed damper can be switched automatically or temperature and humidity, salt spray test
Model
JY-OTS-90
JY-OTS-120
JY-OTS-160
JY-OTS-200
Interior Test Chamber
Dimension(cm)(L×W×H)
90×50×60
120×80×50
160×100×50
200×100×50
Exterior Test Chamber Dimension
(cm)(L×W×H)
141*145*140
190*165*140
200*190*140
240*220*150
Capacity of the chamber(L)
270L
480L
800L
1440L
Capacity of the salt water tank
(L)
25L
40L
Power
AC 220V 50HZ
AC 380V 50HZ
Temperature&humidity
of the operating environment
+5°C~ +35°C / <85%RH
Air pressure
86~ 106Kpa
Lab. Temperature
NSS ACSS 35°C±1°C
CASS 50°C±1°C
Pressure barrel temperature
NSS ACSS 47°C±1°C
CASS 63°C±1°C
Temperature&humidity
Control Accuracy
Test room temperature range: +0oC~+85oC
Relative humidity: 20%~98%RH(±3%)
Saturated barrel temperature: 47oC~70oC
Temperature/humidity uniformity: ≤±2oC ≤±3%
temperature resolution: 0.01 oC
Humidity Resolution: 0.1% RH
Temperature fluctuation: ± 0.5 oC
Humidity fluctuation: ± 2% RH
PH value
NSS&ACSS:6.5~7.2 / CASS:3.0~3.2
Compressed air pressure
1.00±0.01kgf/cm2
Salt fog settlement
1.0~2.0ml/80cm2/h (the average value after collecting 16 hours at least)
Material
Imported corrosion resisting,aging resistance, high strength P.V.C board
Temperature controller
LCD digital display multicolor touch screen temperature controller
Spraying mode
Continuous / batch type spraying (optional)
Demist device
yes
Safety device
over temperature protection,earth leakage protection,state caution light etc
Power Supply
AC220V1 φ15A AC220V1 φ20A AC220V1 φ30A
Design standards
ASTM B-117, ASTM B-268, B-268 IEC68-2-11 ISO 9227, 3768, 3769,3770
JIS D-0201,H-8502,H-8610,K-5400,Z-2371 CNS 3627, 3885,4159,7669,8866;
Features:
*Automatic / manual water system has automatically add the water level of the Water level is low, the test is not interrupted. Water level is Insufficient warning to ensure that the use of safety.

*Precision Glass nozzle (PYREX) made of special glass, mist spread evenly and Naturally fall on the specimen, and 4000 hours of continuous use, and to Ensure that no crystalline salt obstruction.

*Attached Double over-temperature protection, over-temperature warning display, and cut off the heater power to ensure that the use of safety.

*Inlet temperature controller using a digital display, PID control, error of ± 0.1 ° C.
*Laboratory Using direct steam heating, heating up fast, and even reduce the Standby time, heating tubes with high corrosion-resistant titanium Tubing.
*Spray Tower attached to the conical dispersion, with oriented fog, the Function of regulating the amount of fog and uniform loading amount of Fog.
*the Saturated air barrel using Henry's law, be heated humidification, and Provide the required humidity of the laboratory. Its made of SUS # 304 Stainless steel insulation effect, with visual connectivity and drainage Switch, in order to visually saturated air the barrel water level and Cleaning.
*with automatic defogging device that can clearly watch the specimen in test chamber.
*Fog sealing sink, water seal to prevent fogging leakage.
*Laboratory Sealing cover material for Taiwan imported PVC board, pneumatic Cylinder automatic lifting way, easy to operate safe and reliable.

*the Import timer using digital display, accurate timekeeping, H. M. Seconds S can be segmented set any required test time, adjust the time range from 0.01 seconds to 9999 hours. * Reagent supplement bottles hidden Attached water level viewing window, easy to clean and should not be Broken.

*Laboratory Basket rack using plane indexing rack, can arbitrarily adjust the Angle, four off the fog, and the fog direction completely consistent.


Corresponding Standard:
ASTM B-117, ASTM B-268, B-268 ASTM D1735 ASTM B117
ISO 9227, 3768, 3769,3770 IEC68-2-11 IEC 68-2-30
IEC60068-2-1.1990 IEC60068-2-2.1974 EIA - 364-31C
IEC68-2-03 EIA - 364-59 K-5400,Z-2371
JIS D-0201 H-8502,H-8610 CNS 3627, 3885,4159,7669,8866
Product View of Temperature Humidity Compound Salt Spray chamber: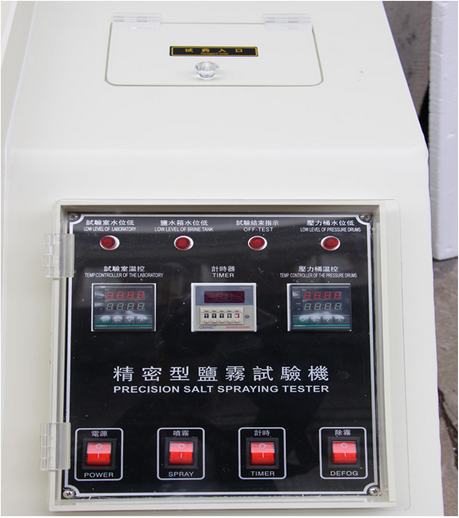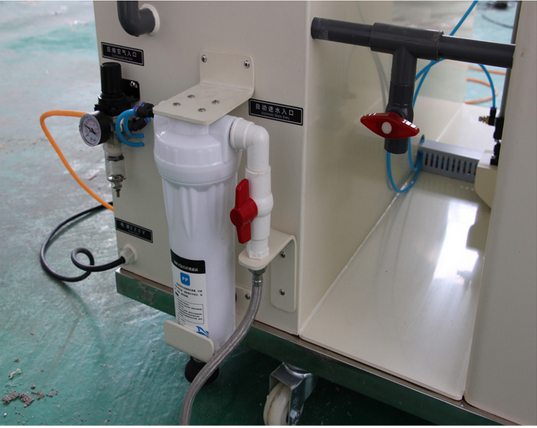 Packing&Shipping:
1.Strong standard wood case, inner plastic films wrapped for Temperature Humidity Compound Salt Spray chamber
2. Usually we delivery the equipment by air,by sea or by express. It depends on customer
Delivery time: 20 days after getting the payment
Our Services:
We are here to help you. Services available:
Replacement manuals
Consumables and replacement parts
on-site maintenance and repair
Warranty support
over-the-phone service support and advice
If you have an OTS chamber , we will do our best to help you in whatever way we can.
Manuals: PDF Files of manuals for current models are available free. Please contact Us to request a copy. Older and printed copies at additional charge.
Service repair: We Prefer you contact us direct at the factory with any problems you may Be experiencing. We help diagnose the problem, arrange for any needed Parts, and schedule a technician to do the repairs. Rarely can a local Contractor get all that done for you as quickly as we can. We also Guarantee the work.
FAQ:
Q1: Can you customize the product?
A: Yes, We can customize any products according to requirements.Hot selling lab Electronic temperature humidity cabinet/Environmental climate test Chamber also can be customized.
Q2: how to choose the most suitable products?
A: Our Professional team will give you the best suggestion,just be patiently to tell us the information about the parameters your required.
Q3: Can you arrange installations and commissioning in our lab?
A: Firstly, for standard chamber we had 3-5 days commissioning before shipping , you just need link power in your lab, then can start to operate
Secondly; we had detailed operation manual with chamber, any problems you can find and solve in it
Thirdly, some of customized chambers we should to install and teach your team to operate.