| | |
| --- | --- |
| Place of Origin: | Zhejiang in China |
| Packaging Details: | standard carton boxes or plywood pallet |
Quick Details
Work Time (h): 12
Solar Power (W): 150W
Application: Commercial
Specification: Mini
Brand Name: RIWATT
Specifications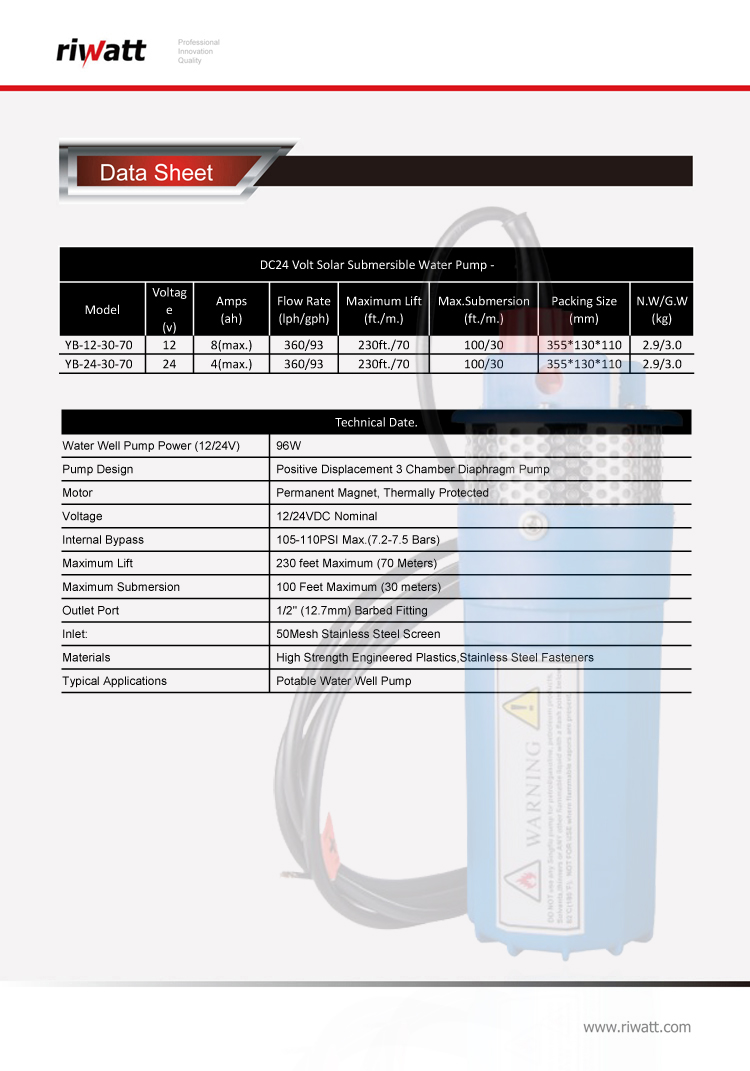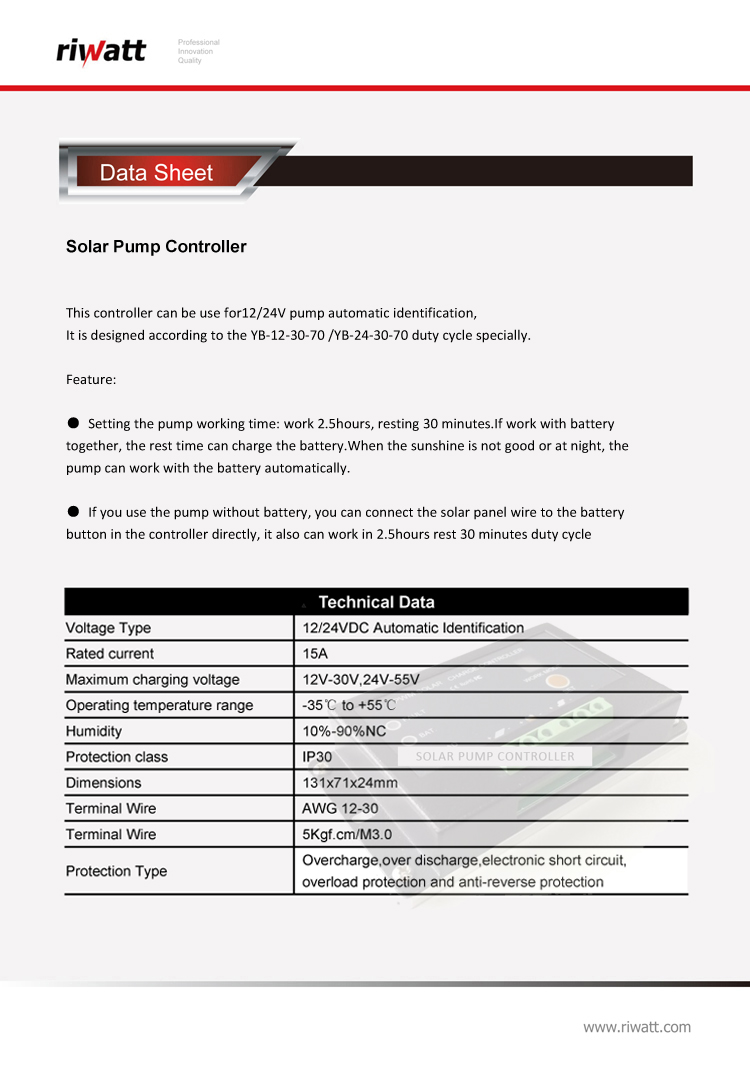 KEY STRENGTH of SOLAR SUBMERSIBLE WATER PUMP
High efficiency, small size, light weight, more functions
MPPT function
Automatically working function
Work with both solar power and electricity, can connect with solar panels and AC electricity at same time, will use solar power in advance which is more higher efficient than MTTP function.
DO NOT NEED FLOAT SWITCH
If there is no water in well for 1 minute, solar pump will stop working automatically. after 30 minutes, pump will start automatically power on to test whether there is water or not.When power on the solar pump system, controller will detect the system of energy source to see it is solar panels or batteries, then start working. If there is solar power then use solar power, if no solar power will use batteries automatically.
FEATURES
High Energy Efficiency, motor efficiency is higher about 10-20% than common motors.
Small size, light weight
Multifunctions and Auto-protecting
AC/DC/SOLAR Energy multi power supplies
Constant speed synchronous operation, flow and head keep same
MATERIAL of PARTS
Solar water submersible pump body: stainless steel
Solar water submersible pump motor:stainless steel
Solar water submersible pump Impeller:stainless steel
" SOLAR POWERED PUMP"
SOLAR PUMP RUNS through the POWER of the SUN.
No battery, No utility power, No diesel Engine
Perfect for Irrigation, Drinking Water, Livestock Watering, Fishponds, Swimming Pools, industrial use, etc.
PM for inquiries and FREE estimate with the following data:
(1) Source of water (Deep Well, River, etc.): ______
(2) Depth water source from ground surface: ______ meters
(3) Approx. Required volume of water daily: ______ Liters (or Drums)
(4) Height of Water Storage Tank, if available: ______ meters
(5) Linear distance to water destination: ______ meters
(6) Vertical distance to water destination: ______ meters
(7) Project location ( Municipality / Province): ______