| | |
| --- | --- |
| Export Markets: | North America, South America, Eastern Europe, Southeast Asia, Oceania, Eastern Asia, Western Europe |
| Place of Origin: | Henan in China |
| Packaging Details: | Packaged by Carton Box |
Quick Details
Type: Electric Water Heater Parts
Brand Name: JIEDA
Type: electric water heater, shower instant heating tube
Certification: RoHS, CQC
Tuber material: stainless steel
Material: stainless steel
Model Number: 30110 3KW
Storage / Tankless: Instant / Tankless
Power (W): 3000
Voltage (V): 220
Technology: Thick Film Electric Heating Water Tube
Service: Engineers available to service machinery overseas
Service Life: >10,000 hours
Diameter & Length: 30mm*110mm
Specifications
2017 3kw ThickFilm Heating Tube Instant Water Flow Faucet Shower Electric Water Heater
to Replace Immersion Water Heating Element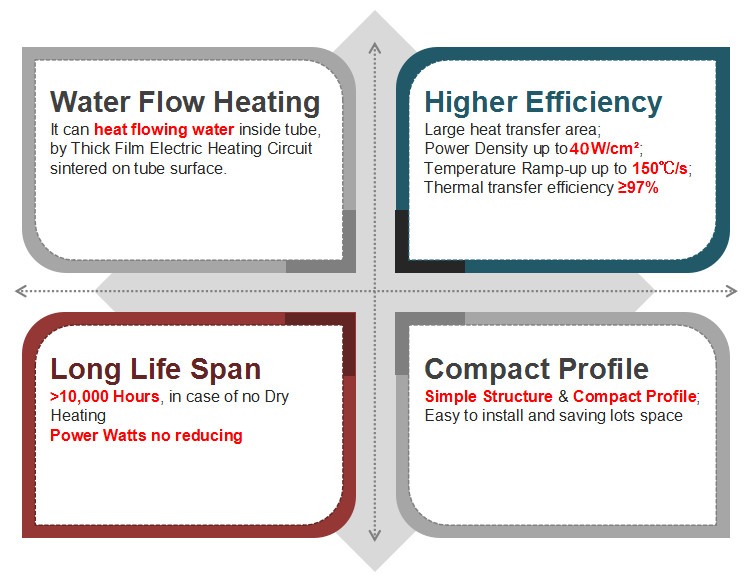 Descriptiom
as a new type water flow heater element for Electric Water Faucet, ThickFilm Instant Water Heating Element is in tubular structure. It can heat water flow inside tube, by the heating circuit sintered between 5 isolation layers on tube surface.
Compared with Quartz or Immersion Water Heater Elements, Thick Film Water Heating Tube is advanced in larger heating area (Tubular Structure), higher power density(60W/cm), faster temperature response (up to 150/S), longer LifeSpan (>10,000 hours) and better thermal transfer(96%).
It connects with wire leads by spot-weld to silver conductor on the surface.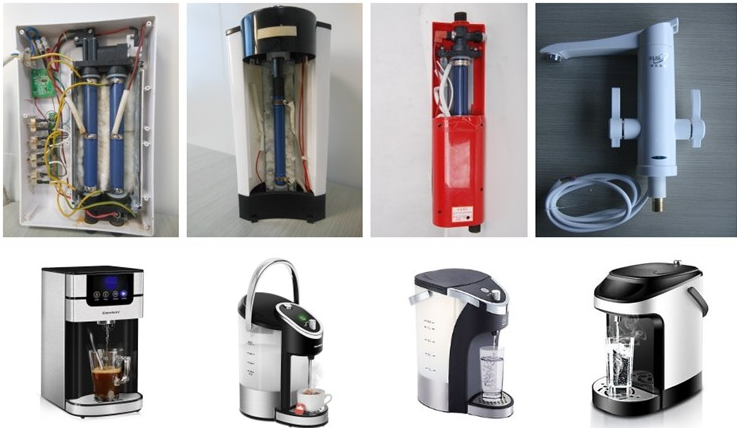 for applications where space is limited, this simple profile heating element offers high thermal power density and fast response times to heat up or cool down (due to low thermal mass).
Thick Film Heating Elements are used in electric heating water faucet, electric water dispenser, water purifier, water geyser, instant coffee maker, instant shower heater and other water heaters home appliances.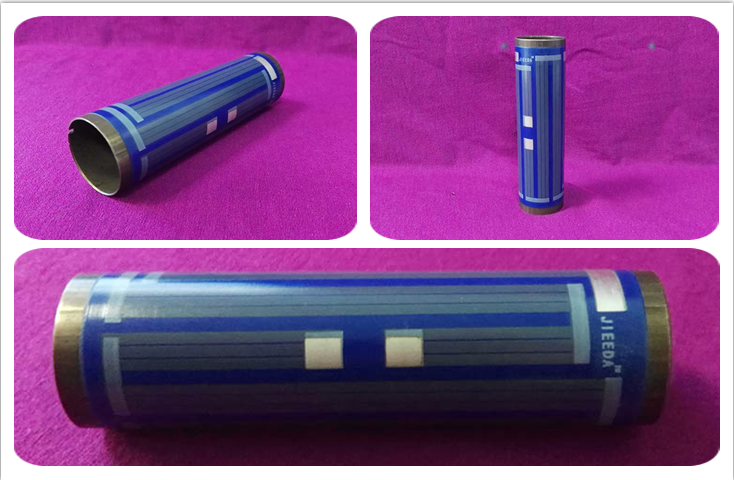 It's advanced in Power density(60W/cm), Thermal transfer (96%) and Temperature ramp-up rate(80/S).
You can get boiling water in 3 seconds, in the rate 480ml per minutes (2,200w).
Customer design service is available.
Specification
Dimension
30mm*110mm(length)
Heat Density
>60W/cm
Ramp-up Rate
150/s
Thermal Efficiency
>96%
Heating Power
2,200W
Service Life
>10,000 hours
Rated Voltage
220v
Certificate
CQC, RoHS
Dielectric Strength
1,500V/5mA/60s
Power Deviation
-10% - +5%
Leakage Current
0.25mA
Insulation Resistance
200M
Type

Thick Film Water Flow

Instant Water Heating Tube

Application
to replace iron immersion electric water heating element
Shield Thermistor
PTC
Grounding Type
Spot-Weld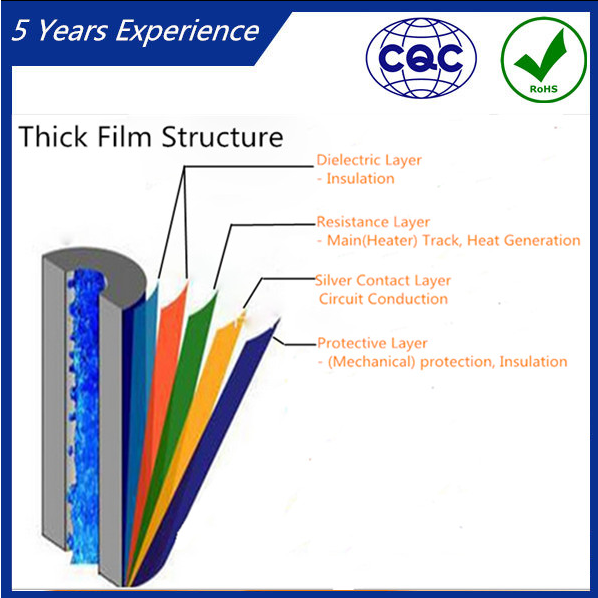 Certification/Patent
Some clients have successfully applied UL/CE certificates for their finished products.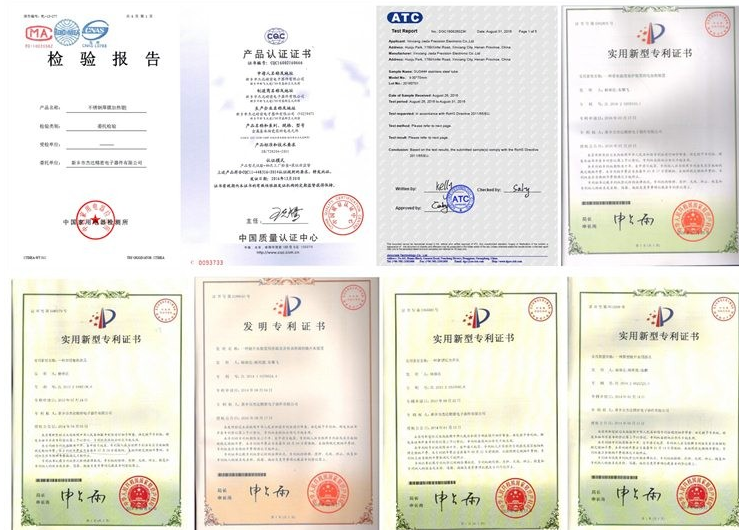 Related Products
Available Thick Film Heating Tube Element diameter are 18mm, 20mm, 30mm, 35mm, 40mm and 50mm
Power watts are 2.2kw, 3kw, 3.5kw, 3.8kw, 4kw, 5.5kw and 6kw
Mainly applied in Water Flow Instant Heating. Due to its long life time and higher thermal transfer, it's ideal to Replace traditional immersion water heating elements.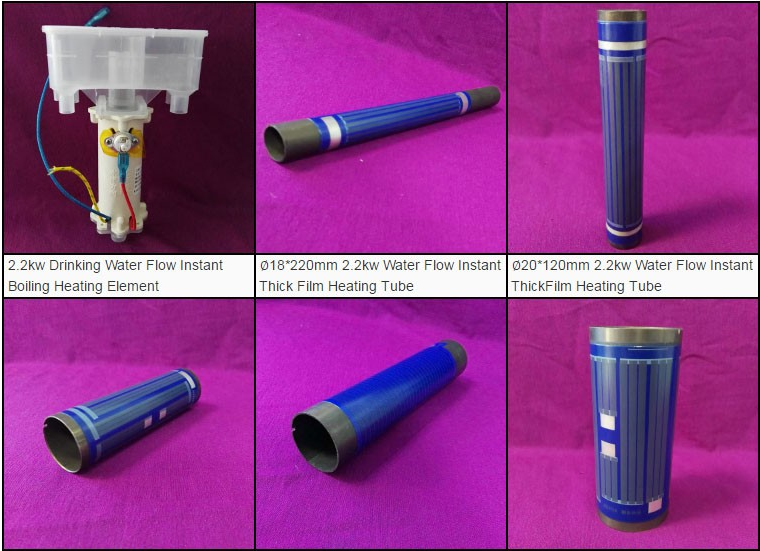 Applications
the most compact instant type heating element is the ideal heating element for novel and fashionable home appliances such as Water Dispenser, Electric Water Faucet, Water Purifier, Coffee Maker, Milk Machine, etc.
Some of our Thick Film Electric Heating Tubes are individual customer solutions which are designed to match our customers' individual and specific requirements. during the development and application stages we work closely together with our customers in a partnership based on trust and mutual confidence.
about Us
Jieda locates in Xinxiang's Hi-Tech Development Park, which is 650km away from Qingdao. Jieda was founded in 2010, is a high-tech manufacturer that specializes in design, research, produce and sales rare-earth metal thick film electric heating tubes/elements.
What is Jieda advanced in?
1. More than 5 years experiences in thick film electric heating tubes.
2. Fully mastery of thick film tube surface screen printing and sintering.
3. Main Process Flow in 10000+ Grade Air Purification Workshop.
4. First manufacturer to mass produce Thick Film Electric Heating Tube/Element in China
5. Available various Solutions for fluid heating, especially for Instant Water Heating Home Appliances, House Floor Heating and Industrial water flow heating.
6. Monthly production capacity is up to 300,000 pcs.
What is Thick Film Heating Tube/Element advanced in?
1. the tubular structure makes it possible to instant heat water flow inside tube, by the Electric Heating Circuit printed and sintered on the tube surface.
2. It can work more than 10,000 hours, in case of no DRY HEATING.
3. the thermal transfer rate up to 96%.
4. Power Density is up to 60w/cm
5. Temperature Ramp-up Rate 150/S.
6. Boiling water(95) is available in 3 seconds around.
7. Simple & compact profile brings more possibility in new products research and design.
those thick film heating tubes/elements are widely applied in Instant Water Boiling, Instant Water Heater, Water Dispensers, Coffee Makers, Instant Electric Heating Faucets, Steam Generator, Air-Flow Heater, Floor Heating, Industrial Water Flow Heating, etc.
It can successfully replace the Traditional Electric Heating Tubes/Elements, change their structures and performance completely, which can reduce energy consumption, increase energy utilization and save space.
OEM & ODM Service
Heating Power, Voltage, Stainless Steel Tube Dimension, Raw Materials and other special requirements can be customized.
Packaging & Delivery
------ Packed in Carton Box, placed on Wooden Pallet.
------ by Sea, FOB Tianjin Port, 40HQ, 40 GP, 20 GP, LCL, or Mix with Others Factory, no Space Waste, Save Freight Cost!
------ by Air, FedEx, DHL, TNT, UPS...
------ Support Global Dilivery!
FAQ
FAQ
Q: What's Thick Film Heating Element?
A: -Thick Film Heater is a new technical art which is use screen printing technology and new thick film material.
It is printed with isolation dielectric, heating element and glass prevent on a substrate that is made by stainless steel,
amd through drying firing process with 800C. Thick Film Heater has become a new type of heater.
Q: What's the advantages of Jieda Thick Film Heating Element?
A: We fully master screen printing and sintering technology on curved surface stainless steel tubes, which makes it possible
to heat continuous water flow without water tank.
60W/CM POWER DENSITY
>80/S TEMPERATURE RANP up
Q: What's the lifespan of Thick Film Heating Tube / Thick Film Heating Element?
A: It can work more than 10,000 hours, in case of no DRY HEATING.
Q: What's the inlet and outlet diameter?
A: Thick Film Heating Tube : 18, 20, 30, 35, 40, 50mm
Thick Film Heating Element: Available with 10mm, 16mm and G1/2 OD20.9mm
Q: Can I DIY it for personal use by myself?
A: Our Products are mainly used as heating spare parts for water heaters in mass production,
not recommended for Personal DIY.
Q: Can the Thick Film be applied to Copper Pipe or Aluminum Pipe?
A: It can not be applied on Copper pipe, but can work on Aluminum pipe.
Q: how to get the suitable model for our application?
A: We need to know the water temperature in inlet and outlet port, water flow rate, connection port details
and other special requirements, to recommend the suitable Thick Film Heating Elements
Q: What's the operation attentions?
A: 1. the temperature ramp-up above 80C/s, please make sure the tube fulfilled with water before use.
2. Please install it vertically, make sure water flow direction from bottom to top, to prevent DRY HEATING in partial area of heating tube.
3. Set the minimum flow rate according to tubes' power watts, ensure smooth flowing of water, to prevent vaporizing and dry heating
4. Make sure reliablility grounding.