Quick Details
Brand Name: anbar
Type: Stabilizers,Thickeners
EINECS No.: GB28304-2012
Other Names: thickener
CAS No.: 54724-00-4
Specifications
Curdlan gum is a new biological polymer, produced by microbial fermentation of polysaccharide.Has the unique characteristic of polymer forming a gel under heating conditions, it is also called thermal gel. It often appears as pureglucan in EU & American countries.
Each curdlan molecular consists of 300-500 glucose residues with an average polymerization degree 450,molecular formula (C6H10O5),n>250.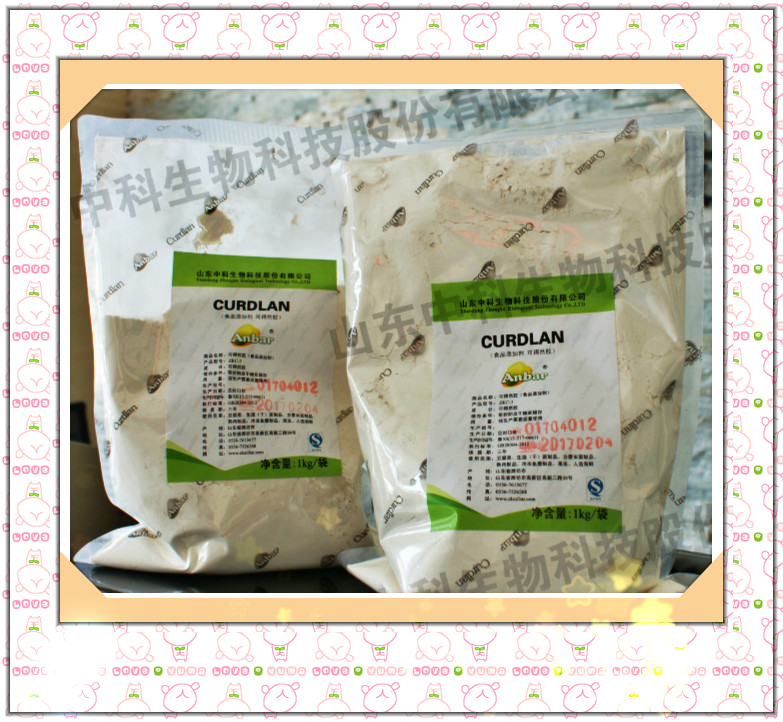 According to the regulations of national standard (GB2706-2011),curdlan can be used as stabilizer, thickener and texture improver in the minced fillet, meat products, vegetarian food, and bakery, jelly etc.. Curdlan can improve the stability in the process of storage and transportation, meanwhile, it can remain the excellent taste for various food, therefore, curdlan enjoys a widespread application prospect in the field of food industry.

Characteristic of Curdlan
1,Solubility
Curdlan gum does not dissolve in water, however, but can dissolve in alkaline solution (PH>12),including sodium hydroxide, trisodium phosphate, calcium phosphate etc., furthermore, it can also easily disperse in cold water and form a more homogeneous dispersion systerm after a high-speed stirring treatment.

2, Fomation
Heated to 80C or above, it will form the high gel with thermal irreversibility.The gel strength of curdlan gum increases with the growth of heating temperature. Continuing heating to 130C, the gel strength keeps rising and increases with the growth of concentration. The gel strength of low gel is weaker than the one with thermal irreversibility.Once crushed, the high gel can not be restored to its original state. Generally, curdlan gum is used in the form of high gel in the food processing industry.

3, Features of Curdlan Gel
1. Thermal Stability: The curdlan gel has strong thermal stability. It keeps this property in food processing and kitchen cooking, for example, in boiled, fried, microwave and other heating conditions.

2. Freeze-Resistance: the gel structure of curdlan gum does not change in frozen and thawed processing, so it also can be used in frozen foods.

3. Hydro-Dissection: When directly used in food processing, the curdlan gel will occur the water separation. and Hydro-dissection increases with the climb of temperature, decreases with the density of curdan increase. Moreover, the phenomenon can be inhibited by adding starches (corn starch, chemical starch)

Usage of Curdlan Gum
Because of forming the gel under heating conditions and unique characteristic of thermal irreversibility, curdlan gum has been widely applied to the food industry.
Used as a food quality improver
1, Meat products: such as sausage, ham, meatballs, etc. Effect: improve water retention, solidity, reduce the damage under the hot and cold conditions, improve food sense and make emulsions of meat products more stable.
2, Aquatic processing products. Effect: make foods elastic, improve food sense, prevent being boiled and improve the yield.
3, Cooked foods, snacks: such as hamburgers, fried chicken, dumplings etc. Effect: improve water retention, food quality, food sense and improve all kinds of foods, in addition to soy protein taste etc.
4, Noodle foods: such as noodles, instant noodles and other pastas. Effect: increase the elasticity, chewing sense, prevent boiled and muddy soup etc.
5, Sauce Effect: increase the viscosity, prevent the precipitation and improve the quality.
6, Canned processing foods Effect: prevent leakage, seepage, and improve the quality.
7, Other aspects Effects: improve water retention during frozen cake, inhibit the oil absorption of fried foods and attain low-fat effect instead of fat.
Direct usage of curdlan gel
1, Artificial meat, aquatic products Effect: reproduce the taste of all kinds of food materials, enhance the heat resistance, freezing resistance and substitute protein and soy protein, etc.
2, Tofu processing, Effect:enhance the heat resistance, freezing resistance, and improve the food sense and shape.
3, Fat replacement gel, Effect: Lower the fat of cooked foods and other meat processing products.
4, other aspects: such as frozen gel food, food masks, etc. Effect: have the heat resistance and freezing resistance, improve the shape and create the fresh food sense mixed with starch.
Other industrial usages
Curdlan gum can be applied to bio-pharmaceutical, cosmetic, building materials and other industries.