| | |
| --- | --- |
| Export Markets: | North America, South America, Eastern Europe, Southeast Asia, Africa, Oceania, Mid East, Eastern Asia, Western Europe |
| Place of Origin: | Hunan in China |
| Packaging Details: | Carton |
Quick Details
Particle: -
Alloy Specification: -
Brand Name: RYDMET
Application: -
Material: -
Specifications
, 30
the Tungsten Carbide Rods, Blanks are made by Extrusion from the highest purity of Materials and Sinter Hiped.
Be of very high quality and tool peroformances, the grade for Cutting tools are usually in Sub-micron Grain and Ultra-fine Grain. as demand,the other grade can be custom-made
the are ideal materials for the Solid rotoary Cutting Tools.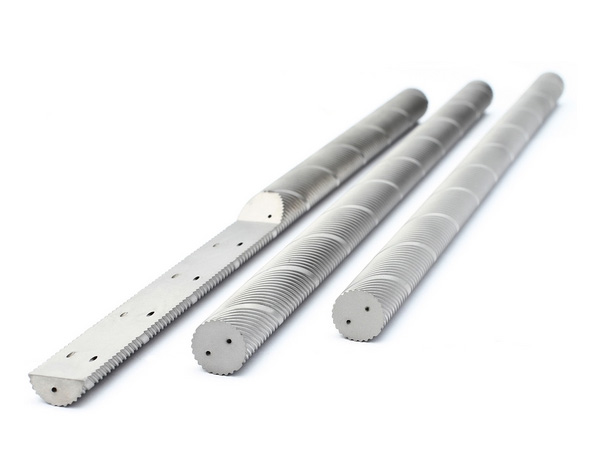 the Grade of the Tungsten Carbide Rods

Properties of Grade

RD10F

RD10UF

RD12UF

RD06UF

Co

%

10

10

12

6

WC incl. Doping

%

90

90

88

94

Density

g/cm3

14.45

14.45

14.1

14.9

Vickers Hardness HV30

Kg/mm2

1580

1790

1690

1890

Rockwell Hardness HRA

ISO3738

91.8

93

>92.5

93.5

TRS

N/mm2

3800

4000

4000

3900

Porosity

A

< 02

< 02

< 02

< 02

B

0

0

0

0

C

0

0

0

0

WC Grain Size

m

0.8

0.5

0.4-0.5

0.5
with 2 Coolant Ducts, 30 Helix
| | | | | | | |
| --- | --- | --- | --- | --- | --- | --- |
| Diameter (D_) | Diameter (D) | Hole Spacing | Hole Size | Deviation | Thread | Length |
| Sintered | H6 gournd | TK | d | a | Pitch | L (+3/0) |
| mm | mm | mm | mm | mm | mm | mm |
| 5.3 +0.30 | 5 | 2.60 -0.40 | 0.70 0.10 | 0.10 | 27.21 -0.54 / +0.56 | 330 |
| 6.3 +0.30 | 6 | 2.60 -0.40 | 0.70 0.10 | 0.10 | 32.65 -0.65 / +0.67 | 330 |
| 7.3 +0.30 | 7 | 3.70 -0.40 | 1.00 0.15 | 0.15 | 38.09 -0.76 / +0.78 | 330 |
| 8.3 +0.30 | 8 | 4.00 -0.40 | 1.00 0.15 | 0.15 | 43.53 -0.86 / +0.89 | 330 |
| 9.3 +0.30 | 9 | 4.80 -0.60 | 1.40 0.15 | 0.15 | 48.97 -0.97 / +1.00 | 330 |
| 10.3 +0.30 | 10 | 4.80 -0.60 | 1.40 0.20 | 0.20 | 54.41 -1.08 / +1.11 | 330 |
| 11.3 +0.40 | 11 | 5.30 -0.80 | 1.40 0.20 | 0.20 | 59.86 -1.19 / +1.22 | 330 |
| 12.3 +0.40 | 12 | 6.25 -0.80 | 1.40 0.20 | 0.20 | 65.30 -1.30 / +1.34 | 330 |
| 13.3 +0.40 | 13 | 6.50 -0.80 | 1.75 0.20 | 0.20 | 70.74 -1.40 / +1.45 | 330 |
| 14.3 +0.40 | 14 | 7.10 -0.80 | 1.75 0.20 | 0.20 | 76.18 -1.51 / +1.56 | 330 |
| 15.3 +0.40 | 15 | 7.70 -0.80 | 1.75 0.20 | 0.20 | 81.62 -1.62 / +1.67 | 330 |
| 16.3 +0.40 | 16 | 8.30 -0.80 | 1.75 0.20 | 0.20 | 87.06 -1.73 / +1.78 | 330 |
| 17.3 +0.50 | 17 | 8.90 -0.80 | 1.75 0.20 | 0.20 | 92.50 -1.84 / +1.89 | 330 |
| 18.3 +0.50 | 18 | 9.55 -0.80 | 2.00 0.25 | 0.25 | 97.95 -1.94 / +2.00 | 330 |
| 19.3 +0.50 | 19 | 10.10 -0.80 | 2.00 0.25 | 0.25 | 103.39 -2.05 / +2.12 | 330 |
| 20.3 +0.50 | 20 | 10.40 -1.00 | 2.00 0.25 | 0.25 | 108.83 -2.16 / +2.23 | 330 |
| 21.3 +0.50 | 21 | 11.15 -1.00 | 2.00 0.25 | 0.25 | 114.27 -2.27 / +2.34 | 330 |
| 22.3 +0.50 | 22 | 11.60 -1.00 | 2.00 0.25 | 0.25 | 119.71 -2.38 / +2.45 | 330 |
| 23.3 +0.50 | 23 | 12.20 -1.00 | 2.00 0.25 | 0.25 | 125.15 -2.48 / +2.56 | 330 |
| 24.3 +0.50 | 24 | 12.80 -1.00 | 2.00 0.25 | 0.25 | 130.59 -2.59 / +2.67 | 330 |
| 25.3 +0.50 | 25 | 13.30 -1.00 | 2.00 0.25 | 0.25 | 136.03 -2.70 / +2.78 | 330 |
| 26.3 +0.50 | 26 | 13.80 -1.00 | 2.00 0.25 | 0.25 | 141.48 -2.81 / +2.90 | 330 |
| 28.3 +0.50 | 28 | 14.80 -1.20 | 2.50 0.30 | 0.30 | 152.36 -3.02 / +3.12 | 330 |
| 30.3 +0.50 | 30 | 16.00 -1.20 | 2.50 0.30 | 0.30 | 163.24 -3.24 / +3.34 | 330 |
| 35.3 +0.50 | 35 | 18.00 -1.20 | 3.00 0.30 | 0.30 | 190.45 -3.78 / +3.90 | 330 |