| | |
| --- | --- |
| Export Markets: | North America, South America, Eastern Europe, Southeast Asia, Africa, Oceania, Mid East, Eastern Asia, Western Europe |
| Place of Origin: | Henan in China |
Quick Details
Size: 150
Bonding Agent: Resin
Abrasive: Diamond
Shape: Cup-Shaped
Brand Name: xinzuan
Specifications
Before we know about diamond grinding wheel for carbide, we must first understand the performance of cemented carbide, then we can choose the correct diamond grinding wheel that in line with the characteristics of cemented carbide.
Carbide Characteristics:
When choosing the diamond grinding wheel for carbide ( resin bond diamond grinding wheel), we first know about carbide. the hardness of carbide has reached 89 ~ 93HRA, and it still has good hardness at 1000, and its durability is more times of high speed steel cutting tools. It can be seen that it is stronger in hardness, strength, wear resistance. Therefore, when choosing resin bond diamond grinding wheel, we should pay attention to the characteristics of the carbide. Cemented carbide itself are made from refractory metal carbides (WC, TiC, TaC, NbC, VC )and iron family metal as bond agent by powder metallurgy method. If it compared to high speed steel material, it has higher hardness and higher wear resistance. Compared to super hard material, it has high toughness. It can be seen that we can consider the choice of diamond grinding wheel characteristics, it refers to the abrasive itself hardness, according to the performance of carbide. The abrasive performance is upon the hardness of carbide.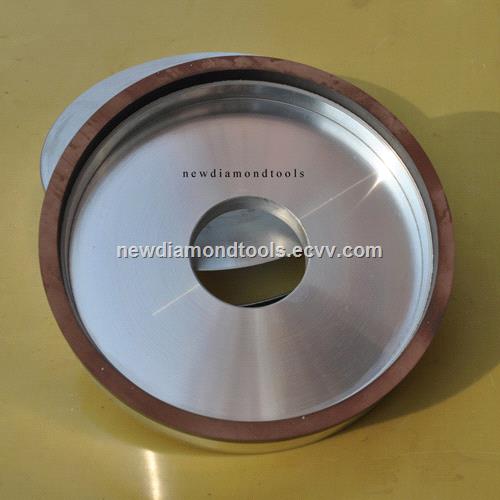 Resin Bond Diamond Grinding Wheel Features:
as the carbide material is hard and with a certain toughness of the metal material. Generally, abrasive grinding wheel for carbide is difficult to achieve satisfactory results.the main reason is that the common abrasive hardness itself and carbide alloy is not far behind, so the grinding wheel made from common abrasive process the carbide is more slow. If resin bond diamond grinding wheel is used for grinding carbide, the performance will be more prominent. Because the resin bond diamond grinding wheel has high hardness, high strength, high grinding ability. Meanwhile, resin bond diamond grinding wheel has the following features,such as high grinding efficiency, grinding wheel consumption is relatively slow, good self-sharpening, small grinding heat, not easy to jam, reduce the grinding work burns,good elasticity, improving the surface roughness of the workpiece.