| | |
| --- | --- |
| Export Markets: | North America, South America, Eastern Europe, Southeast Asia, Africa, Oceania, Mid East, Eastern Asia, Western Europe |
| Place of Origin: | Shandong in China |
Quick Details
After-sales Service Provided: No overseas service provided
Weight: 1~50 Tons
Brand Name: Jiankai
color: As Customer Required
height: Customized available
Dimension(L*W*H): Customized available
Condition: New
Specifications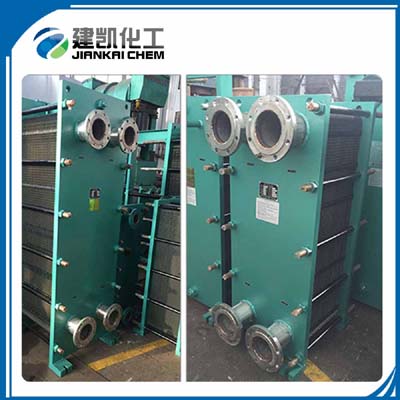 1.Technical Data
Heat exchanging area of one plate: 0.4095 m2
Space between plates: 4.0 mm
Crosssectional area of one flow passage: 0.001353 m2
Maximum disposal volume: 200 m/h
Whole length of flange: 125 DN mm
Working temperature: 150
Working pressure: 0.6,1.0,1.25 Mpa
Diameter of angle holes: 125 mm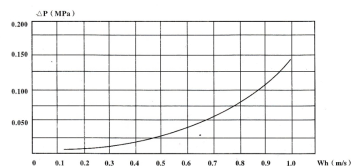 Line graph of heat coefficient-speed(water-water)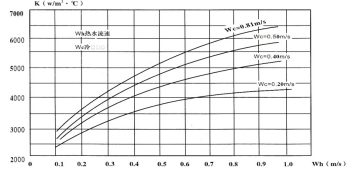 Graph of pressure decrease -speed
2. MBR0.4Parameter

OUtside size of plate(mm)

12204600.6

NOrmal ripple pitch(mm)

13

Effective heat exchanging area(m2)

0.4095

WIdth of flow passage(mm)

410

WEight of one plate(kg)

2.5

AVerage space between plates(mm)

4

DIameter of angle hole(mm)

125

AVerage crossed sectional area(m2)

0.001353

HEight of ripple(mm)

3.3

AVerage Equivalent diameter(mm)

6.6

FOrm of ripple

ISosceles triangle

MAterial of plate

304 316 316L

Ti
3. Installing Size of MBR0.4


Floor-type Hanging type
B=460 C=1203 F=176 E=270 H=1340 B1=550 DN125 PN1.0

Heat exchanging area(m2)

30

35

40

45

50

55

60

65

70

Plate number(sheet)

76

88

101

113

126

138

151

163

176

L (mm)

304

352

404

452

504

552

604

652

704

D (mm)

712

760

812

860

912

960

1012

1060

1112

A1(mm)

484

532

584

632

684

732

784

832

884

Weight (kg)

676

714

755

792

833

870

910

948

989

A2 (mm)

1200

1400

1670
4.Plate material:
1.SUS304 SUS316L
2.Titanium and Palladium
3.Hadtelloy Alloy
4.Nickel
5.Design features
1.High efficiency and low Consumption: Its heat exchanging parameter is 2000-4500kcal/m2..H, which is several times higher than of cellpacking heat exchanger.
2.Compact structure: Plate-type heat exchanger is arranged compactly. Compared with other types of heat exchanger, it takes up less area and space. It is only 1/5 the size of line-type heat exchanger, considering the same area.
3.Easy cleaning convenient dismantlement: Set flat and plate are held together by twisting bolts. Therefore it is convenient to dismantle. You can clean it whenever you like.What'S more, it's not easy to get scale because of its smooth flat surface and high frequent flowing.
4.Long using time: plate-type heat exchanger is made of rustless steel or titanium alloy. It can endure corrosion of different kinds of medium. the rubber pad can be changed freely. It is convenient to dismantle or test.
5.Strong adaptability: the plates are separate units. It can increase or decrease flowing according to requirement. from is varied. It can be used for different technological requirements.
6.No mixed liquid: There is a liquid passage in the sealed groove. Every medium cannot be mixed together. Medium runs out even when there appears leakage.