| | |
| --- | --- |
| Export Markets: | North America, South America, Eastern Europe, Southeast Asia, Africa, Oceania, Mid East, Eastern Asia, Western Europe |
| Place of Origin: | Jiangsu in China |
Quick Details
Dimensions: 1m
Technique: fiberglass
Surface Treatment: Smooth Surface/Antiskid groove surface/Gritted
Application: used in highly corrosive applications
Brand Name: Greenlogy
Specifications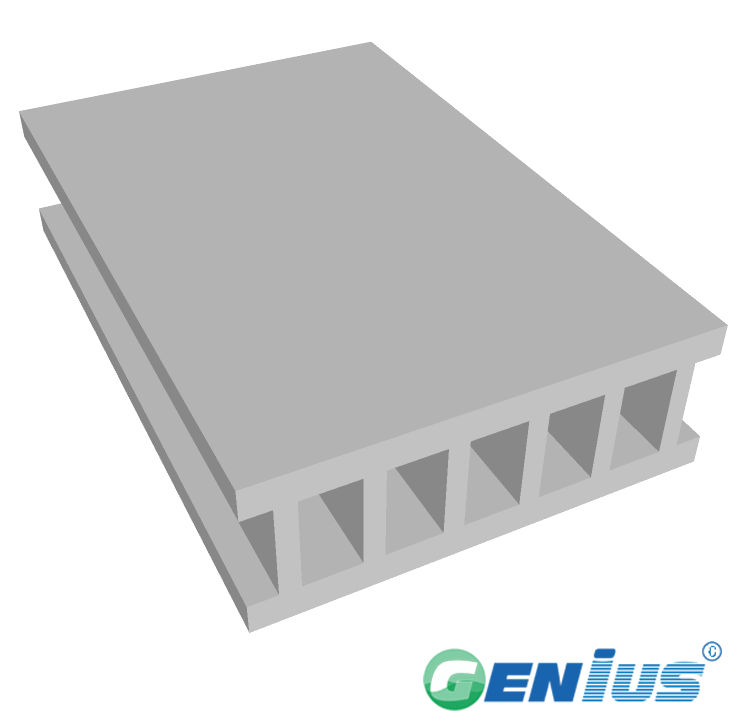 19*19*25(mm)
Panel size available:
1220*4000,1220*3660,1220*2440,
915*3050 Bidirectional force.
Bearing bar thickness (Top/Bottom): 6.5/5.0
Bearing bar center: 19
Open Aera: 40%
Approx Weight: 16.8kgs/m
the characteristics:
Corrosion Resistant

Slip Resistant

Superior Ergonomics

Low Install Cost

Fire Retardant

Lightweight,Bi-directional Strength, and the cutting makes the pipes easier to install.

the internal and external uniform color and color can be arbitrary choice.

It has good social and economic benefits.

Can design, flexible and varied size, size stability
Widely used in:
Genius FRP grating is widely used in landing (industrial) floor, stairs and walkways and platforms. Using glass fiber reinforced plastic grille has many advantages: glass fiber reinforced plastic grille, weather resistance, low maintenance cost, has a long service life and good anti-skid performance. In addition, the glass fiber reinforced plastic grille is simple, fast, flexible processing and assembly.
| | | | | |
| --- | --- | --- | --- | --- |
| Varieties | Size(mm) | Weight(kg/m) | Size(in) | Weight(lbs/in) |
| I-beam | A*B*T1*T2 | | A*B*T1*T2 | |
| IB32 | 15*32*6.4*4 | 0.51 | 9/16" x 5/4" x 1/4" x 3/16" | 1.12 |
| IB38A | 30*38*3*3 | 0.53 | 19/16" x 3/2" x 1/8" x 1/8" | 1.17 |
| IB45A | 45*9*180*12 | 5.4 | 7/4" x 3/8" x 7" x 1/2" | 11.9 |
| IB50A | 50*102*6.4*6.4 | 2.4 | 2" x 4" x 1/4" x 1/4" | 5.29 |
| IB50B | 50*102*8*8 | 3 | 2" x 4" x 5/16" x 5/16" | 6.61 |
| IB76A | 76*152*6.4*6.4 | 3.59 | 3" x 6" x 1/4" x 1/4" | 7.91 |
| IB76B | 76*152*9.5*9.5 | 5.32 | 3" x 6" x 3/8" x 3/8" | 11.73 |
| IB102A | 102*203*9.5*9.5 | 7.2 | 4" x 8" x 3/8" x 3/8" | 15.87 |
| IB102B | 102*203*12.7*12.7 | 9.5 | 4" x 8" x 1/2" x 1/2" | 20.94 |
| IB120 | 120*240*12*12 | 10.5 | 19/4" x 19/2" x 1/2" x 1/2" | 23.15 |
| IB127A | 127*254*9.5*9.5 | 9 | 5" x 10" x 3/8" x 3/8" | 19.84 |
| IB127B | 127*254*12.7*12.7 | 11.9 | 5" x 10" x 1/2" x 1/2" | 26.24 |
| IB127C | 127*152*9.5*9.5 | 7.1 | 5" x 6" x 3/8" x 3/8" | 15.65 |
| IN127D | 127*152*12.7*12.7 | 9.2 | 5" x 6" x 1/2" x 1/2" | 20.28 |
| IB152A | 152*305*9.5*9.5 | 10.7 | 6" x 12" x 3/8" x 3/8" | 23.68 |
| IB152B | 152*305*12.7*12.7 | 14.3 | 6" x 12" x 1/2" x 1/2" | 31.53 |