| | |
| --- | --- |
| Export Markets: | North America, South America, Eastern Europe, Southeast Asia, Africa, Oceania, Mid East, Eastern Asia, Western Europe |
| Place of Origin: | Guangdong in China |
| Packaging Details: | Wooden Box |
Quick Details
Brand Name: Chuangwei
Rated Voltage: 220V/380V
application: Electronic pcb solution
Material: Alumium
name: PCB separator
Model Number: CW-5L
Specifications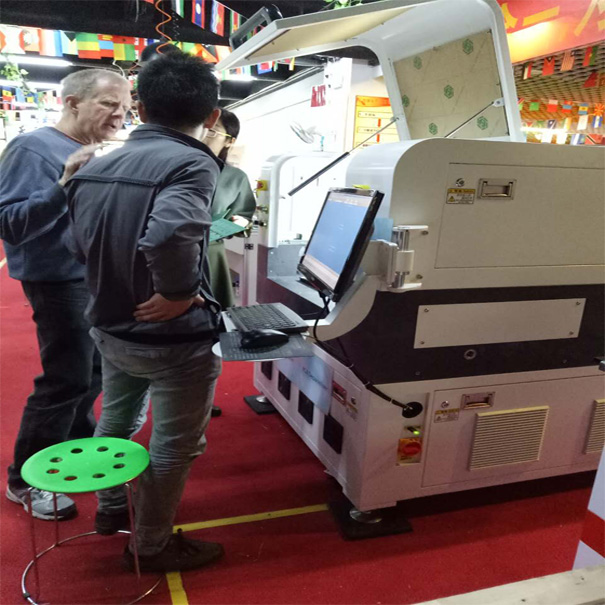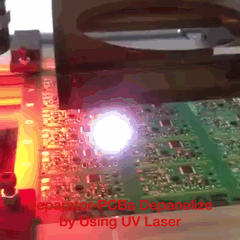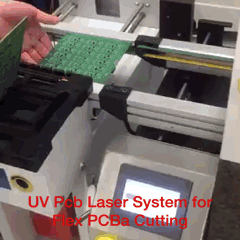 Features:

PCB Cutting machine Solution,PRINTED CIRCUIT BOARD Cutting,CWVC-5L
Pre-camera vision product position registration and model check
Coherent Avia NX UV laser with HurrySCAN head
High capacity BOFA dust collector
User friendly Window based software
PCB flexible product jig adjustable for different board size
High resolution and accurate Z stage with auto-focus function
Large area low friction front loading platform for sliding multiple product jigs
Fully covered class 1 safety enclosure
Able to do cutting and marking together
Compact size
Specification:
Laser class

1

Max. Working area (X x Y x Z)

300 mm x 300 mm x 11 mm

Max. Recognition area (X x Y)

300 mm x 300 mm

Max. Material size (X x Y)

350 mm x 350 mm

Data input formats

Gerber, X-Gerber, DXF, HPGL,

Max. Structuring speed

Depends on application

Positioning accuracy

25 m (1 Mil)

Diameter of focused laser beam

20 m (0.8 Mil)

Laser wavelength

355 nm

System dimensions (W x H x D)

1000mm*940mm
*1520 mm

Weight

~ 450 kg (990 lbs)

Power supply

230 VAC, 50-60 Hz, 3 kVA

Cooling

Air-cooled (internal water-air cooling)

Ambient temperature

22 C 2 C @ 25 m / 22 C 6 C @ 50 m
(71.6 F 3.6 F @ 1 Mil / 71.6 F 10.8 F @ 2 Mil)

Humidity

< 60 % (non-condensing)

Required accessoires

Exhaust unit
Package:
Working principle:
Humidity sensor ( humidity and temperature signal ) Microcomputer ( CPU Central Processing Unit ) Heaters ( PTC heating module polymer material heating ) Smart shape memory alloy ( alloy shape with temperature change ) Balance spring ( general balance spring with alloy )
Description:
PCB depaneling (singulation) laser machines and systems have been gaining popularity over recent years. Mechanical depanaling/singulation is done with routing, die cutting, and dicing saw methods. however, as the boards get smaller, thinner, flexible, and more sophisticated, those methods produce even more exaggerated mechanical stress to the parts. Large boards with heavy substrates absorb these stresses better, while these methods used on ever-shrinking and complex boards can result in breakage. this brings lower throughput, along with the added costs of tooling and waste removal associated with mechanical methods.
Increasingly, flexible circuits are found in the PCB industry, and they also present challenges to the old methods. Delicate systems reside on these boards and non-laser methods struggle to cut them without damaging the sensitive circuitry. A non-contact depaneling method is required and lasers provide a highly precise way of singulation without any risk of harming them, regardless of substrate.
Dvantages:
1.High precision CCD automatic positioning, automatic focusing. Fast and accurate positioning, save time and no worries.
2.Friendly interface,Simple operation, easy to use, free application; Small size, Save more space; rigorous security design;
3.Reduce energy consumption, Cost savings.
Cost-effective, fast cutting speed, stable performance
Laser PCB Depaneling Machine Application:
FPC and some relative materials;
FPC/PCB/ Rigid-Flex PCB cutting, Camera module cutting;
FAQ:
1.- I see according to the specification there may be up to 1000 files. how many joints can we have per file? I need to know the programing limitation of the machine.
R: No limit on the joints per each program. More than 1000 files.
2.- Can you send me user manual of the robot? I need to see the programing abilites. I need to know every parameter we can set for every joint.
R: We will offer the instruction manual when delivery, don't worry about that.
3.- Also where are stored the programs - in the robot or in memory card?
R: the programs are stored in the robot.
4.- What is the teaching pedant for besides programing? Can I copy soldering programs to another robot CWDH-411?
R:Yes, program can be copied from 1 robot to another robot.
in generally, each PCB has 1 program with hundreds of joints.
There are total 144M storage, 100000 joints take 3M.
If there are 1000 joints per each program, the robot could store 4800 files.
5.- Is it possible to start the program from particular joint (not from the begining but for example from 5th joint)?
R: Yes, you could start from particular joint.
6.- Is it possible to execute only one joint?
R: Yes, it is OK.
7.- Is it possible to set X,Y,Z offest for every joint? What I mean is if the soldering tip can be set in the way it comes into the joint under some angle?
R: Yes, you could set offset, solder paste capacity, soldering time for every joint.
8.- Is it possible to set the tip to come out from the joint under angle as well?
R: Yes, no problem.
9.- Can I set feeding/backing speed for every joint?
R: Yes, you could set the soldering time for every joint.
10.- I didn't see how much power is the soldering heater (I can only see the total machine is 2300Watts)?
R:It is 150W.
11.- Also what is so powerful in the robot so it is 2300 watts? Our current robot is 600 Watts total power and it is almost the same. the soldering tip is 400 Watts and it has PC inside. So I expect the motors to be no more 150 Watss totally. but here we have 2300 Watts? I am just curious what is so powerful?
R: the machine is total 750W, including the soldering heater 150W.
12.- Do we need air for the machine and if so how much?
R: Yes, need air. in generally, it works by 2-3 kg/c. Do you have a air pump in your factory? If yes, it is enough, because standard industrial air pump has 6-7 kg/c.
13.- Also do you have soldering tip like below (this is what we use right now)?
R: Yes, we could custom make according to your soldering requirements based on your PCB if we don't have exsiting tips.
14.- I forgot to ask you also if it is possible to program arrays with the robot.
R:Yes, it is ok to program arrays.
15.-What is the speed for x-y movement?
R:X/Y axis is 600mm/s, max speed for Z axis is 400mm/s