Quick Details
Light Source: LED
Type: Headlamps
Certification: CE,RoHS
Battery Type: Ni-Cd
Power Source: Led
Usage: Emergency
Brand Name: Maxtree
Specifications
the following example is for you reference.


Main Advantages:
1. Reduce incidences of human error - ensures pedestrians are aware of moving load.
2. Pedestrian sees projected line or spot on floor - knows his proximity to the moving load.
3. Very effective for overhead cranes in areas with many pedestrians.
4. Beeping audible alarms do NOT provide a pedestrian with a sense of proximity to the load on the crane.
5. Crane operators have a new "frame of reference" of the exact position of load/hook above floor.
6. Significantly improves operator control of the load, especially when exact positioning is required.
7. Operators do not have to take their eyes off the crane block or load to know trolley is centered over the load.
8.Snap-on lens cover creates square "box" around load/hook on floor below clear "danger area".
9. Warns pedestrians from walking under suspended load.
10. When a load on a crane is stopped suddenly
11. Workers concentrating on their job at hand and may NOT see moving load in their area.
12. Crane operators concentrate on the load they are handling and may NOT see workers.
13. Powerful 24 MAXI LED 120 watt light projects RED, BLUE or WHITE spot or line -with lens cover.
Technical details:


Power120Watts-84Watts
Voltage:9-60V DC
Lumens 12000Lm 8400Lm
LEDs24(Cree LED)
LED Color Temperature:6000K
Beam TypePencil Beam
Working Life50000Hours
Size9" X 3.9" X 9.2" (229 X 98 X 234mm)
WaterproofIP67
Working Temperature-45 ~85C
Material Aluminum die-cast housing
PackagingIndividually boxed with foam
Adjustable Mounting Bracket150 degree up/down
Lifetime HoursUp to 30,000 50,000 hours
Cable Length:3.3 meters (10')
Features & how it works
Easy to install
10' cable connects to 12-24-36-48VDC input power INSTALLS IN MINUTES!
Adjustable mounting bracket - easy connection to overhead guard
IP67 designed for indoor and outdoor usage
Heavy duty cast aluminum
how it works:
Spotlight mounted on overhead crane
Available in RED or BLUE. Many overhead crane clients prefer the RED because the BLUE is commonly used on lift trucks.
150 degree up/down mounting bracket allows precise positioning of beam on floor below
Beam is usually positioned so pedestrians below are aware of the presence of the hook above them
Benefits:
More control of load by pendant operator! Now he has frame of reference to the floor of hook
Reduce accidents!! Many crane accidents involve pedestrians - so warning them of the presence of the hook is highly beneficial.
When pedestrian sees beam on floor - he knows a crane is in close proximity
Very effective for more precise positioning of the crane by the wireless remote operator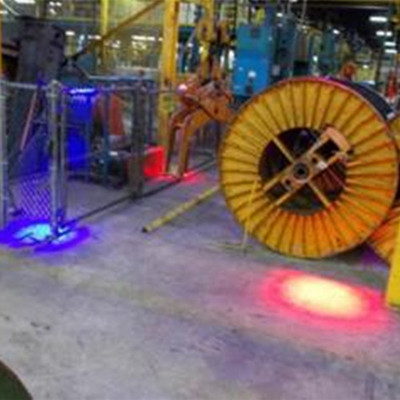 Our Service:


1.We provide customized service for the package and logos. Logo laser is free for you!
2.OEM/ODM services for clients
3.Sample order
4.We accept sample order. We offer many available price polity for wholesalers and distributors.
5.Fantastic pre-sales service:24 hours around the clock & high efficiency
6.Excellent quality and reasonable price
7.Terrific after-sales service: 24 hours around the clock & 12 months warranty
8.Life-long maintance service
9..after-sale service
Case you got problem light. Please don't worry.Kindly provide high-definition product's photos or video to show the problem. Then we will send replacement together with next order after we get approved from after sales department. You don`t need to send the broken one back!
11.Application: Tractors, ATV, UTV, SUV,4x4 Jeep Polaris Offroad Tractor Marine Truck motorcycle