| | |
| --- | --- |
| Export Markets: | North America, South America, Eastern Europe, Southeast Asia, Africa, Mid East, Eastern Asia, Western Europe |
| Place of Origin: | Shandong in China |
| Packaging Details: | carton |
Quick Details
Warranty: 1Years
Brand Name: WEGE
Worktable Width: 4500mm
Worktable Length: 16000mm
Weight: 2500kg
Specifications
Heavy duty Floor straightening systems for trucks, buses, tractors, trailers,heavy duty straightening equipment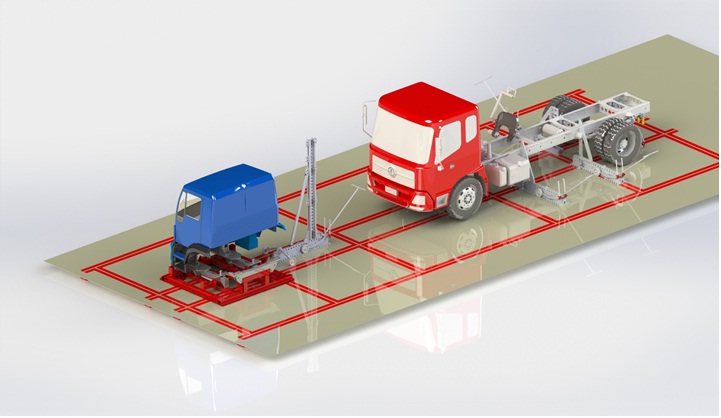 Feature :
Feature :
Straightening system for heavy duty vehicles
1. Modular floor frame
2. Frame press
3. Cab bench
4. Cab tower
You can make options as your workshop or your actual repair service demand.

Part One: Modular Floor Frame

Fixed modular frame in-floor installation, converting your workshop floor to a giant straightening system, all damaged heavy duty vehicles access to the floor beams easily

Frame dimensions:
160004500mm (4718mm)
160005500mm (5718mm)

Part Two: Frame Press
1. The frame straightening system can align and straighten the frames of trucks, buses, even 60 Ton trailers.
2. The frame press sets consists of three 20 Ton press/pull trolley with all brackets, allowing both pressing and pulling all in high strength steel to perform sideway correction. Two flex foot kits together with the anchoring enable you to correct vertical bends and chassis twist.
3. The press trolley is on wheels and easily operated by a single mechanic.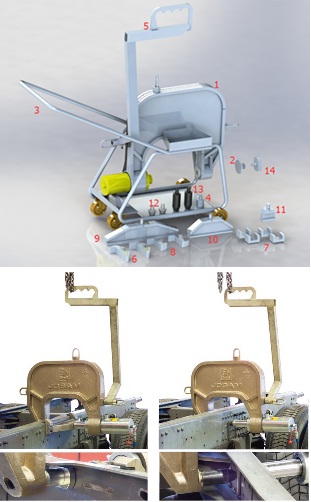 Part Three: Cab bench
1. The cab bench consists of one rigid base anchoring into the I beam or the floor with expansion bolts. Heavily damaged vehicle cab can be positioned onto the bench too thanks to the movable jig fixtures.
2. Cab chassis structure can be hydraulically straightened with movable 10 Ton hydraulic ram equipped on the bench.
3. Cab bench acts like one strong and stable positioning system simplifying the cab repair. Movable mounting points enables even severely damaged cab mounted easily. The cab base can be straightened or pressed into original position.
4. Over 60 different adapters option
5. Straightening trolleys, cab tower, stays and other special accessories optional for straightening and repairing cab vertical frame members and roof section.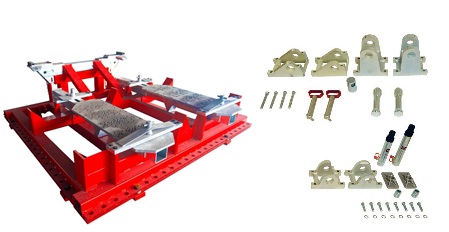 Part Four: Cab tower
Two alternative solutions for your repair workshop: floor or I beam anchoring. The Cab tower is a special straightening equipment for damaged cab, coach body and other heavy duty vehicles.
1. Cab tower, chains, anchoring beam and cab bench are mounted into your workshop floor easily with floor anchors. Floor anchoring installation is convenient for minor damage repair.
2. Anchoring holders same as frame press, cab tower fastened into the I-beam anchoring easily with sample twist.
3. Cab tower can be mounted onto cab bench directly with nose brackets for cab straightening.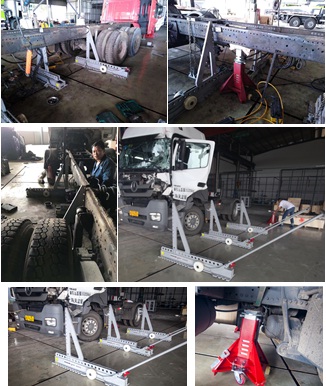 Technical details :

Frame Dimension


16000*4500mm (4718mm)

16000*5500mm (5718mm)



Press/pull trolley

20 Ton

Company introduce :

Wege Auto Body Repair Equipment Co. ,LTD can supply you most versatile auto body frame repair bench or frame rack that can help you repair any collision damaged vehicles that enters your workshop, from slight cosmetic work to full-frame repairs. Because no two auto repair shops is exactly the same, here you can find a large supply of automotive body frame machines as well as body straightener kits and accessories for any type of unibody or full frame vehicles, from small cars to light trucks, vans, SUVs, heavy duty vehicles.
Wege Auto Body Repair Equipment Co. ,LTD has 12 years experience in the body repair equipment design and manufacture, no matter what size your body shop is, you can get a complete solution here to maximize your work shop repair capabilities and quality, enhance your bodyshop output and increase customers satisfaction.
Our main products:
1. Auto Frame Machine
2. Floor straightening system
3. Lift Cars
4. Straightening systems for trucks, bus, trailer, heavy duty vehicles
5. Frame machine accessories (universal clamping adapters, pulling chains and hooks, hydraulic auto body ram and pump)
6. Auto body repair tools (porta power jack, air bag jack, car dollies wheel, self piercing rivet gun, auto body hammers & dollies, auto body frame machine tram gauge)