Quick Details
Car Make: AUDI A6 97-05.
Brand Name: CARLEAD
Type: Window Lifter Switch
pin: 4
Standard: TS16949
OE NO.: 4B0959851B, Power Window Switch, AUDI A6 97-05.
Specifications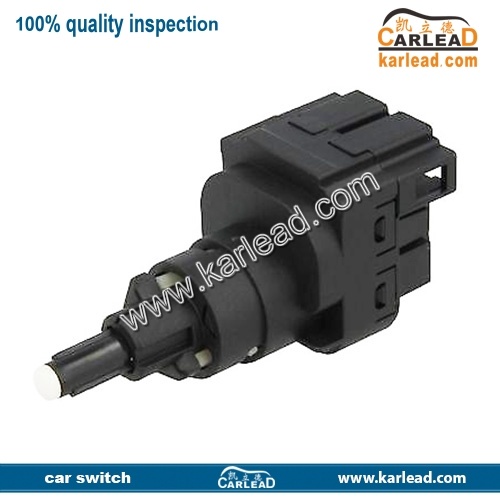 GUARANTEE PERIOD: 1 YEAR
1. High quality and stability
2. Warranty offered
3.100% Compatibility
Yuyao Carlead Auto Products Co., Ltd. is specialized in developing and selling: Ignition Coil, Ignition Wire Set, Air Flow Meter, Electronic Throttle Body, TPS throttle sensor, Crankshaft sensor, Camshaft Sensor, Oxygen Sensor, Car Switch and Relay.
Our products are exported to Europe, Australia, USA, South America, Southeast Asia, Japan, and the Middle East and etc....
All of our products test 100% before shipment.
If you are interested in any of our products, please don't hesitate to contact us. We will provide you with high quality products at competitive prices and excellent service.



| | |
| --- | --- |
| Type | Description of the car switch |
| 453467 | 453467 Brake Light SWITCH for Peugeot 5008 3008 308 Citroen C2 C3 C4 |
| 6Q0945511 | 6Q0945511 Brake Light SWITCH for VW CADDY III GOLF V PLUS JETTA III POLO TOURAN |
| 1C0945511A | 1C0945511A, 726945511 Brake Light SWITCH for AUDI VW |
| 1K2945511 | 1K2 945 511, 1K2945511 Brake Light SWITCH for AUDI SEAT SKODA VW Original VW |
| 1J0945511B | 1J0945511B/C/D, 1070613, 98VW13480AA Brake Light SWITCH for VW Audi Skoda SEAT |
| 191945515 | 191945515/A/B, 1044350, 7215734, 95VW13480AA, 95VW13480BB Brake Light SWITCH for AUDI A3 96-03 TT 98-06 FORD GALAXY 95-06 |
| 6U0945515A | 4345645,4124209,4064916,4067916,6U0945515A Brake Light SWITCH for Fiat,Lancia,Seat |
| 84941521 | 084941521, 014919361, 019941521 Brake Light SWITCH for AUDI GOLF PASSAT JETTA |
| 02T945415 | 02T945415/D, 02K945415C/K 1119746 Brake Light SWITCH for VW GOLF AUDI A2 A3 SEAT IBIZA SKODA FORD |
| 020945415A | 020945415A Brake Light SWITCH for VW T4 1990-2003 Seat Alhambra Arosa |
| 020941521A | 020941521A Brake Light SWITCH for SEAT GOLF JETTA POLO CADDY |
| 97FG1520AD | 97FG1520AD Brake Light SWITCH for Ford Mazda MG Rover Volvo |
| 6871978 | 6871978 Brake Light SWITCH for Ford Courier Escort |
| 23147524811 | 23147524811 Brake Light SWITCH for BMW 1,3,5,6,7,Z3,X3 |
| 12392714 | 12392714 90245033 4617668 4236666 96192077 90245033 Brake Light SWITCH for OPEL CHEVROLET GM SAAB DAEWO VAUXH ASTR KAT |
| 4B0941509C | 4B0941509C Hazard Warning Light SWITCH for AUDI A6 98-05 |
| 1J0953235C | 1J0953235C, 1JO953235C Hazard Warning Light SWITCH for VW GOLF BORA |
| 3B0953235D | 3B0953235D, 3B0953235B Hazard Warning Light SWITCH for VW Passat 96-05 |
| 1U0953235B | 1U0953235B Hazard Warning Light SWITCH for Skoda Octavia 97-05 |
| 6N0953235 | 6N0953235, 1C0953235D, 1C0953235D, 1C0953235DB41, 1C0953235DB41, 1C0953235E Hazard Warning Light SWITCH for VW T4 LUPO POLO |
| 3C0953509A | 3C0953509A Hazard Warning Light SWITCH for VW PASSAT B6 |
| 1K0953509A | 1K0953509A Hazard Warning Light SWITCH for VW JETTA GOLF |
| 4B0941509D | 4B0941509D 4B0941509K Hazard Warning Light SWITCH for AUDI |
| 1J0953235J | 1JO953235J Hazard Warning Light SWITCH for VW BORA GOLF |
| 161953235A | 161953235A, 161953235B Hazard Warning Light SWITCH for VW GOLF PASSAT POLO |
| 6U0953235 | 6U0953235 Hazard Warning Light SWITCH for SKODA |
| 8200442724 | 8200442724, 93856337 Hazard Warning Light SWITCH for Nissan Primastar |
| 1Z0941431E | 1Z0941431E, 1Z0 941 431E, 1Z0 941 431 Headlight SWITCH for Skoda Octavai II |
| 1Z0941431K | 1Z0941431K, 1Z0941431C, 1Z0 941 431K, 1Z0 941 431 K, 1Z0 941 431C, 1Z0 941 431 C Headlight SWITCH for Skoda Octavai II |
| 4B1941531E | 4B1941531E Headlight SWITCH for Audi A6 C5 S6 |
| 4B1941531F | 4B1941531F Headlight SWITCH for Audi A6 C5 97-05 |
| 8E0941531B | V10730265, V10730265 8E0941531B5PR 46803 30946803 114264 Headlight SWITCH for Audi A4 B6 02-04 |
| 8E0941531D | 8E0941531D, V10730267, 8E0941531D5PR, V10730267 Headlight SWITCH for Audi A4 B7 05-08 |
| 4F1941531D | 4F1941531D, 4FD 941 531, 4F1941531D 5PR, 4F1 941 531 D 5PR, 4F1941531E 5PR, 4F1 941 531 E 5PR Headlight SWITCH for Audi A6 |
| 4F1941531E | 4F1941531E 4FD941531A Headlight SWITCH for Audi A6 |
| 1K0941431AS | 1K0941431, 1K0941431AC, 1K0941431AS, 1K0941431N, 1K0941431AR, 3C8941431C, 3C8941431A, 5ND941431A, 5ND 941 431A, 1K0941431A Headlight SWITCH for VW Caddy Sharan GOLF JETTA PASSAT TOURAN |
| 1K0941431N | 1K0941431N Headlight SWITCH for VW Golf MK5 Caddy JETTA TOURAN |
| 5KD941431A | 5KD941431A Headlight SWITCH for VW GOLF TIGUAN JETTA |
| 3C8941431C | 3C8941431C, 5ND941431A Headlight SWITCH for GOLF PASSTA TIGUNA EOS |
| 3C8941431B | 3C8941431B, 5ND941431C Headlight SWITCH for VW Golf Touran Jetta Passat Seat Alhambra |
| 3C8941431A | 3C8941431A, 5ND941431B Headlight SWITCH for VW golf jetta tiguan caddy passat b6 cc polo |
| 1C0941531A | 1C0941531A Headlight SWITCH for Bora Golf 4 Polo Sharan Beetle Passat Seat Alhambra 2001-2010 |
| 3BD941531A | 3BD941531, 3BD941531A Headlight SWITCH for VW Bora Golf IV 4 Lupo Passat Polo Seat Skoda |
| 1C0941531B | 1C0941531B Headlight SWITCH for VW MK4 JETTA GOLF |
| 1C0941531C | 1C0941531C Headlight SWITCH for VW BEETLE GOLF JETTA PASSAT 98-05 |
| 1C0941531C01C | 1C0 941 531C 01C, 1C0941531C01C Headlight SWITCH for VW BEETLE GOLF JETTA PASSAT |
| 33D941531 | 33D941531 Headlight SWITCH for VW SANTANA |
| 377941534B | 377941534B Headlight SWITCH for VW Golf Skoda |
| 2RD941534 | 2RD 941 534 Headlight SWITCH for VW Truck |
| 3B0941531A | 3B0941531A, 1U0 941 531A 01C Headlight SWITCH for VW Bora Golf |
| 33D941531B | 33D941531B Headlight SWITCH for VW SANTANA |
| 6R0941531E | 6R0 941 531 E Headlight SWITCH for VW GOLF PASSAT POLO |
| 321941531K | 321941531K Headlight SWITCH for VW CADDY CORRADO GOLF JETTA PASSAT SALOON POLO SANTANA |
| 4A0905849B | 4A0905849B, 4A0905849, 893905849 Ignition SWITCH for Audi A3 A6 A8 |
| 4B0905849 | 4B0905849 Ignition SWITCH for AUDI PASSAT |
| 6N0905865 | 6N0905865 Ignition SWITCH for VW Golf Polo T4 |
| 357905865 | 357905865 Ignition SWITCH for VW Golf Polo T4 |
| 111905865L | 111905865L Ignition SWITCH for VW Golf Cabriolet Jetta Vanagon Fox |
| 90052497 | 0914850, 0914811, 914850, 90052497, 90052498 Ignition SWITCH for Opel Ascona C |
| 914852 | 914852, 90389377 Ignition SWITCH for Opel Astra F Opel Corsa B |
| 90505912 | 914856, 90505912 Ignition SWITCH for OPEL Calibra Astra Vectra A B Corsa |
| 90589314 | 914863, 90589314 Ignition SWITCH for OPEL Astra II G |
| 9115863 | 914861, 9115863 Ignition SWITCH for OPEL VAUXHALL COMBO CORSA C MERIVA |
| 1K0905865 | 1K0905865 Ignition SWITCH for AUDI A3 8P |
| 93110-25000 | 93110-25000, 93110-02000 Ignition SWITCH for Hyundai |
| 96238726 | 96238726, US-949, CS1309, KS7309, LS1100, 53-27382 Ignition SWITCH for Chevrolet Aveo Optra Pontiac |
| 5K1959565 | 5K1959565, 5ND959565B Mirror SWITCH for VW GOLF6-PASSAT-EOS-CC-JETTA-TIGUAN-SHARAN |
| 5K2959565 | 5K2959565 Mirror SWITCH for VW Tiguan |
| 4B0959565A | 4B0959565A Mirror SWITCH for Audi A6 |
| 4B1959565A | 4B1959565A Mirror SWITCH for AUDI A6 C5 98-01 |
| 4F0959565 | 4F0959565, 4FD959565 Mirror SWITCH for AUDI A6 C6 |
| 4F0959565A | 4F0959565A, 4FD959565A Mirror SWITCH for AUDI A6 |
| 8E0959565A | 8E0959565A Mirror SWITCH for AUDI A3 A4 S4 |
| 1J1959565A | 1J1959565A Mirror SWITCH for VW Golf JETTA |
| 1J1959565D | 1J1959565D Mirror SWITCH for VW PASSAT B5 |
| 1J1959565F | 1J1959565F Mirror SWITCH for VW BEETLE GOLF JETTA PASSAT |
| 1K0959565F | 1K0959565F, 1K0959565H, 1KD959565 Mirror SWITCH for VW Passat B6 Variant 05-11 |
| 1K0959565K | 5ND959565, 1K0959565K Mirror SWITCH for VW GOLF PASSAT SEAT SKODA |
| 3BD959565A | 3BD959565A Mirror SWITCH for VW Passat |
| 1U1959565L | 1U1959565L, 1U1959565J Mirror SWITCH for Skoda Octavia |
| 1Z1959565A | 1Z1959565A, 1Z1959565 Mirror SWITCH for Skoda Octavia II |
| 1ZD959565A | 1ZD959565A Mirror SWITCH for Skoda Octavia |
| 8K0959565 | 8K0959565, 8K0959565C, 8KD959565 Mirror SWITCH for Audi A5 Q5 A4 |
| 5J1959565 | 5J1959565, 5JD959565A Mirror SWITCH for Skoda Fabia |
| 3TD959565 | 3TD959565 Mirror SWITCH for Skoda |
| 6J1959565A | 6J1959565A Mirror SWITCH for SEAT IBIZA |
| 5GG959565A | 5GG959565A, 877791605673 Mirror SWITCH for VW Golf 14-16 |
| 5GG959565C | 5GG959565C Mirror SWITCH for VW Golf 14-16 |
| 4B0959851B | 4B0959851B Power Window SWITCH for AUDI A6 97-05. |
| 4F0959851 | 4F0959851, 4F0959851A, 4F0959851F Power Window SWITCH for AUDI A3 A6 Q7 8P |
| 8K0959851D | 8K0959851D, 8K0959851 Power Window SWITCH for Audi A4 S4 Q5 09-12. |
| 8K0959851F | 8K0959851F, 8K0959851A Power Window SWITCH for Audi Q5 A4 S4 A5 S5 07-12. |
| 4GD959851B | 4GD 959 851 B, 4GD 959 851B, 4GD959851B Power Window SWITCH for AUDI A6 S6 C7 A7 Q3 |
| 5GG959857 | 5GG959857 Power Window SWITCH for VW GOLF MK7 TIGUAN TOURAN |
| 8E0959851B | 8E0959851B Power Window SWITCH for Audi A4 S4 B6 B7 RS4 |
| 1J4959857D | 1J4959857D Power Window SWITCH for VW Golf Jetta Bora MK4 Passat B5 |
| 1J4959857B | 1J4959857, 1J4959857B Power Window SWITCH for VW Golf Jetta Mk4 Passat B5 |
| 1J3959857 | 1J3959857 1J3959857B Power Window SWITCH for VW Bora Golf 4 Passat 3B 96-05. |
| 3BD959857 | 3BD959857 Power Window SWITCH for VW Jetta Golf Passat B5 |
| 1K4959857 | 1K4959857, 1K4959857B Power Window SWITCH for VW Golf Jetta MK5 MK6 Passat Tiguan |
| 5K4959857 | 5K4959857, 5ND959857 Power Window SWITCH for VW Golf MK5 MK6 Tiguan Touran Jetta |
| 1Z0959858 | 1Z0959858 Power Window SWITCH for Skoda Fabia 2 Octavia II |
| 4B0959855A | 4B0959855A Power Window SWITCH for AUDI A6 C5 02-04 |
| 4F0959855A | 4F0959855A, 4FD959855A Power Window SWITCH for Audi A3 8P A6/ S6 C6 04-11. |
| 8K0959855A | 8K0959855A, 8KD959855 Power Window SWITCH for AUDI A4 Q5 |
| 8E0959855 | 8E0959855, 8ED959855 Power Window SWITCH for AUDI A4 B6/B7 |
| 5JD959855 | 5JD 959 855, 5JD959855 Power Window SWITCH for VW Golf MK5 04-09 |
| 7L6959855B | 1K0959855, 7L6959855B, 1T0959851 Power Window SWITCH for Golf Passat caddy |
| 5K0959855 | 5K0959855, 5ND959855 Power Window SWITCH for VW Eos Golf Jetta PASSAT B6 CC |
| 6Q0959858 | 6Q0959858 Power Window SWITCH for Seat Ibiza IV Cordoba VW Polo Fox |
| 6Q0959858A | 6Q0959858A Power Window SWITCH for VW POLO 02-05. |
| 2K0959857A | 2K0959857A Power Window SWITCH for VW Golf V 2003-2008 Caddy III |
| 1K3959857A | 1K3959857A Power Window SWITCH for VW Passat B6 Jetta V 05-10. |
| 7E0959855A | 7E0959855A Power Window SWITCH for VW Transporter T5 T6 |
| 7E0959855 | 7E0959855 Power Window SWITCH for VW Transporter T5 05-09 T6 09-14 |
| 6X0959855B | 6X0959855B Power Window SWITCH for VW Polo 6N2 1999-2001 |
| 5Z0959856 | 5Z0959856, 5Z0959856A Power Window SWITCH for Seat Ibiza Cordoba VW Polo Fox |
| 3259598514 | 3259598514 Power Window SWITCH for VW SANTANA |
| 191919550 | 191919550 Power Window SWITCH for VW SANTANA GOLF JETTA |
| 191919550A | 191919550A Power Window SWITCH for VW SANTANA GOLF JETTA |
| 191959855 | 191959855 Power Window SWITCH for VW Caddy JETTA Polo |
| 3B0959855B | 3B0959855B Power Window SWITCH for VW Golf Jetta Passat Bora |
| 1GD959855C | 1GD959855C Power Window SWITCH for VW Passat Golf 4 Bora |
| 98AG14529CB | 98AG14529CB Power Window SWITCH for Ford Focus 98-04. |
| 95BG14529AB | 95BG14529AB Power Window SWITCH for FORD MONDEO Mk2 96-00 SCORPIO FIESTA |
| 7S6514529AA | 7S6514529AA Power Window SWITCH for Ford Fiesta |
| 1Z0959855 | 1Z0959855, 1ZD959855 Power Window SWITCH for Skoda Octavia II |
| 1Z0959856 | 1Z0959856, 1ZD959856 Power Window SWITCH for Skoda Octavia II |
| 8200315042 | 8200315042 Power Window SWITCH for RENAULT CLIO II LAGUNA II MEGANE II SCENIC II TRAFIC VEL SATIS |
| 735417033 | 735417033 Power Window SWITCH for Fiat Idea Doblo Lancia Musa |
| 7700838101 | 7700838101 Power Window SWITCH for RENAULT CLIO KANGOO MEGANE |
| 1Z0962125A | 1Z0962125A LOCK/UNLOCK SWITCH for SKODA OCTAVIA |
| 1Z0962125 | 1Z0962125, 1ZD962125A LOCK/UNLOCK SWITCH for SKODA Octavia |
| 3C0927225B | 3C0927225B, 3C0927225C EPB SWITCH for VW Passat |
| 3C0962125B | 3C0962125B LOCK/UNLOCK SWITCH for VW Passat B6 3C |
| 1KD962125 | 1KD962125, 1K0962125B LOCK/UNLOCK SWITCH for VW PASSAT CC |
| 1KD959833 | 1KD959833 FUEL TANK SWITCH for VW Golf Jetta MK5 Touran |
| 35D959903B | 35D959903B TAILGATE & FUEL FLAP SWITCH for VW Passat 3C B6 CC / Jetta 3 |
| 3C0959903B | 3C0959903B TAILGATE & FUEL FLAP SWITCH for VW Passat |
| 321941535B | 321941535B FOG LIGHT SWITCH for VW GOLF |
| 6U0941733 | 6U0941733 FOG LIGHT SWITCH for Skoda |
| 6U0941733A | 6U0941733A FOG LIGHT SWITCH for Skoda |
| 321959511A | 321959511A BLOWER SWITCH for VW Porsche 924 944 |
| 171959511 | 171959511 BLOWER SWITCH for VW |
| 6N0947563 | 6N0947563 DOOR CONTACT SWIYCH VW Jetta Golf Cabrio Seat Ford |
| 6U0947561A | 6U0947561A DOOR CONTACT SWIYCH SKODA |
| 18D955651 | 18D955651 WINDOW CLEANING WATER PUMP Audi A8 4E |
| 431955651 | 431955651 WINDOW CLEANING WATER PUMP Audi |